Montaged perspective section of the Brunswick Centre 1960
A slice of chic, city living from the 1960s.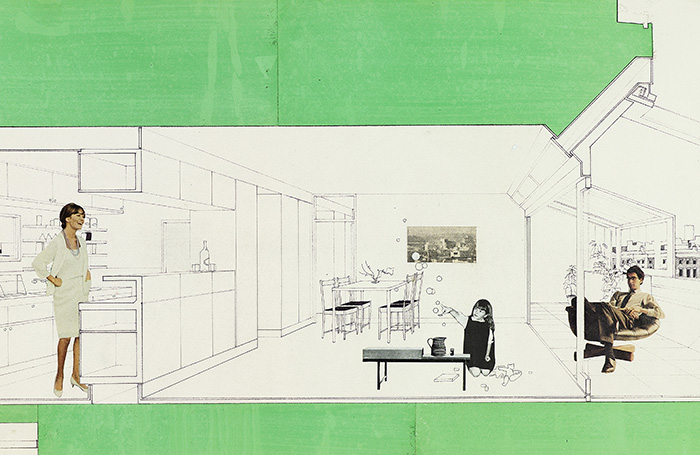 To commemorate the recent death of the architect Patrick Hodgkinson I chose this image of his most famous creation, the Brunswick Centre, Bloomsbury, which encapsulated a new vision of urban housing. Known originally as the Foundling Project, designs were drawn up as early as 1960 for a 'superblock' containing housing above shops and an underground car park. The flats ranged from one to four rooms, with glazed terraces as seen here, providing a second room to the living space behind. They were also angled to receive as much of the midday sun as possible. This drawing showing the spaciousness and modernity of the flats with their views over London was not to be. The scheme was later compromised when Camden Council took over the project in 1965, resulting in smaller spaces and a reduction in flat types.
Image: Close-up of a montaged cross-section of a residential flat, Foundling housing scheme (Brunswick Centre), Brunswick Square, Bloomsbury, London, England, 1960; image from RIBApix (number RIBA35955)
Architect: Patrick Hodgkinson (1930-2016)
Credit: RIBA Collections
Article by Suzanne Waters, RIBA
4 March 2016
Discover more
This is just one of over four million items in our world-class architectural collections at the RIBA Library – it's open to everyone and access is free. Visit the library to explore our collections of books, periodicals, drawings, photographs and models:
Drawings
Collection of drawings of Foundling housing scheme, Brunswick Square; designs and working drawings, ca. 1960-1970, including cross section of a flat.
Call/Ref. no. HODGKINSON [DR155/1 (5)2; located at the V&A]

Periodical article
'Architectural Review'
October 1972, pp.195-218