17 October 2019
The government's National Design Guide (NDG) was recently issued by the Ministry of Housing, Communities and Local Government (MHCLG). Subtitled 'Planning practice guidance for beautiful, enduring and successful places', the new guide sets out ten characteristics of successful housing developments.
These consider the relationship between factors such as layout, scale and materials with considerations over sustainability, durability and the wellbeing of residents. The guide is part of national Planning Practice Guidance and can be regarded as an illustrated companion to the National Planning Policy Framework (NPPF).
"It sets out principles," explains Philip Waddy, Chair of the RIBA Planning Group. "It is not a pattern book or a code and it is not prescriptive. As a visual guide it is not typical planning guidance, and so it does break new ground."
One significant feature of the guide is its continual cross-referencing of the design principles to numbered paragraphs in the NPPF. This is one way in which it could become a useful practical reference for architects writing design and access statements to support applications.

Waddy suggests this should make statements easy for planning officers to understand and will hopefully add clarity to the decision-making process.
"As a solid guide to creating quality places without ever being naïve, it will have an impact on councillors, planning officers and the public."
The NDG makes it clear that local authorities should develop their own design codes or guides, and in the absence of local guidance should defer to this national guide for decision making.
Dhruv Sookhoo, Chair of the RIBA Housing Group, welcomes the NDG for beginning to provide parity with design and placemaking policies in Scotland and those in development in Greater London.
"Useful practical features of the guide include its defining of key terms for a shared vocabulary between decision-makers, applicants and communities," he points out. "In providing built examples of good schemes from England, it illustrates how the ten characteristics for successful design may be realized."
"It also provides a set of questions that ask participants in the planning process to consider how best to futureproof new and existing places."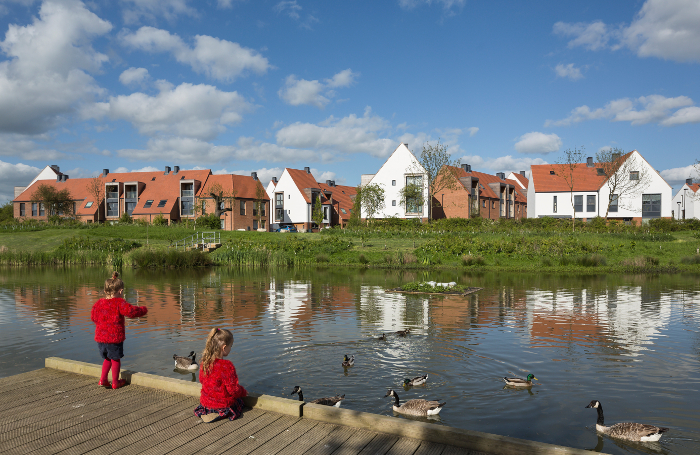 The NPG flags up a related successor publication called the National Model Design Code, which will be consulted on in early 2020. Sookhoo expects the National Model Design Code to be even more significant as it will be promoting design codes to local authorities as a means of specifying and assessing design quality.
"At their best, design codes offer a means of safeguarding minimum standards agreed through planning processes, and provide developers and their designers with the flexibility to enhance quality and choice in response to emerging opportunities and challenges," he states.
Sustainability plays an encouragingly large part in the NDG. RIBA Sustainable Futures Group member Ralph Carpenter singles out the guide's direct references to embodied energy and community energy, which will give planners the ability to factor these considerations into decision making. The RIBA has recently launched its own 2030 Climate Challenge and is urging Chartered Practices to take sign up.
As a member of a design review panel, Carpenter expects the clarity of the new guidance to be helpful for panels wanting to draw upon it for design recommendations, particularly in non-urban areas where local policies may be less finely developed.
Thanks to Philip Waddy, Partner, West Waddy ADP; Dhruv Sookhoo, Newcastle University; Ralph Carpenter, RIBA Sustainable Futures Group.
Text by Neal Morris. This is a Professional Feature edited by the RIBA Practice team. Send us your feedback and ideas
RIBA Core Curriculum Topic: Places, planning and communities.
As part of the flexible RIBA CPD programme, Professional Features count as microlearning. See further information on the updated RIBA CPD Core Curriculum and on fulfilling your CPD requirements as an RIBA Chartered Member.
Posted on 17 October 2019.