02 December 2019
Ahead of the 2019 General Election, the RIBA will be hosting the National Housing Hustings on Wednesday 4 December at 6pm.
Millions of people across the country are directly affected by the housing crisis and this will be an opportunity to hear how England's main political parties would tackle this crisis if they formed the next government.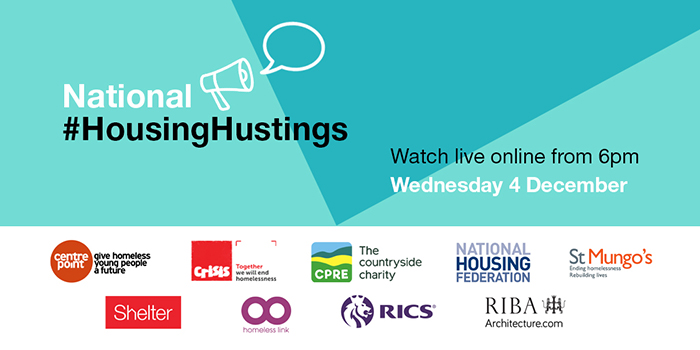 Organised by a group of housing charities and organisations (Centrepoint, Crisis, CPRE, the National Housing Federation, St Mungos, Shelter, Homeless Link and RICS), housing spokespeople have been invited from the Conservative Party, Green Party, Labour Party and Liberal Democrats.
The hustings will be attended by supporters and partners including people with lived experience of homelessness and experts from across the housing sector, and offers an impartial opportunity for the nation to hear the main parties answer the key housing questions facing the nation.
Watch the evening debate live via our live stream and ask questions of your own on Twitter using the hashtag #HousingHustings.
If you would like more information on this event please email Public.Affairs@riba.org.