Neil Gillespie reflects on design quality
12 July 2018
The 2018 RIBA Smart Practice Conference taking place in Cambridge in October will be dedicated to design quality – how to demonstrate it and, crucially, how architects can communicate the value they can bring to clients and the wider public.
Keynote speaker Neil Gillespie will reflect on what design quality means for him. As one of the leading figures of a vibrant Scottish architecture scene, the Reiach and Hall Architects director believes the real value in a design presents itself at a very human level.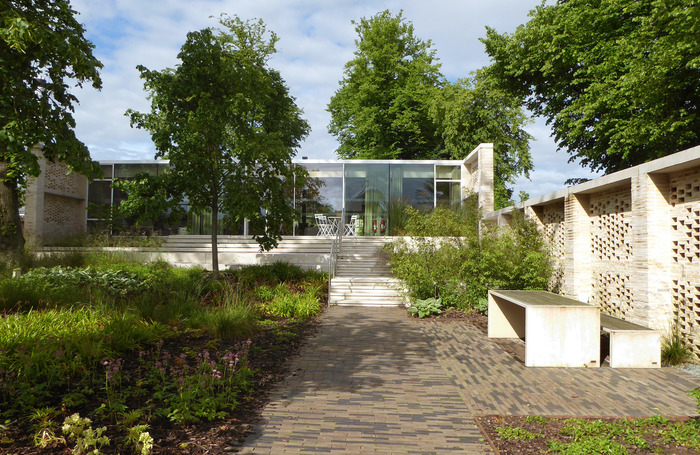 He recalls the approach taken at Maggie's Centre in Lanarkshire, a RIBA Stirling Prize finalist in 2015, as based on expressing this attitude:
'The architectural proposals are really about the gardens; the building and ego are purposely suppressed. The design decision was to be as concise as possible. This release from the verbosity of some intellectual narrative allowed our gaze to be focused on making, on materials, on detail, on working quietly yet purposefully.'
The modesty and stillness of the design translates to patients and visitors who connect with the interiors' intimate relationship with the small courts and gardens.
'It is beautifully made, you can sense that everyone involved cared about its making. It was not about expressing anything. It was concerned with making a dignified, pleasant place to be.'
Architects are necessarily influenced by the conditions that prevail at a given time, responding to the opportunities that arise, and shaped by the cultural background they grow up in.
In Scotland, pragmatism is considered a virtue, Gillespie explains, yet he finds it can easily lapse into a state of resignation which he is determined to resist:
'While my definition of design quality is always concerned with finding an appropriate solution it must also strive for, but rarely achieves, something that causes you to pause, reflect, unsure of what to think.'
'There is great pressure for architects to perform, and while that may occasionally be the appropriate thing to do, I think the work that touches me is grounded in fact and material yet alludes to a more wilful, imaginative fiction. By that I mean something that transcends the brief and the situation, regardless of budget.'
So how do Reiach and Hall keep quality on the agenda when talking to clients, whose core objectives will inevitably vary?
'We tell different stories to different people, we tell different stories to the same people at different times. The skill of the architect lies in the ability to judge when, or if, to weave a particular story or idea that gives the client the opportunity to access their design intentions.
I think the best way to communicate value is passion and commitment, to show through dialogue, drawings, models, sketches your interest and excitement about their project.'
Value Added: Making Design Quality Count, the RIBA Smart Practice Conference 2018, takes place at Fitzwilliam College, Cambridge on 4 October 2018. Special Early Bird rate tickets are now available.
Thanks to Neil Gillespie, Director, Reiach and Hall Architects.
Text by Neal Morris. This is a Professional Feature edited by the RIBA Practice team.Send us your feedback and ideas
RIBA Core Curriculum Topic: Business, clients and services.
As part of the flexible RIBA CPD programme, Professional Features count as microlearning. See further information on the updated RIBA CPD Core Curriculum and on fulfilling your CPD requirements as an RIBA Chartered Member.
Posted on 12 July 2018.