08 October 2019
The Royal Institute of British Architects (RIBA) has today (Tuesday 8 October) announced Network Rail as the winner of the 2019 RIBA Client of the Year. The annual RIBA award recognises the role that a good client plays in championing brilliant architecture.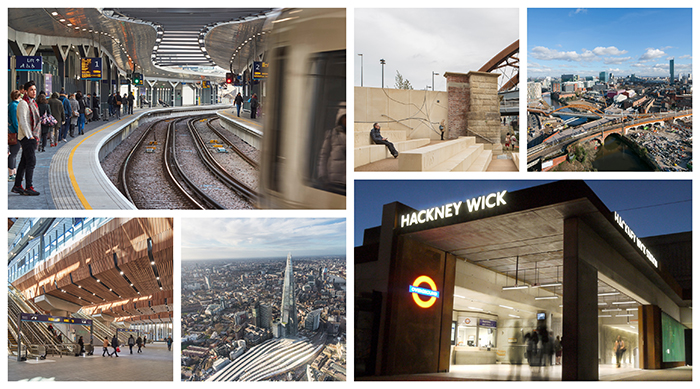 Since its foundation in 2002, Network Rail has been responsible for a significant number of RIBA award-winning projects in Manchester and London, connecting people throughout the UK.
Network Rail's RIBA Award winning projects include: Manchester Piccadilly Station by BDP (2003), St Pancras International by Foster + Partners (2008), Blackfriars Station by Pascall+Watson (2013), King's Cross Station by John McAslan + Partners (2014), and King's Cross Square by Stanton Williams (2015). In 2019 their award-winning projects included Hackney Wick Station, with London Legacy Development Corporation, by Landolt + Brown; London Bridge Station by Grimshaw; and Ordsall Chord in Manchester by BDP.
Chair of the RIBA Client of the Year jury, Jo Bacon, said:
"Network Rail have made considerable investment in projects to transform rail infrastructure across the UK. With their incredible record of commissioning RIBA chartered architects and their commitment to the creation of high-quality civic spaces, Network Rail is a worthy winner of the 2019 RIBA Client of the Year."
ENDS
Notes to editors:
1. For further press information contact Emily.Stallard@riba.org, 020 7307 3813
2. View and download images of Network Rail projects here
3. The 2019 RIBA Client of the Year was judged by Jo Bacon, Allies and Morrison and Jo van Heyningen, van Heyningen and Haward Architects
4. Previous winners of RIBA Client of the Year award include Argent LLP (2018), Bedales School for their Art and Design Building (2017), Westmorland Ltd (2016), National Theatre (2015), Manchester Metropolitan University (2014), the National Trust (2013), Olympic Delivery Authority (2012) and The Royal Shakespeare Company (2011).
5. The Architects' Journal is media partner for the RIBA awards, including RIBA Client of the Year. For more information visit www.architectsjournal.co.uk
6. The RIBA Client of the Year Awards is sponsored by Ibstock plc. For more information on Ibstock plc visit www.ibstockplc.co.uk
7. The Royal Institute of British Architects (RIBA) is a global professional membership body that serves its members and society in order to deliver better buildings and places, stronger communities and a sustainable environment. Follow us on Twitter for regular RIBA updates