03 April 2018
On perspective and other kinds of space - a commission by Sam Jacob Studio
Sponsored by Arper and Colt
2 May – 7 October 2018
Free exhibition in The Architecture Gallery, RIBA, 66 Portland Place, London, W1
Proportion, distortion, geometry, distance, power, the infinite, the divine – perspective traverses truth and illusion, linking the disciplines of art, architecture and mathematics. For this new exhibition, sponsored by Arper and Colt, RIBA has commissioned Sam Jacob Studio to explore how perspective drawing has been applied to the art of building for centuries and used as a tool to evoke illusory architectural spaces.
The Disappear Here installation will include original drawings and early writings by some of the most talented designers in history. Visitors will become active participants within the space where deceptive murals, playful architectural structures and a newly commissioned film will trace the lineage of perspective from the Renaissance to present day. In a further twist, the system of perspective will dictate how everything in the gallery is arranged.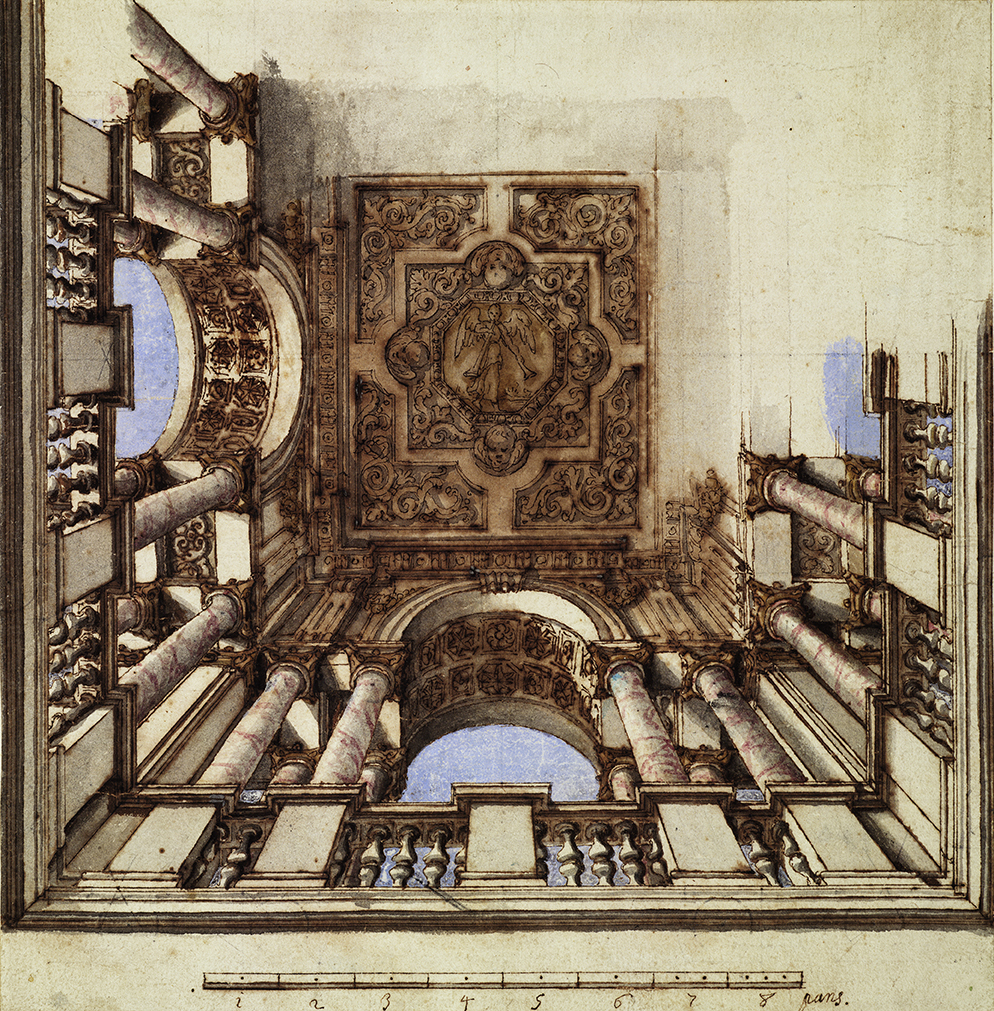 Speaking about the commission, Sam Jacob:
"Since its invention in the 15th century perspective has been a fundamental tool in the way we imagine space and design architecture. But perspective is also a kind of tyranny too, forcing its own logic onto the worlds we create. This commission gave us the opportunity to explore how perspective has not only been used to illustrate the world but also how it creates and organises the world. This continues the studio's longstanding interest in how ways of drawing shape the architecture we create. For this installation we wanted to create a space where visitors can experience the essentially illusory nature of perspective and question the making and breaking of rules."
Sam Jacob Studio was invited by RIBA to draw on RIBA's historic collections for inspiration to create a site-specific installation. The Studio has selected a diverse range of items, from rare books dating back to the Renaissance to contemporary works. Highlights vary from John Smythson's early 17th Century Jacobean designs to a colourful modern interior by Max Clendinning and from Sebastiano Serlio's architectural treatise 'Seven Books of Architecture' to Etienne-Louis Boullee's intricately drawn perspectives of neo-classical buildings. Other original drawings on display include works by Andrea Palladio, Edwin Lutyens and William Talman. Additional material on loan from Drawing Matter include modern works from the radical Italian architecture firm Superstudio, French-born American industrial designer Raymond Loewy and British architect James Gowan.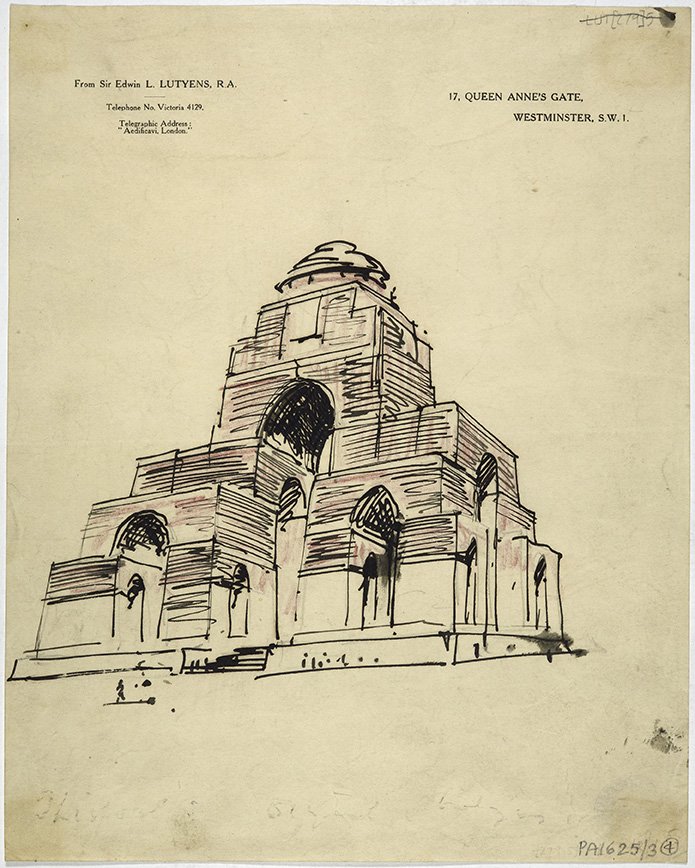 The material on display represents some of the most distinguished examples of perspectival drawing, depicting vast imaginary spaces and imposing mega structures on a single sheet of paper. Alongside these textbook examples, the show will reveal imperfect versions; drawings that more easily reveal their constructed nature and provide an insight into the strategies employed to achieve an illusory space.
The perspectival system plays an important role in how the collection objects are shown. Spanning two walls in the gallery, the drawings are displayed according to their vanishing points and perspective lines. Geometrical shapes drawn from 16th century publications and modern era drawings are used to design new furniture and a quarter of a structural shape will in part be completed by three-sided mirrored panels, referencing the work of Robert Smithson.
To end the exhibition, the specially commissioned film takes the theme of perspective into a contemporary reality. Sam Jacobs Studio has worked with game developer Shedworks to devise an algorithm that places 50 deconstructed architectural assemblies, taken from various architectural treatises, within an endless moving grid. The film, with no beginning or end, challenges ideas around perspectives in a digital age and interrogates notions of space, infinity and vanishing points.
Marie Bak Mortensen, RIBA Head of Exhibitions
"We are thrilled to have commissioned Sam Jacob Studio to develop an installation on the theme of perspective. The studio is well regarded for its highly original approaches to designing across many disciplines but with a consistent rooting in architecture. Its ability to create unique and visually compelling projects for large audiences underpinned by a rigorous attention and awareness of architectural history and theory is an asset that makes the studio perfectly suited to explore our collections for this new commission in the Architecture Gallery."
Ends
Notes to Editors:
1.For further information contact Beatrice Cooke in the RIBA press office: beatrice.cooke@riba.org; 020 7307 3813. Press images can be downloaded here: https://riba.box.com/s/wmwhlf2vhyfducd48zyns747pyayn7z2
The Press View will be held on Tuesday 1 May, 09.30 at RIBA
2. Sam Jacob Studio: Sam Jacob Studio' was established in 2014 and projects include designing a gallery for the V&A in Shenzhen, China; 'The Stack' – a small living space with attached library for the London Design Festival, in partnership with Mini and co-curators of the British Pavilion at the Venice Biennale (2014). The studio is led by Sam Jacob who is Professor of Architecture at UIC and Visiting Professor at Yale School of Architecture. Sam Jacob is one of the founding trio of architects of FAT [Fashion, Architecture, Taste - disbanded in 2013 after 23 years]. Described as the UK's 'most playful' architecture practice, FAT's projects included A House for Essex with Grayson Perry, the BBC Studios in Cardiff and the Blue House in Hackney.
3. Disappear Here: On Perspective and other kinds of space is curated by Marie Bak Mortensen, Head of Exhibitions. A series of public events including workshops for families and children and adult lectures will support this programme and a special RIBA Late event, celebrating the themes and works within the exhibition, will be held in June 2018.
4. The Architecture Gallery at RIBA is open from 10am – 5pm Monday to Sunday and until 8pm every Tuesday. Free entrance. RIBA is at 66 Portland Place, London, W1B 1AD. Nearest tubes are Oxford Circus, Regent's Park and Great Portland Street. The exhibition is part of a RIBA season of wide ranging events and workshops, designed for all ages and experience levels. For further information go to https://www.architecture.com/disappearhere
5. The Architecture Gallery opened in February 2014 in the RIBA's Grade II* listed Art Deco HQ. Through regular, free exhibitions that explore the past, present and future of our built environment the gallery programme will help visitors discover and explore architecture. The gallery offers the opportunity for the RIBA to display its world class collections contained in the British Architectural Library.
6. The RIBA are grateful to vital corporate support for this exhibition. Please help us by acknowledging the two exhibition sponsors: Arper @ArperOfficial and Colt @Colt_UK
Arper
Arper is a leading Italian company that creates chairs, tables, and furnishings for community, work and home. Every part of the product development process—from design to production to long-term impact—is carefully considered, bringing function, aesthetic, detail together in elegant resolution.
Founded in 1989, Arper is a fast growing family business guided by an integrative human-centred approach, that has grown from a furniture manufacturer to an international design presence.
Colt
Colt International Limited, founded in 1931, provides and services innovative, cost-effective and sustainable solutions for smoke control, climate control, natural ventilation and solar shading from design through to installation.
Colt's expertise is built on its proven experience, and has supported healthy, safe and sustainable built environments for over 85 years.
7. The Royal Institute of British Architects (RIBA) is a global professional membership body that serves its members and society in order to deliver better buildings and places, stronger communities and a sustainable environment. www.architecture.com
8. The RIBA is a registered charity and it relies on the generosity of individuals, companies, trusts and foundations to preserve its world-class collections, to maintain free public access to its exhibitions and develop a diverse and exciting public events programme.
9. Since its foundation in 1843, the RIBA has amassed one of the world's largest and richest architectural collections, which now comprises over 4 million drawings, books, models and photographs. The RIBA curates this collection for the general public and specialist audiences and makes it available for research through galleries and reading rooms at its headquarters at 66 Portland Place, London, and at the Victoria & Albert Museum (with whom the RIBA has an architectural partnership)
Follow @RIBA on Twitter for regular updates www.twitter.com/RIBA