Overheating significantly reduces user comfort in new homes
28 June 2018
Problems with overheating are not yet sufficiently considered by all architects and house builders, letting down the environmental performance of otherwise energy efficient new homes and reducing occupier wellbeing.
Concerns over overheating, compounded by a lack of occupier understanding of building service controls such as heating programmes, emerged in a survey of residential design quality carried out for the UK Green Building Council (UKGBC).
'Overheating problems emerge after handover, and if architects are not involved they are not learning the design lessons. There is a lot of feedback coming back, particularly from housing associations, which suggests architects could do more to evaluate their designs from a health and wellbeing perspective,' says Ashley Bateson, the Partner at Hoare Lea who is leading the research.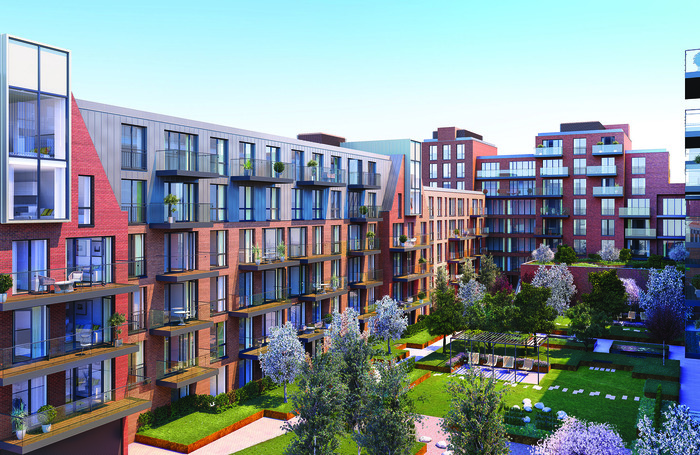 The study for UKGBC – Healthy housebuilding: Making 300,000 new homes a year better places to live – seeks to inform policy makers at a time when the government is calling on the housing supply chain to gear up to meet higher targets. The UKGBC wants to ensure that occupier wellbeing is not side-lined in a rush to build more homes, but to make it an integral part of the industry's delivery strategy.
Most of the design aspects of new homes that people appreciate, such as the top-ranking quality of natural daylight, come as no surprise. Occupants enjoy modern kitchens, good thermal insulation, large windows and balconies if they are of adequate size.
But satisfaction with summer comfort levels in new homes, at 76%, is now significantly lower than that for older homes, at 89%. While new developments are becoming more resource efficient, the overheating challenge is not yet being adequately addressed at the planning and design stages.
The UKGBC briefing paper emphasises that careful design of building form, orientation and layout have a huge impact on issues such as internal temperatures, ventilation and associated air quality. Good design in this respect need not cost more, although pressure for increased density may require more thought to be given to specific design features.
Simple natural ventilation strategies often come at no or very limited extra cost, although they may not be suitable in all situations. Where mechanical or more complex natural systems are required, they need to be accurately sized, correctly installed and commissioned, which the study says will come at a cost.
Bateson, who sits on the RIBA Sustainable Futures Group, wants architects to provide more leadership on the issues of environmental wellbeing in new homes where they can.
He argues that even if not retained by house builders for the detailed design stage, they can nevertheless exert greater influence at early project stages and take mitigating steps to avoid overheating, such as through considered window sizing and shading.
The choice of environmental control systems is often left to the contractor, who may be tempted to buy the cheapest product and then leave occupants without proper guidance nor any strategy about managing natural ventilation. Architects need to be aware that such practices can completely undermine the environmental performance of a new home.
'Architects can take more of a lead on this. It would be in tune with the Hackitt Review [the independent review of regulations in the wake of the Grenfell Tower fire] and its call for more integrated thinking from the supply chain. Designers should be taking the lead in putting occupants at the centre of design for wellbeing,' urges Bateson.
Thanks to Ashley Bateson, Partner, Hoare Lea.
Text by Neal Morris. This is a Professional Feature edited by the RIBA Practice team. Send us your feedback and ideas
RIBA Core Curriculum Topic: Health, safety and wellbeing.
As part of the flexible RIBA CPD programme, Professional Features count as microlearning. See further information on the updated RIBA CPD Core Curriculum and on fulfilling your CPD requirements as an RIBA Chartered Member.
Posted on 28 June 2018.