Architecture Gallery, RIBA, 66 Portland Place, W1
21 September 2017 to 11 February 2018
FREE ADMISSION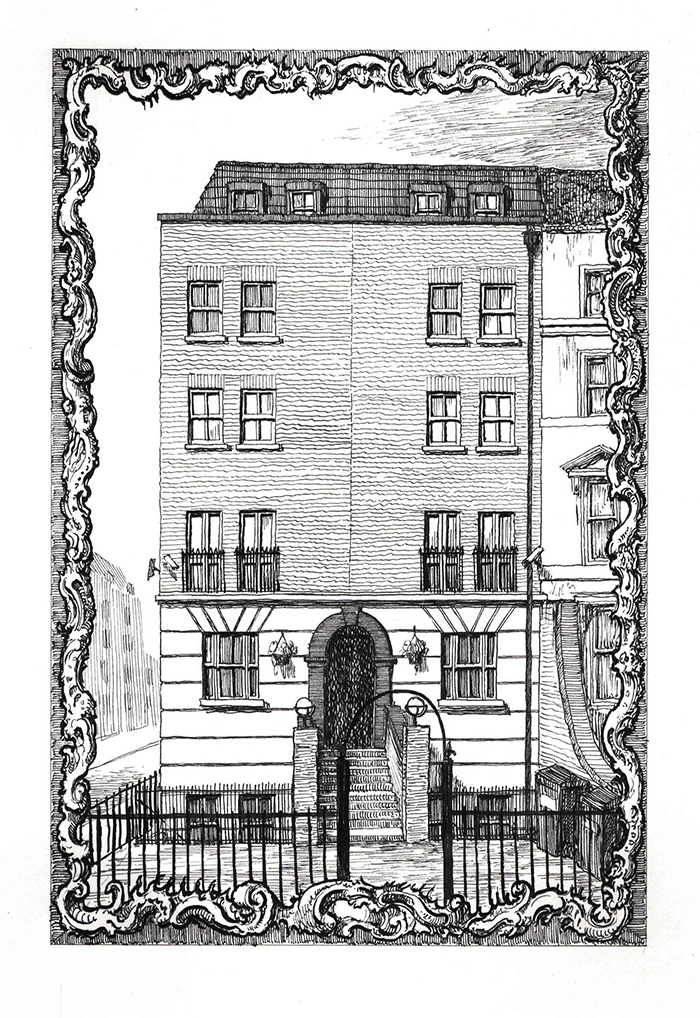 Pablo Bronstein: Conservatism, or The Long Reign of Pseudo-Georgian Architecture is the third in a series of RIBA commissions for the Architecture Gallery. Internationally renowned artist Pablo Bronstein has created fifty new drawings for his exploration of buildings constructed in the second half of the twentieth century, in ostensibly neo-Georgian style.
These drawings will be framed and displayed alongside rarely-seen historical Georgian and neo-Georgian material. Chosen by the artist from the RIBA's collections, these archival works situate Bronstein's drawings in the context of architectural practice through time. Pablo Bronstein has collaborated with architecture practice Apparata (Nicholas Lobo Brennan and Astrid Smitham) to transform the RIBA's gallery space into a domestic environment in which the objects will be arranged.
Marie Bak Mortensen, Head of Exhibitions, RIBA, said: "We are very excited to announce that a series of new drawings by celebrated artist Pablo Bronstein will be presented in the Architecture Gallery at the RIBA. Bronstein's work raises timely questions about how we both experience and acknowledge an architectural style that pervades the UK, yet still remains undocumented within the canon of architecture. Revealing long-cherished ideals about social aspiration, urban fabric, identity and representation, his drawings of neo-Georgian developments will perform a lovingly critical dialogue with the historical objects from RIBA's own architecture collection."
Pablo Bronstein said: "With this exhibition, I am continuing a personal history of drawing recent buildings, focusing on an architecture so unloved, yet so endemic to Britain. It can be characterised as alluding to the Georgian, and has become a staple of every British landscape; it should be addressed as the most current British vernacular style. Yet its success, and its principal interest to me, is that of its ability to successfully and economically pander to delusions about our past, and to flatter our vanity of wealth and class. It is an architecture perfectly suited to the last thirty years of our history."
To complement Bronstein's interpretation, RIBA has commissioned architects Apparata to design a site-specific installation in the entrance to the RIBA's landmark building. The installation expresses the practice's belief that classical architecture is a progressive force, associated with leaps in human knowledge, the escape from ignorance and superstition, and the birth of democracy. In this installation Apparata reframes understanding of classical architecture, charting its restrictions and opportunities with contemporary mechanical construction technologies.
Born in 1977, Pablo Bronstein is an Argentinian artist who lives and works in London. His work spans from drawing to choreography and performance; always with a focus on architecture. Bronstein is known for humorous and beautifully executed drawings that reflect his fascination with the aesthetic and social attributes of pre-Modern European design and architecture.
The exhibition is curated by Shumi Bose, Curator (Exhibitions) with assistance from Suzie Pugh, Curator (Collections) and Marie Bak Mortensen, Head of Exhibitions, RIBA. A special RIBA Late 'Reaching Peak Pastiche', celebrating the themes and works within the exhibition, will be held on Tuesday 7 November 2017 and will feature a discussion between Pablo Bronstein and classical architect George Saumarez-Smith.
A series of public events including artist and architects' talks, debates, film screenings, and workshops for families and children will support this programme.
Notes to editors:
● Press images can be downloaded here.
● For further information & images contact Beatrice Cooke in the RIBA press office: beatrice.cooke@riba.org; 020 7307 3813
● The Architecture Gallery at RIBA is open from 10am – 5pm Monday to Sunday and until 8pm every Tuesday. Free entrance. RIBA is at 66 Portland Place, London, W1B 1AD. Nearest tubes are Oxford Circus, Regent's Park and Great Portland Street. The exhibition is part of a RIBA season of wide ranging events and workshops, designed for all ages and experience levels. For further information go to www.architecture.com/whatson
● The RIBA is a registered charity and it relies on the generosity of individuals, companies, trusts and foundations to preserve its world-class collections, to maintain free public access to its exhibitions and develop a diverse and exciting public events programme.
● Since its foundation in 1843, the RIBA has amassed one of the world's largest and richest architectural collections, which now comprises over 4 million drawings, books, models and photographs. The RIBA curates this collection for the general public and specialist audiences and makes it available for research through galleries and reading rooms at its headquarters at 66 Portland Place, London, and at the Victoria & Albert Museum (with whom the RIBA has an architectural partnership)
● Pablo Bronstein (born 1977, Buenos Aires) is an Argentine artist based in London. He attended Central Saint Martin's College of Art and Design, at the University of the Arts London, the Slade School of Fine Art, UCL, and graduated from Goldsmiths College of Art. He specialises in architectural sketches depicting both imagined and existing building, made in ink and watercolour and incorporating styles from the Baroque to Postmodernism. His work also includes live performance: the Tate Britain commission in 2016, 'Historic Dances in an Antique Setting' involved choreographed movement within the imposing space of the Duveen galleries.
● Apparata are a London based Architectural design practice established by Astrid Smitham and Nicholas Lobo Brennan. Their practice is founded on 14 years of combined experience with established international architectural firms, delivering complex built projects worldwide. They have taught and lectured in institutions including the Gerrit Rietveld Academy, the ETH Zurich, the Berlage Institute TU Delft, TU Munich, EPF Lausanne, and currently teach a studio on housing and civic space at the Royal College of Art, London. In 2017 they were named by the Guardian as one of the top 20 talents to watch. http://apparata.ch/
● The Royal Institute of British Architects (@RIBA) is a global professional membership body that serves its members and society in order to deliver better buildings and places, stronger communities and a sustainable environment. www.architecture.com
● Follow @RIBA on Twitter for regular updates www.twitter.com/RIBA. Please use #PabloAtRIBA in your social media activity.