28 July 2017
Pablo Bronstein is an Argentine-British artist who lives and works in London. His practice revolves around the discipline of drawing, though he also produces installations and choreographed performances. As a draughtsman, he focuses exclusively on architecture, which he depicts with a unique blend of acuity, imagination, critique and candour. Like a contemporary Baudelaire, Bronstein portrays the present while exposing peculiar and contrary traces of the past; of continued traditions and constructed ambitions.
'One thing I like about architecture is its attempt at aspiration, its desperation. I'm not excited by good-quality, decent, sophisticated buildings. I like buildings that want to be seen as better than they are.
Excerpt from 'Sanctuary: Britain's Artists and their Studios' (Thames & Hudson, 2012)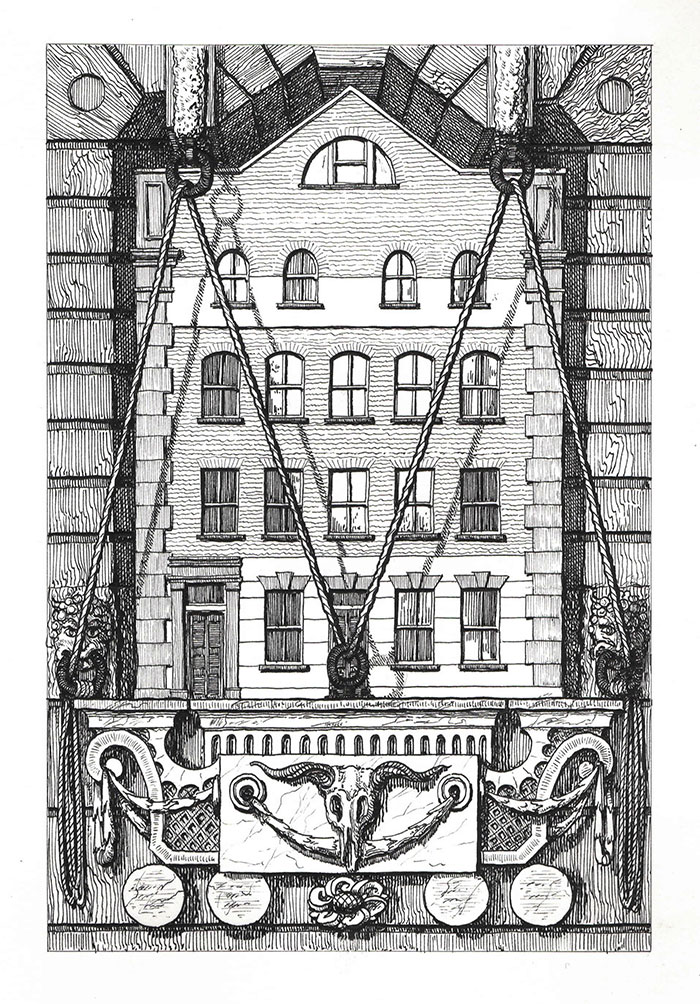 Bronstein's painstaking and richly-detailed drawings – made largely in pen and ink – have a historic, documentary quality; yet even in the finest details, the works reveal architectural anomalies and quirks that invite a second look. Through the process of hand-drawing, and by deploying elaborate motifs and ornamental traditions found in 18th century engravings and illuminated texts, his works seem to elevate and reify buildings that might otherwise seem banal, critically questioning their symbolism and significance.
Through his works, Bronstein is commenting on style, value, taste and social aspiration. They make us question why it is that these houses line our streets, these lofty buildings fill our cities and these monuments punctuate our civic spaces. Both humorous and deliberately provocative, his investigation continues a longstanding interest in history and the potential inaccuracies that occur when we attempt to recreate the past.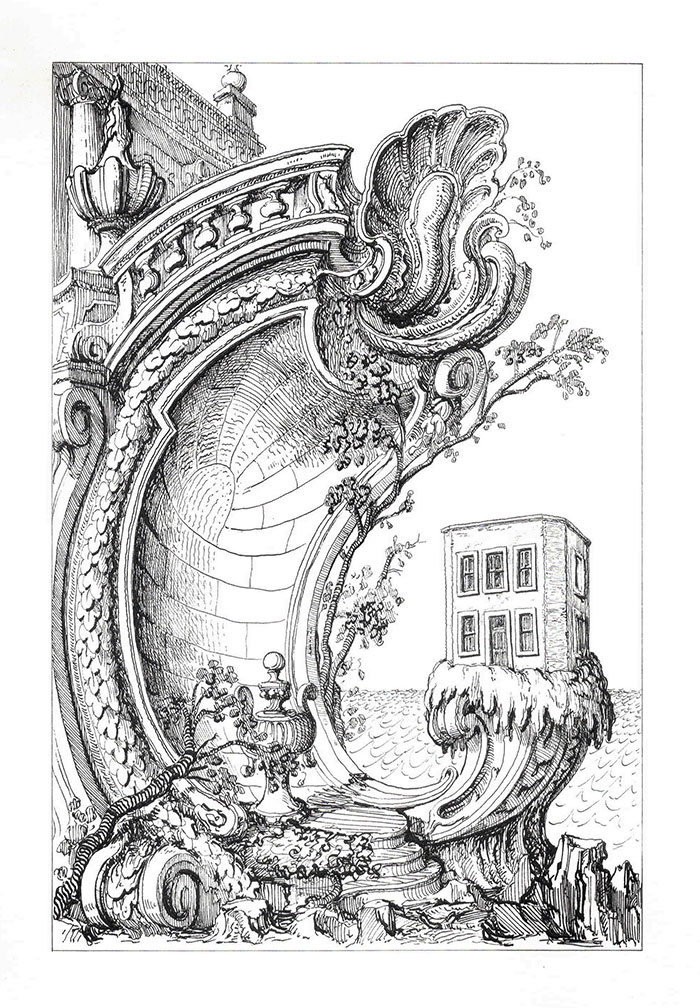 In 2016, Bronstein choreographed a continuous live performance at the Tate Britain, entitled 'Historical Dances in an Antique Setting'. Visitors encountered two large-scale architectural backgrounds, spanning the width of the imposing Duveen Galleries. Each surface was overlaid with visually manipulated images taken from Tate Britain's exterior architecture, visually turning the gallery inside out, while classically trained dancers continually animated the space through a combination of Baroque choreography and contemporary dance.
Bronstein grew up drawing elaborate, imaginary castles in his grandparents' classical and grandiose house in Buenos Aires, before moving to a mundane area of north London. From a young age, his sketchbook was filled with fantastical buildings, and still today, Bronstein is perhaps best known for his sketches depicting both imagined and existing buildings, incorporating styles from the Baroque to Postmodernism. He made a prominent entry into contemporary architectural discourse with his book 'A Guide to Postmodern Architecture in London' (Koenig, 2008), which took a sideways look at this controversial stylistic movement and its aesthetic consequences.
Like that previous study, Bronstein's recent studies of what he calls the 'Pseudo Georgian' stems from his own perambulatory observations - first noticing and identifying pseudo-Georgian tendencies in his immediate environs in East London, and gradually broadening to find the same in many neighbourhoods in London and beyond. In the artist's own words,
'I am continuing a personal history of drawing recent buildings, focussing on an architecture so unloved yet so endemic to Britain that it has become at once ubiquitous and difficult to recognise. It can be characterised as alluding to the Georgian, and as a staple of every British landscape during the past several decades, should be addressed as the most current British vernacular style.
Its success, and its principal interest to me, is that of its ability to successfully and economically pander to delusions about our past, and to flatter our vanity of wealth and class. It is an architecture perfectly suited to the last 30 years of our history.'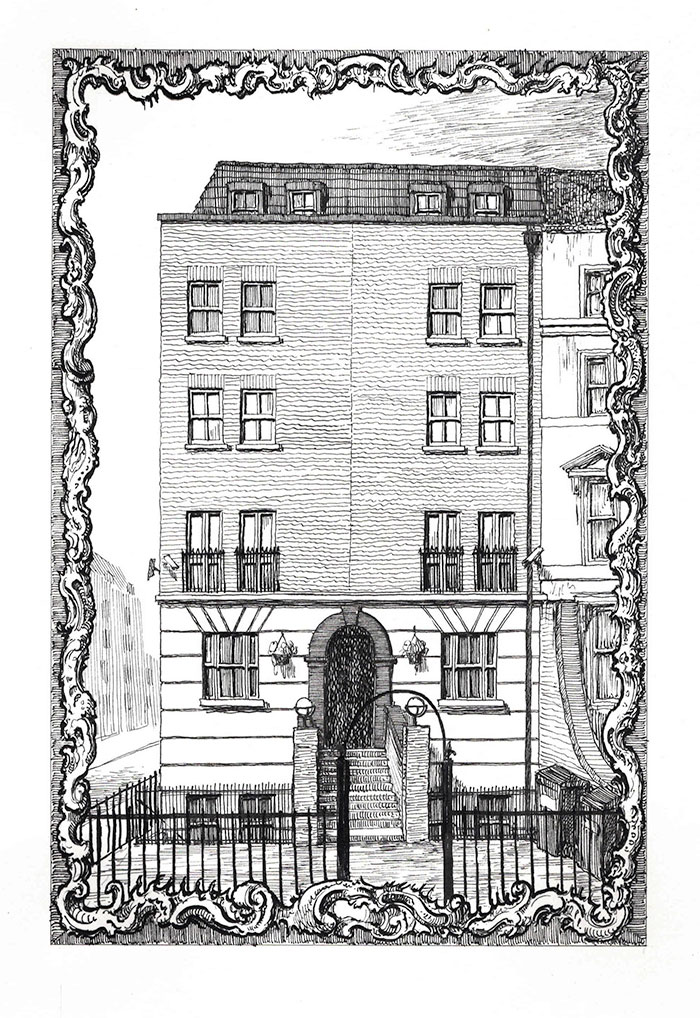 In September 2017, Pablo Bronstein will present a new series of work at the RIBA Architecture Gallery, exploring the ubiquity and persistence of the Georgian style in British architecture. Presented alongside rarely-seen objects from the RIBA Drawings Collection, 'Pablo Bronstein: Conservatism, or The Long Reign of Pseudo Georgian Architecture' comprises a series of fifty new works, and is complemented by a site-specific installation by young architecture practice Apparata.