07 February 2018
During the eighteenth and nineteenth centuries, architectural pattern books like the ones on display in the Pablo Bronstein exhibition, were instrumental in spreading the Georgian ideal across the English-speaking world.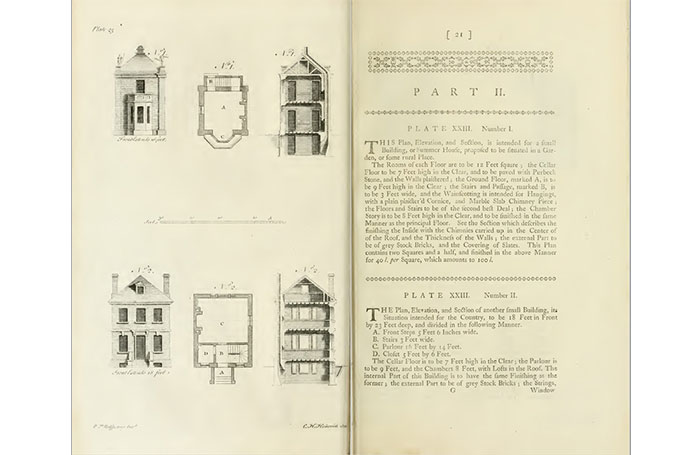 What is a pattern book?

Pattern books were printed and bound volumes that allowed architects, builders and clients to share and popularise designs – not only for architecture, but also for objects too.
These were not a new phenomenon. Illustrated architectural books had been coveted items since the early Renaissance, elaborating on Classical theories, mathematical formulae and other technological developments.
They were expensive however, often focusing on celebrated individuals such as Palladio. Pattern books, on the other hand, were rather more pragmatic. They were an opportunity to showcase talents, cataloguing house types and designs that helped to propagate certain styles and motifs to a wider audience.

How were they used?
While early books were aimed at the nobility or landowner (equivalent to a contemporary developer), by 1780, hundreds of books were targeted to aspirational clients and skilled tradesmen, illustrating modest houses, villas and cottages.
Thousands of pattern books were eventually produced across the eighteenth and nineteenth centuries, sold to architects, builders and craftspeople throughout the country. These professionals would have been able to follow a given pattern outlined in the books and recreate it within their designs.
Why were pattern books used?
The golden era of pattern books coincides squarely with the Georgian era, a period of rampant development at home and overseas. They became arguably the most powerful tools propagating the Georgian style, not only within Britain but internationally.
Thanks to the pattern book, people could build in an immaculate and convincing Regency manner in America (where many editions are highly prized by collectors), India, Australia or anywhere.
Whether folio sized to impress would-be patrons, or conveniently pocket-press for working builders, pattern books were a principal means for the transmission of Georgian designs throughout the English-speaking world.
What is the modern-day equivalent?
The immense popularity of pattern books anticipated the voracious spread of images of architecture in the media, through journals, magazines, illustrated monographs and now websites and blogs.
Today, these books are paralleled in the digital realm, through technologies like building information modelling and in open-source design platforms, where building templates can be customised and adapted for the client.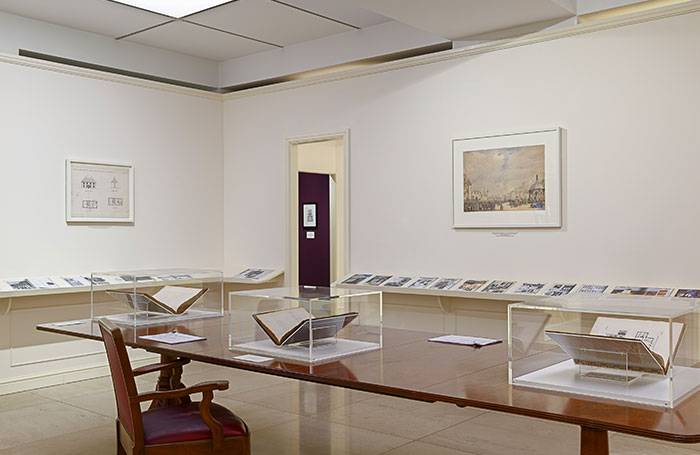 What are the challenges in conserving and caring for pattern books?
The care of these books depends on the materials and binding styles used, as these determine their durability and present their own unique preservation challenges.
The eighteenth century pattern books currently on display within the 'Pablo Bronstein: Conservatism, or the Long Reign of Pseudo- Georgian Architecture' exhibition include good quality cotton or linen type papers.
They are identifiable not only through their publication date, but through properties such as their flexibility, thickness and condition; being less prone to becoming brittle and tearing than the later nineteenth century wood pulp versions. Their leather covers can also be vulnerable, being susceptible to a condition known as 'red rot', often caused by changes in leather-making during this period.
Conservation can include re-binding or re-attachment of the original spine and repairing or reinforcing tears and weak areas such as corners and head caps.
Care must also be taken when displaying the pattern books, as significant damage can be caused if these books are not displayed in the correct environmental conditions or using the correct presentation methods.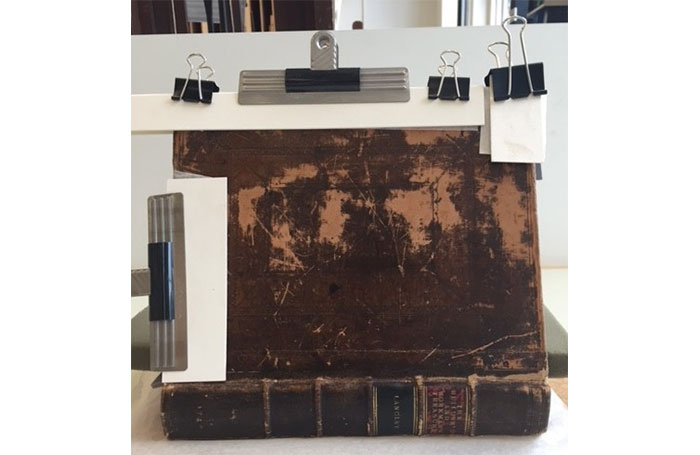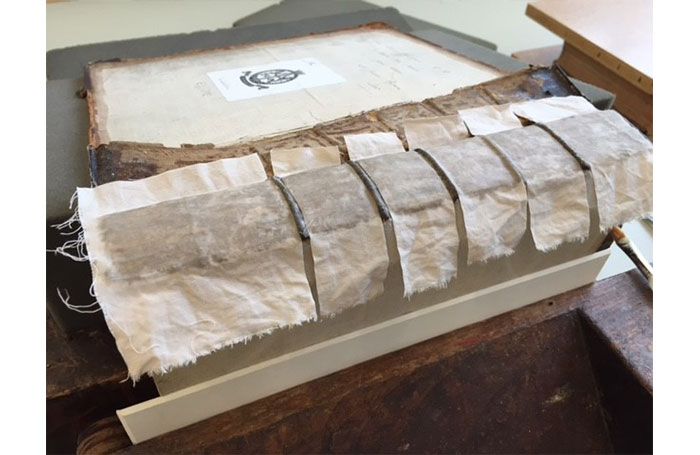 The RIBA Collections
The RIBA Rare Books Collection – composed of almost 5,000 volumes published between 1478 and 1840 – is one of the finest in the world. Many titles in the collection date from the Georgian period, and like the pattern books on display, were intended to spread architectural and historic knowledge to both patrons and practitioners. For example, 'The practical house carpenter. Being a complete development of the Grecian orders of architecture' by Asher Benjamin (1830) or 'Illustrations of the early domestic architecture of England, drawn and arranged by John Britton ... with notices, descriptive and historical' by C. Boutell (1846).
Visit the Pablo Bronstein exhibition before it closes on 11 February to view these pattern books, or learn more about the RIBA Library and Collections.