Photograph of EMI House 20 Manchester Square 1960
02 March 2016
Look up (the stairwell) and see the stars.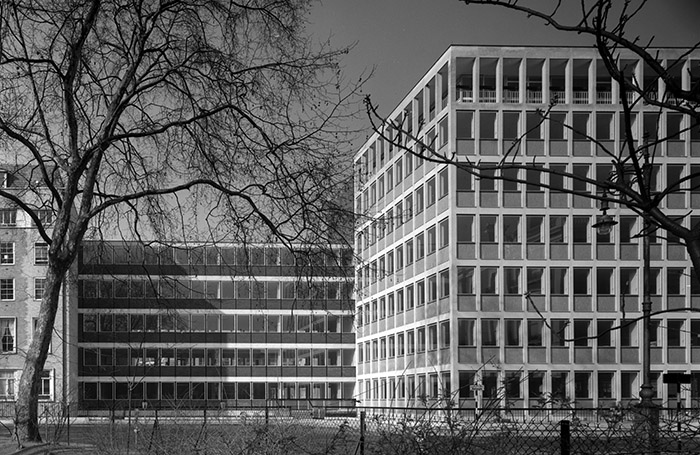 Inside this sleek but average-looking Modernist office block in Manchester Square, headquarters of EMI between 1960 and 1999, was where the Beatles were photographed, by Angus McBean, looking over the stairwell. This image became the cover for the band's first album, 'Please Please Me', released 22 March 1963.
The architecture related to the 'Fab Four' has a habit of disappearing: Liverpool's original Cavern Club was demolished in the early 1970s; the Scala Theatre, where the band filmed scenes for 'A Hard Day's Night' in London, has long gone; and the office block where that photoshoot took place also became a victim of bulldozers, but part of the famous stairwell was removed and installed at EMI's new HQ.
Image: Photograph of EMI House, 18 (later 20) Manchester Square, London, England, taken in 1960; image from RIBApix (number RIBA61294)
Architect: Gollins Melvin Ward & Partners
Photographer: Henk Snoek (1915-1980)
Credit: Henk Snoek / RIBA Collections
Article by Wilson Yau, RIBA
22 March 2016
Discover more
This is just one of over four million items in our world-class architectural collections at the RIBA Library – it's open to everyone and access is free. Visit the library to explore our collections of books, periodicals, drawings, photographs and models:
Periodical article
Office building, Manchester Square, London; Architects: Gollins, Melvin, Ward & Partners.
'Architectural Review'. September 1960, pp.217-218.
Photographs
Views of office buildings in Westminster, London: 68 black and white photoprints, including exterior views of EMI House, 18 Manchester Square.
Record control no. P019521, Call/Ref. no. AP348/74-AP348/141