01 September 2015
Britain's first purpose-built comprehensive school.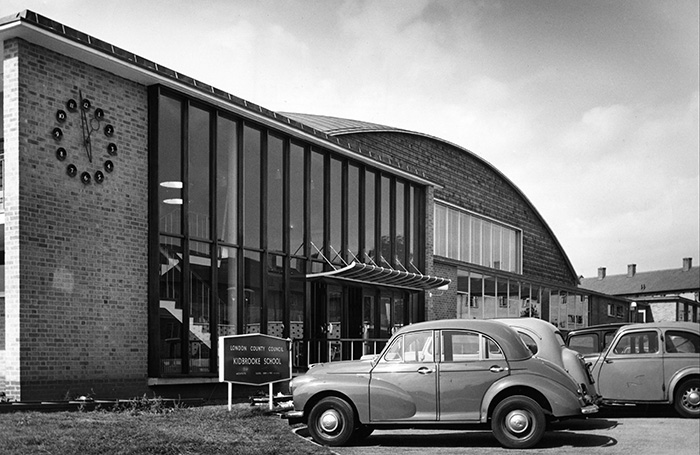 As it is soon 'back to school' for most children, here is a lovely photograph of Kidbrooke Comprehensive School for Girls, where my dad taught for 20 years. Designed by Slater, Uren and Pike, it was the first of the LCC comprehensive schools to open, in September 1954.
The school was built during a time of post-war austerity and so the architects were challenged to produce enough teaching accommodation with a drastically reduced budget. To do this, they employed clever planning by limiting circulation space between classrooms, designing dual-use spaces and restricting the level of the buildings to a maximum of three storeys.
Two special features of the school were: the central assembly hall, which had a standing capacity for the whole school of 2,000 pupils for morning prayers and featured a domed ceiling for optimised acoustics; and the domestic science section, which had all of the model appliances the girls would encounter when they ran their own homes. Amazingly, there were even fully-furnished mock 'flats' in the school in which the girls could practice their homemaking skills.
Image: Photograph of the main entrance and car park, Kidbrooke Comprehensive School, Greenwich, London, England, taken in 1954; image from RIBApix (number RIBA44196)
Architect: Slater, Uren and Pike
Photographer: Bill Toomey (1922-)
Credit: Architectural Press Archive / RIBA Collections
Article by Catriona Cornelius, RIBA
1 September 2015
Discover more
This is just one of over four million items in our world-class architectural collections at the RIBA Library – it's open to everyone and access is free. Visit the library to explore our collections of books, periodicals, drawings, photographs and models:
Journal article
'AA Journal', 1955
Comprehensive high school at Kidbrooke, Greenwich, London SE3, for London County Council
February 1955, pp. 206-208
Journal article
'Architect & Building News', 1954
Comprehensive high school at Kidbrooke, Greenwich, London SE3, for London County Council; Architects: Slater, Moberly, Uren & Pike.
16 September 1954, pp. 321-329
Journal article
'Builder', 1954
Project for comprehensive high school, Kidbrooke, County of London
20 August 1954, pp. 289-298, 313
Photographs
Images of Kidbrooke Comprehensive School from the Architectural Press Archive and Robert Elwall Photographs Collection