Photograph of the oculus Pantheon Rome 1960s
A perfect combination of spontaneity, light and architecture.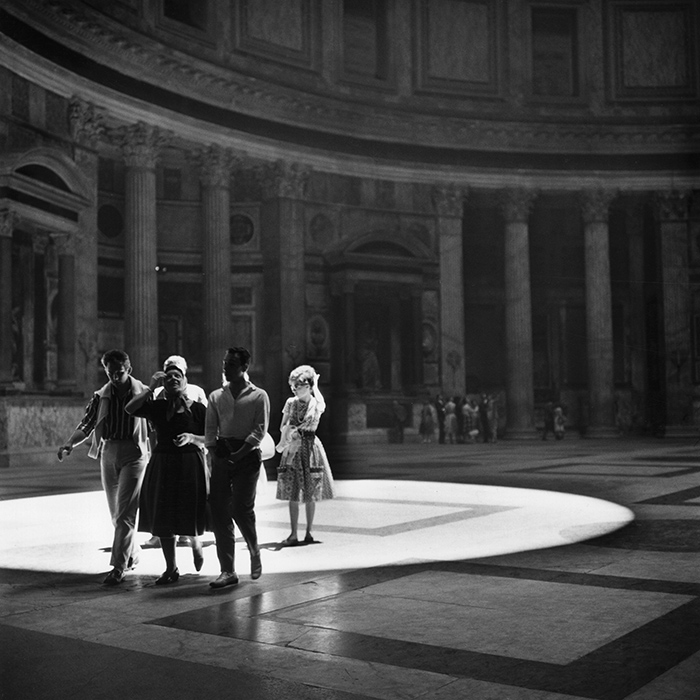 This image, which evokes the atmosphere of 'La Dolce Vita', appears to be a spontaneous rather than studied shot taken by John Donat in the majestic rotunda of Rome's Pantheon. It would be difficult today to enjoy it with such a small number of visitors! The group in the foreground is clearly what captured the photographer's attention, and at the same time the circle of light created by the oculus in the dome amplifies the curve of the wall in the background, conveying the feeling that we are indeed in a circular space – a deceptively simple combination of elements for a very atmospheric photograph.
Image: Photograph of a crowd walking under the oculus, Pantheon, Rome, Italy, taken in the 1960s; image from RIBApix (number RIBA59150)
Photographer: John Donat (1933-2004)
Credit: John Donat / RIBA Collections
Article by Valeria Carullo, RIBA
6 December 2016
Discover more
This is just one of over four million items in our world-class architectural collections at the RIBA Library – it's open to everyone and access is free. Visit the library to explore our collections of books, periodicals, drawings, photographs and models:
Book
Marder, T. A. and Jones, M. W. eds, 2015.
'The Pantheon: from antiquity to the present'
Cambridge: Cambridge University Press
Shelved at 72.032.7(37R)P // PAN [Reference]
Drawing
Topographical drawing of the Pantheon, Rome, 1862, by Cuthbert Brodrick (1822-1905): one sheet
Call/Ref. no. SC35/5 [located at the V&A]