Photograph of the Roger Stevens Lecture Theatre block University of Leeds 1971
Brutalist architecture continues to be controversial as more examples are given protected status.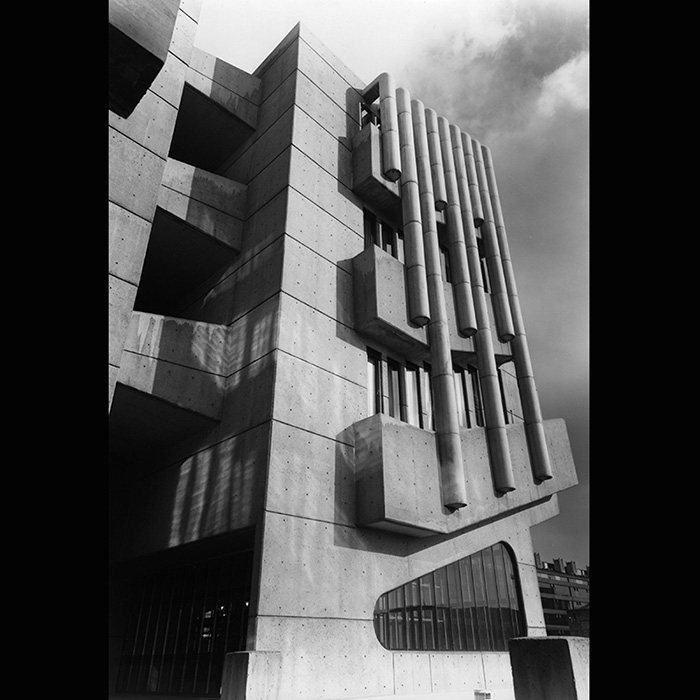 This photograph is of the Roger Stevens Lecture Theatre in Leeds, part of the now Grade II listed campus designed by Chamberlin, Powell & Bon. The listing in 2010 created some controversy as it was one of first 'modern' buildings to receive the accolade. A junior official 'rubber-stamped' the file that was intended to be a high-profile listing which architecture minister John Penrose could put his name to. Roger Stevens was awarded Grade II*, among ten other 1960s and 1970s buildings given a Grade II listing. This Brutalist building, as with many others, had the 'Marmite effect', though the pond in front was always favourite swimming spot for ducks (as well as the odd student).
Image: Photograph of the Roger Stevens Lecture Theatre block, University of Leeds, England, in 1971; image from RIBApix (number RIBA59895)
Architect: Chamberlin, Powell & Bon
Photographer: John Maltby (1910-1980)
Credit: John Maltby / RIBA Collections

Article by Elizabeth Adams (University of Leeds graduate), RIBA
6 February 2015
Discover more
This is just one of over four million items in our world-class architectural collections at the RIBA Library – it's open to everyone and access is free. Visit the library to explore our collections of books, periodicals, drawings, photographs and models:
Periodical article
Building Design, 2010.
DCMS blunder over post-war listing.
'Building Design'. 18 June 2010, no.1922, p.1
Photographs
Images of University of Leeds from the Robert Elwall Photographs Collection