Profiting from high-quality design
10 October 2018
Quality of design commands a significant premium, according to specialist estate agent The Modern House. In a UK housing market that has slowed somewhat, design quality continues to sell.
The Modern House is not your typical estate agent. It turns down around half of the properties it is offered for sale for their failure to make it past its own internal 'sort of design review', as founding director Albert Hill puts it.
The 'Modern' in the company's name makes it, in one sense, a misnomer: it sells a wide range of properties from photo-shoot contemporary to factory conversions and period properties 'with design intervention'. But it maintains a strict line on design quality, selling only homes with a strong and evident design-focus.
'We discriminate only by design, not by price,' says Hill.
About 20% of their sales portfolio is new build, and of this a large proportion are homes from a new generation of architect-developers doing it for themselves. Hill says they are always happy to work with such projects because they know the design quality will be high. He would encourage any architects thinking about going into development to go ahead and take the plunge.
Hill thinks that the growing number of practices becoming confident enough to try their hand at development is a trend to be welcomed, and perhaps reflects the government's line that more attention should be given to building homes on small sites.
It is no secret that the housing market has cooled in London – where The Modern House conducts 70% of its business – which means that developers are having to work hard to make what they offer stand out. Design quality is one way to do this.
'Consumers are also getting increasingly savvy about "authentic" quality,' states Hill. 'They know what sort of attention to detail they want from layouts, materials and natural daylight.'
For Hill, the case for design commanding a premium in the housing market is proven, and he even puts a figure to it for any would-be architect-developers to feed into their spreadsheets: it is 12%.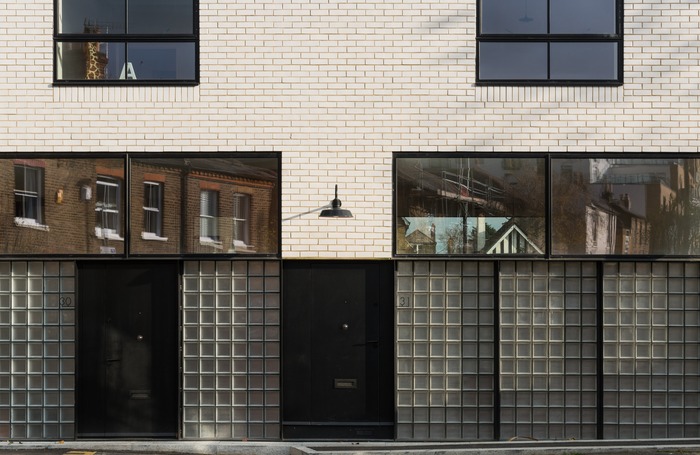 Earlier this year, The Modern House published the results of research carried out with property market intelligence company Dataloft. It compared the underlying per-square-foot sale value of homes with 'high design values' against homes in the 'mainstream' market. Having access to a large sample of sold properties, pre-selected for their design focus, and comparing like-for-like in terms of year of sale and postcode, made it possible to isolate the impact of good design on value, the research claims.
The 'high design' homes consistently commanded an average premium of 12% over a number of years and across changing market conditions. Across the three-year period analysed (2014–17), the design premium was 19% for higher-value sales of over £1m; while in lower-value price bands the premium was a smaller but still significant 10%.
Although The Modern House, which takes its name from the title of F.R.S. Yorke's 1934 book, is not representative of the UK market generally, Hill's message to any potential designer-developers is that there is a strong demand out there for design-led homes.
However, he advises architects to regard development as a long slog with rewards further down the line: the early objective is to establish credibility and a track record with banks and lenders, rather than trying to maximise profits at the first attempt. He also advises keeping faith with your original design intentions.
'Don't play safe and offer diluted design, because you risk falling between the design-focused and mainstream markets and impressing no-one by not being interesting enough,' he warns. 'Ambition, and sometimes naivety, can be just what is needed in a risk-averse market.'
Albert Hill will be one of the expert panel members discussing 'Deconstructing Finance' for architects at 'Guerrilla Tactics 2018: Expanding Practice: Navigating the Architecture of Planning, Procurement and Property', which takes place at the RIBA on 13–14 November 2018.
Thanks to Albert Hill, Founding Director, The Modern House.
By Neal Morris. This is a Professional Feature edited by the RIBA Practice team. Send us your feedback and ideas
RIBA Core Curriculum Topic: Business, clients and services.
As part of the flexible RIBA CPD programme, Professional Features count as microlearning. See further information on the updated RIBA CPD Core Curriculum and on fulfilling your CPD requirements as an RIBA Chartered Member.
Posted on 10 October 2018.