Purpose-built rental homes a growing presence in the housing market
16 March 2017
Purpose-built Build to Rent homes have never really impacted on the housing development pipeline in the UK, until now that is, with heavyweight developers and investors queuing up to develop branded, US-style managed housing portfolios in London and cities like Birmingham and Manchester.
The British Property Federation (BPF) has been championing Build to Rent (BTR) on behalf of its developer members for some years, arguing that if planners and policy makers woke up to the potential, the development model could attract billions in investment.
Last week the BPF published its latest report, 'Unlocking the Benefits and Potential of Build to Rent', with research and a package of proposals to help the sector 'in its infancy stage'.
Data on purpose-built, that is 'pure' BTR, puts completed homes in the UK at just 1,330 (homes built as part of major projects over 50 homes).
Contrast that with the number of projects under construction, at 8,469 homes, and the number classed as 'in planning', which soars to 25, 395. These figures exclude another 20,000 new homes expected to be purchased and retained – but not purpose-designed and built – for the private rented sector.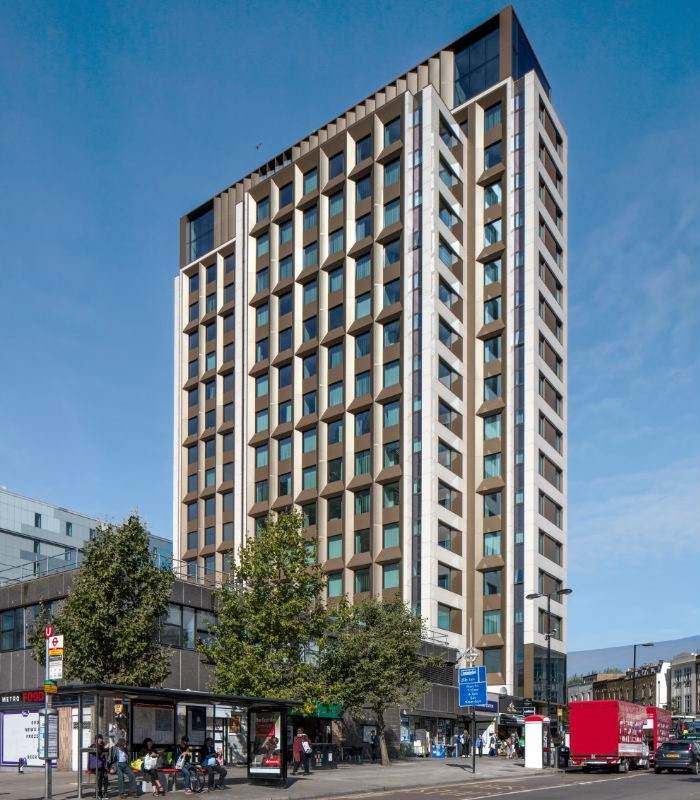 One of the first, and still one of the few, UK practices to have completed purpose-built BTR is GRID Architects. Without a UK precedent, GRID based its first UK project on North American models of rental housing. That was three years ago.
GRID director Laurence Osborn reports that around half of the practice's residential work is now BTR. He predicts that we will be seeing more and more BTR schemes on high-profile regeneration sites, along with the arrival of 'branded' rental businesses that are being set up by some of our best-known investment funds and developers, all following the professionally-managed and serviced model.
'We are seeing a variety of BTR developers ranging from pension funds, housing associations, institutions through to traditional contractors. They are all looking at a longer term investment on lower yields, but of a size which can offer the long term management obligation,' says Osborn.
With the purpose-built BTR market so new to the UK, developer/landlords are still looking at what works and what does not in the UK, says Osborn. GRID is currently developing brand standards and technical specifications for operators alongside the usual project design services.
'Several models are emerging from a number of operators, many of whom have developed brands and are developing multi-building portfolios. These range from a standard private flat typology that is rented with good management, possibly on site, to fully managed schemes with large amenity spaces. Brand or building loyalty is key to retain tenants, which will keep occupancy high and reduce marketing and maintenance costs. To do this, developments provide a variety of additional benefits from gyms, meeting rooms, dining rooms, terraces, personal trainer spaces, events and business suites,' says Osborn.
'Providers are taking a variety of approaches to their brand. Some provide consistency to the apartment interior design regardless of location and rental with the only variation being amenity provision. Others believe in offering a choice within their brand, saying: "if you don't like the design of this development we have alternatives locally".'
Osborn says the feeling at a PRS Forum event in London last month was that the potential market is so large that it will be able to support a variety of BTR products, but common in their aim of providing high quality developments run by a professional landlord.
'BTR providers could hold the stock for 10 or 20 years at least. Higher budgets are buying better materials and detailing that would not necessarily be found in a similar "for sale" development. There is a wider acceptance that design equals value, which can only be good for architects and the built environment.'
It is a similar story at tp bennett, which has seen a rapidly growing BTR workload even as clients are still testing emerging models and developing their own brands of design and service.
'tp bennett are now responsible for approximately 1,500 units at various stages of design development,' says director Neil Sterling. 'We are working on both mixed tenure schemes and 100% BTR.'
Sterling says the practice can draw on its experience of mainstream residential work and student accommodation, referencing the sort of amenities likely to be found in these schemes, such as dining lounges and communal social spaces.
Stirling says the practice can draw on its experience of mainstream residential work and student accommodation, but has also been looking at the sort of amenities more likely to be found in a US condominium development, such as dining lounges and communal social spaces.
The first BTR 'benchmark schemes' that are providing feedback to inform the UK BTR pipeline have only recently been completed.
'The debate is still ongoing about amenity. BTR schemes are more focussed on client experience, so they are higher quality in terms of spaces and services. For designers, it's a matter of getting the balance right between the quality of spaces and the services on offer,' says Stirling.
He points out that local planning authorities are also still developing their understanding of BTR, with many unable to see them as different from conventional residential.
Back on the client side, all the signs are that developers, investors and the large developer housing associations, some of which are setting up development subsidiaries to deliver BTR to subsidise their other projects – are definitely on board.
Thanks to Laurence Osborn, director, GRID Architects; Neil Stirling, director, TP Bennett.
Text by Neal Morris, © RIBA