30 September 2019
The Royal Institute of British Architects (RIBA) and Dubai Land Department (DLD) have signed a five-year memorandum of understanding (MoU) at Cityscape Global in Dubai, the Middle East's largest real estate exhibition (25 – 27 September).
The RIBA and DLD have agreed to collaborate on areas including professional standards and support as well as opportunities for architects working in Dubai and the UAE, in addition to exploring potential for public outreach.
The RIBA, through its expert members, will be advising DLD on tackling global climate deterioration, best practice in urban planning and land use, fire safety, and building regulations.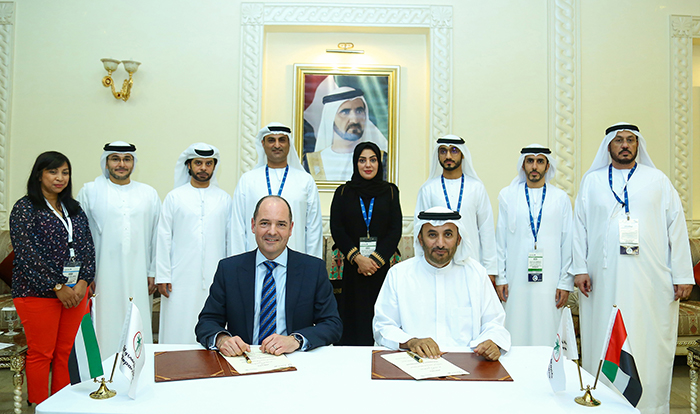 RIBA Chief Executive Alan Vallance said:
"As a global professional membership body, the RIBA drives the highest professional standards for architects and champions excellence in the built environment. We are delighted to expand our growing international network with this important collaboration with Dubai Land Department. We look forward to supporting them in making Dubai a better, more sustainable and competitive city."
HE Sultan Butti bin Mejren, Director General of DLD, said:
"As the regulator of all registered lands and properties in Dubai, it gives us great pleasure to collaborate with RIBA through the exchange of information in regard to the qualification of architects and the sharing of knowledge to best nurture architecture in Dubai. We look forward to progressing upon the advancement of the Emirate and working with RIBA to improve DLD's work and performance."
The MoU was signed during Cityscape Global 2019, where RIBA delivered the largest ever programme of architecture activity, including seminars, panel discussion, a pan-professional design 'charette' event, and an exhibition by the leading architecture practice, Grimshaw Architects, founded by Sir Nicholas Grimshaw, the recipient of the 2019 Royal Gold Medal for Architecture.
ENDS
Notes to editors:
1. For further press information please contact Melanie.Mayfield@riba.org.
2. About Dubai Land Department: Founded in 1960 by HH Sheikh Rashid bin Saeed Al Maktoum, Ruler of Dubai, The Government of Dubai Land Department (DLD) was tasked to register all lands and properties in Dubai. This includes issuing title deeds, plans, and various regulatory matters relating to the property sector in Dubai.
3. About Cityscape: Cityscape, owned by Informa Markets, first took place in 2002 in Dubai and has since grown to be one of the largest real estate event brands globally, with events taking place across the Middle East, North Africa, Asia and Turkey. More information can be found here.
4. More information on the RIBA programme at Cityscape Global 2019 can be found here.
5. The Royal Institute of British Architects (RIBA) is a global professional membership body that serves its members and society in order to deliver better buildings and places, stronger communities and a sustainable environment. Follow @RIBA on Twitter for regular updates.