22 July 2021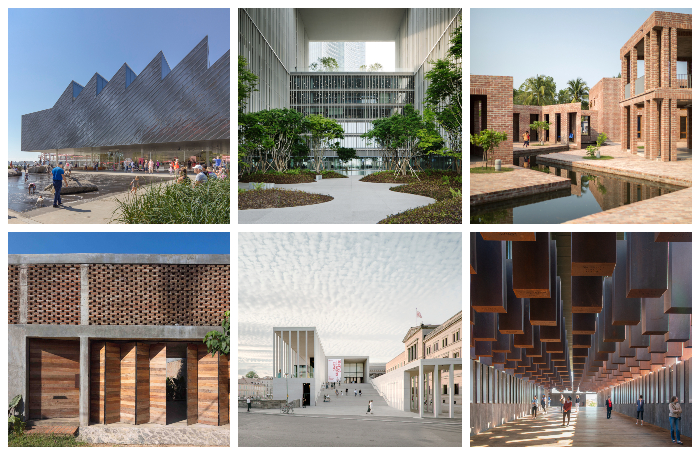 The Royal Institute of British Architects (RIBA) announces the winners of the RIBA International Awards for Excellence, the pre-eminent international awards for architecture
The 16 winning projects have been selected from entries to the world's most prestigious award for architecture, the RIBA International Prize
Each project is subject to a rigorous judging process by a diverse panel of local ambassadors who visit each building
The winner of the RIBA International Prize 2021 will be announced in November
Highlight photography can be viewed here. For more details please contact

riba@flint-culture.com
The Royal Institute of British Architects (RIBA) has today revealed the 16 winners of the RIBA International Awards for Excellence 2021. The Awards, which take place every two years, recognise the most significant and inspirational projects around the world.
The RIBA International awards are open to any qualified architect for spaces anywhere in the world (excluding the UK – as this is determined by the RIBA Stirling Prize). Projects need to exemplify design excellence and architectural ambition and deliver meaningful social impact.
The sixteen award-winning buildings are spread across 11 countries. Each project has been subject to a rigorous judging process with all buildings being visited in person by a local ambassador appointed by the RIBA.
This year's projects range from significant cultural destinations such as Modern Art Museum and its Walkways in Shanghai to new city infrastructure such as the elegant Lille Langebro pedestrian and cycle bridge in the heart of Copenhagen; from a beautiful artists' home in Sri Lanka to a new hospital building in Bogotá that connects patients with nature.
Key trends illustrated by the International Awards for Excellence winners include:
Buildings with multiple functions to benefit local communities
Examples include a modern family home, expanded to include an outreach and gathering space for the surrounding village, supporting both domestic and community use (Renovation of the Captain's House, Fujian Province, China) and a village community centre situated between the new and old village to encourage local interaction and provide space for public activities (Dongziguan Villagers' Activity Center, Hangzhou, China).
Buildings which find solutions to pre-existing environmental issues
Examples include a community hospital in Bengal which features a series of courtyards to bring in light and cross ventilation with a 'canal' feature traversing the site to collect usable rainwater and help micro-climatic cooling (Friendship Hospital, Satkhira, Bangladesh) and an art gallery raised more than a metre above ground level to allow for rising sea levels (The Polygon Gallery, North Vancouver, Canada).
Buildings that are sensitive to historical context
Examples include America's first memorial to the victims of racial terror lynchings (The National Memorial for Peace and Justice, Alabama, USA), designed to honour, document and transform conversations around racial justice in the country and a new entrance building and visitor centre for the Unesco World Heritage Site of Museum Island in Berlin which engages honestly and directly with sensitive architectural and political territory (James-Simon-Galerie, Berlin, Germany).
RIBA President Alan Jones said:
"The 2021 RIBA International Awards for Excellence are presented to an ambitious and diverse range of projects from a wide range of established and upcoming architects' practices. It is particularly important to be considering excellence in architecture at this time - in this fast-changing world, where governments, clients and society need the skills and insight of architects.
Our global awards show how well-considered, well-delivered and well-performing architecture has the immense potential to improve lives and communities. We are very pleased to be able to celebrate some of the most innovative, ingenious and impactful architecture in the world – designed by some of the most talented architects of our time."
Amongst the 16 winning projects announced today, four projects will be shortlisted for this year's prize and announced in September. The winner of the RIBA International Emerging Architect Prize and the RIBA International Prize 2021 will be selected by a Grand Jury, chaired by French architect Odile Decq and revealed in November 2021.
The inaugural RIBA International Prize in 2016 was awarded to Grafton Architects for their university building, UTEC (Universidad de Ingeniería y Tecnología) in Lima, Peru. In 2018, the prize was awarded to Aleph Zero and Rosenbaum, for their inspiring new school complex on the edge of the Amazon rainforest in northern Brazil, Children Village.
Find out more about the winners of the RIBA International Awards for Excellence 2021 here.
ENDS
Notes to Editors
For further press information please contact riba@flint-culture.com
To download high resolution press images visit: Press pack
Media partners for the Awards
Dezeen is the professional media partner for the RIBA International Prize.
Wallpaper* Magazine is the lifestyle media partner for the RIBA International Prize.
ArchDaily is the global media partner.
Local Ambassadors for the International Awards for Excellence winners:
Martin Anzellini, AGRA_Anzellini Garcia-Reyes Architects (Colombia)
Joshua Bolchover, Rural Urban Framework/ The University of Hong Kong (China)
Niklaus Graber, Graber&Steiger Architects, (Switzerland) / Architectourbgd, (Bangladesh)
Chul Hee Kang, Korean Institute of Architects KIA (South Korea)
Jan Kleihues, Kleihues + Kleihues (Germany)
Dorte Mandrup, Dorte Mandrup A/S (Denmark)
Dong Mei, BCKJ Architects (China)
Amila de Mel, ADM Architects (Sri Lanka)
Arash Nasirimoslem, FEASTUDIO (Iran)
Jasbir Singh Bhamra, Arcadis (Qatar)
Kim Smith, Helliwell + Smith / Blue Sky Architecture (Canada)
Xavier Vendrell, Rural Studio, Auburn University/ Xavier Vendrell Studio (USA)
Lu Wenyu, Amateur Architecture Studio & RIBA International Fellow (China)
Ma Yansong, MAD Architects & RIBA International Fellow (China)
Rong Zhou, Tsinghua University (China)
The Royal Institute of British Architects (RIBA) is a global professional membership body that serves its members and society in order to deliver better buildings and places, stronger communities and a sustainable environment.
Follow RIBA on social media:
1. Twitter: @RIBA
2. Instagram: @riba
3. Facebook: @RIBAarchitecture
4. Social media hashtag: #RIBAIntAwards