01 March 2021
The Royal Institute of British Architects (RIBA) is pleased to announce that nimtim architects with artist Katie Schwab have been selected to reimagine neglected corner plots as new civic squares for the Becontree Estate in East London, in a co-commission with Create London, supported by the London Borough of Barking and Dagenham (LBBD).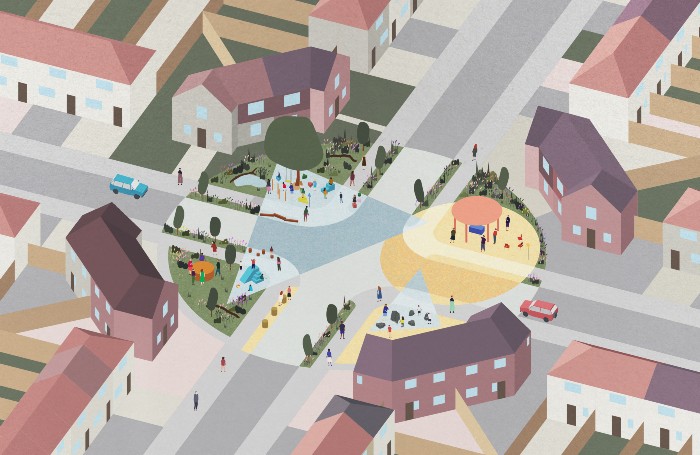 RIBA is marking the centenary of the Becontree Estate with four special projects: this public realm commission; an exhibition project with artist Verity-Jane Keefe; a display of newly commissioned estate photography by Kalpesh Lahitgra and a schools programme with Mayesbrook Park School and social enterprise, POoR Collective.
At four square miles (10 km2) and home to over 75,000 residents, Becontree is the largest council estate in Britain. Built 100 years ago, it was a feat of government planning. Conceived as part of the Garden City movement, Becontree set the agenda for housing that put wellbeing and typological innovation at the heart of its design. It was the originator of the cul-de-sac and most houses had both front and back gardens - unprecedented for public housing at the time. Today the London Borough of Barking and Dagenham are working to renew and revive the estate for current resi-dents and future generations.
Squaring the Corners – a Corner Plot Commission by nimtim architects with artist Katie Schwab
As part of the Garden City movement Becontree originally had generous green amenity spaces at the ends of terraces; the 'corner plots'. This commission will redesign 12 plots to help revitalise neglected and underused land across the estate.
To reflect the diversity of communities of Becontree, RIBA invited emerging architectural practices with representation of Black, Asian or ethnic minority people in their senior leadership to propose ways to make the corner plots more deliberate, to increase their social potential, biodiversity, and sustainability. The brief for a greening or biodiverse proposal was developed in conversation with residents of the estate, responding to their priorities for improvements to the estate.
The proposal from nimtim architects with artist Katie Schwab is to reorganise Becontree's neglected corner plots as new civic squares for people to meet, rest, grow and play – and to enhance the experience of walking through the estate, of stopping and looking, and being outdoors. Each square encourages new activities and performs new functions by inviting residents to take owner-ship of them, with their designs inspired by geometries, colours, and materials within the estate. Katie's work on crafted interiors and textiles will inform the locally sourced material palette and the domestic, welcoming scale of these new civic spaces for Becontree.
The shortlisted practices were OKRA Studio; Studio Aki with Hayhurst and Co.; RESOLVE Collective and Studio Gil with Tisserin Engineers. See the selected and shortlisted proposals here.
RIBA Becontree Exhibition – autumn 2021 TBC – artist commission with Verity Jane Keefe
Architecture Gallery, RIBA, 66 Portland Place, London, W1. FREE
Drawing on her long-term engagement with the Becontree Estate through residencies, RIBA has commissioned Verity-Jane Keefe to create an installation at the RIBA's London HQ, co-curated by RIBA and Create London, that will consider the architectural, economic, and political decision-making that has shaped Becontree since its construction. The installation will trace the lineage of the estate's planning and decorative aesthetic through the lens of the RIBA Collections.
Photography by Kalpesh Lathigra – autumn 2021
First Floor Gallery, RIBA, 66 Portland Place, London, W1. FREE
Photographer Kalpesh Lathigra has been commissioned to produce a new body of work that will offer a nuanced study of life and the architecture on the Becontree Estate in 2021. The series will be displayed at the RIBA, complementing the exhibition by Verity-Jane Keefe.
RIBA National Schools Programme with POoR Collective and season of events
Students from Mayesbrook Park School in Becontree are working with social enterprise POoR Collective to create a public realm commission. The commissions and schools programme will be completed by a season of talks, events, community projects and learning programmes for children and young people.
For more information, visit here.
The Becontree Centenary is a partnership project between Create London, London Borough of Barking & Dagenham (LBBD) and the Royal Institute of British Architects (RIBA), supported by LBBD and the National Lottery Heritage Fund.
ENDS
Notes to editors:
For further press information about RIBA please contact: Emily.Stallard@riba.org

or 020 7307 3813

For press images visit here
The shortlisted practices and proposals were: Okra – Becontree Blooms, RESOLVECollective – Becontree Community Ecologies, Studio Aki with Hayhurst & Co –The Hundred Trail: Celebrating Becontree's Histories, Studio Gil with Tisserin Engineers – An Urban Playground. For more information about their designs visit here.
The selection panel was made up of Diana Ibáñez López and Habda Rashid, Create London; Marie Bak Mortensen and Dian Small, RIBA; Ann Marie Peña and Matt Weston, LBBD; Suresh Singh, local teacher; and Rodrigo Domingos, local resident, Part 1 architect and artist.
The Royal Institute of British Architects (RIBA) is a global professional membership body that serves its members and society in order to deliver better buildings and places, stronger communities and a sustainable environment. The RIBA is a registered charity and relies on the generosity of individuals, companies, trusts and foundations to preserve its world-class collections, to maintain free public access to its exhibitions and to develop a diverse and exciting public events programme. Follow @RIBA on Twitter for regular updates
About nimtim architects and artist Katie Schwab: nimtim architects' work is about people and the stories and ideas they bring to the projects they make together. By following a design process based on dialogue and co-creation, nimtim creates buildings that reflect the personalities and values of the people and communities that will live, work or play in them. They embed longevity and human connections by bringing people inside the extraordinary process of making and reimagining buildings and landscapes.

Katie Schwab

works with installation, textiles, furniture and moving images to explore personal and social histories of education, migration and labour. Her research focuses on domestic textiles and civic design from the inter- and post-war period and the underrepresented work of women artists and émigré designers.
Verity-Jane Keefe is a visual artist working predominantly in the public realm to explore the complex relationship be-tween people and place. She is interested in the role and potential of the artist within urban regeneration. Working with moving image, text and installation to explore possible taxonomies of everyday life. She has a long term working relationship with Barking and Dagenham, making work for, about and with the borough since 2006 as well as across Outer London and internationally.
Kalpesh Lathigra's work occupies the space between documentary and art. He was educated in Photojournalism at the London College of Printing before joining The Independent as a staff photographer and later covering news and features as freelancer for the UK national press. In 2000, he left newspaper work to dedicate his practice to documentary projects and assignments. In 2003, he embarked on a long-term project documenting the lives of widows in India, receiving The W.Eugene Smith Fellowship. Kalpesh published the monograph Lost in the Wilderness in 2015, a five-year body of work looking at life with the Oglala Sioux at the Pine Ridge Reservation in South Dakota. His forth-coming book Memoire Temporelle will be published in 2021.
Create London is an arts organisation that has pioneered working with artists to realise new social enterprises, charities and cultural spaces. It commissions, curates and incubates long-term projects that are useful to society, support-ing artists to work collaboratively with local communities. It reimagines the role of the artist in the city, working out-side of galleries to find new and often surprising ways for art to become part of everyday life. Create London is an Arts Council England National Portfolio Organisation.
Power Out of Restriction is a social enterprise that focuses on the development of communities through the elevation of young people. POoR sees the power of the younger generation and seeks to get young voices heard. Through knowledge sharing and design, we aim to bridge the gap between communities, bring together a wealth of demographics, and empower the youth of today.
London Borough of Barking and Dagenham is one of London's most exciting and fastest growing boroughs. The council is facing some huge challenges, but we also have the opportunity of a lifetime to grow the borough and our community. Change is needed and it's happening already. We're investing in our physical infrastructure and in our community, providing what people need to be able to help themselves. Squaring the Corners is funded by the London Borough of Barking and Dagenham through Strategic Community Infrastructure Levy; the commission and exhibition are part of the council's

Becontree Forever

programme.
The National Lottery Heritage Fund - Using money raised by the National Lottery, we Inspire, lead and resource the UK's heritage to create positive and lasting change for people and communities, now and in the future.