17 September 2021
The Royal Institute of British Architects (RIBA) has today (17 September) announced London-based architectural practice LUCA POIAN FORMS as the winner of the international RIBA Competition for the design of a new mosque in Preston, Lancashire.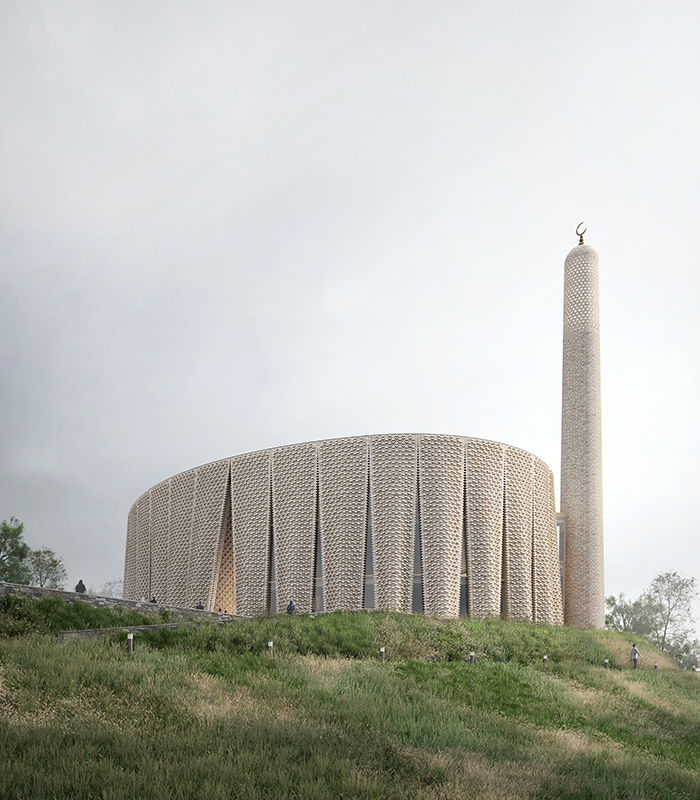 The client was looking for a truly inspirational design to create a timeless landmark building on a site near to Preston city centre and visible from the surrounding area. The competition provided a unique opportunity to design a building which will become a proud part of Preston's skyscape for many years to come.
Following lengthy consideration and discussion, the Evaluation Panel unanimously selected the Brick Veil design by LUCA POIAN FORMS as the overall winner.
In the winning proposal for the new iconic mosque, the building's elliptical design allows visitors to observe and appreciate the structure from various viewpoints. The minaret tower makes reference to Lancashire's well recognised cotton mill chimneys, celebrating the local history whilst announcing the mosque's presence in the skyline of Preston.
Speaking about his design proposal and winning the competition, Luca Poian said:
"By virtue of its scale, form, and materiality, the mosque will be executed as a highly refined building that celebrates Islamic tradition whilst also paying homage to British craft.
Working on projects that will have a profound community impact is at the core of our ethos, as well as delivering uniquely iconic architecture that will stand the test of time. This competition was a truly unique opportunity to achieve both goals hand-inhand, and we're looking forward to fostering a close relationship with our Client as well as with other key community stakeholders to ensure the project is delivered to the highest standard. We are thankful for the opportunity and we look forward to carrying this project to fruition."
The international competition attracted over 200 entries from 40 different countries. Five up-and-coming practices were shortlisted for the second phase:
BLANKPAGE Architects, Lebanon
Borough Architects + buchhandler-nelli + elca, Cambridge, UK
LUCA POIAN FORMS, London, UK
Mcheileh Studio, New York (Highly Commended by the Evaluation Panel)
TABE SHOURI, New York
ENDS
Notes to editors:
For press information please contact: julia.davies@riba.org
Press images can be downloaded here.
RIBA Competitions delivers choice, inspiration and value to clients through expertly run competitive selection processes. The dedicated RIBA Competitions team can help you explore the full potential of your project, for further information visit www.architecture.com/competitions or email

RIBA.Competitions@riba.org

.

Please ensure RIBA Competitions is credited when mentioning the above competition.

The Royal Institute of British Architects (RIBA) is a global professional membership body that serves its members and society in order to deliver better buildings and places, stronger communities and a sustainable environment. Follow @RIBA on Twitter for regular updates
LUCA POIAN FORMS is a research-based architectural design studio investigating the relationship between form, materiality and construction methods. Based on the belief that within the context of contemporary culture the design and construction industry has gradually submitted to a technology-driven mindset, we work at the intersection of culture and innovation in search for a spiritual understanding of architecture that goes deeper than simply constructing buildings. Our ultimate goal is to create spaces that are both highly functional and spiritually uplifting. We refrain from short-lived fashions and aspire to deliver timeless and environmentally conscious buildings. BIO - Luca Poian is a London-based architect with a keen interest in architectural tectonics. His work spans a variety of scales and uses and is characterised by a rigorous approach that integrates materials, construction and context.