13 October 2021
This year, Party Conference returned to somewhat normal conditions as both the Labour and Conservative Party held in-person events. The Labour Party gathered in Brighton, where Sir Keir Starmer made his first speech to the conference as leader of the party. Meanwhile, the Conservative Party took their event to Manchester, which was evidently busier than last year's virtual affair.
The RIBA held one panel session as part of Conservative Party Conference on 3 October 2021. We also participated in a roundtable hosted by Public Policy Projects on 4 October 2021. Find out what happened below.
Conservative Home Panel: Ensuring Planning Reform Delivers Great Homes and Connected Communities
Our first event was a panel session with the joint institutes of the built environment – the RIBA, the Chartered Institute of Building (CIOB), the Royal Institution for Chartered Surveyors (RICS) and the Royal Town Planning Institute (RTPI) – on the upcoming planning reforms. The event, chaired by Deputy Editor of Conservative Home Charlotte Gill, welcomed panellists including RIBA Director of Policy and Public Affairs Andrew Forth, RTPI President Dr Wei Yang, CIOB Past President Paul Nash, RICS Director of Surveying Standards Charlotte Neal and Housing Minister Christopher Pincher MP.
During the panel session, there was a clear consensus that communication between the government and the industry is key to building a better planning system. Key areas of concern were highlighted by guests, including the need for more resources in the system, appreciating the value of good design, and the need for investment in social housing – especially in areas of high demand.
The Housing Minister began the event by outlining the government's strategy to level up. This included plans to create geographic equality and provide opportunities to ensure that people have the chance to own a good quality home of their own. The minister stressed that the planning system "needs to be more predictable […] more navigable and less opaque". He also noted the government's aim for "more beautiful, desirable homes" by enabling communities to help design their own spaces.
Andrew Forth expressed that quality and accountability is currently lacking in the planning system. He suggested the government take stock, by giving people a sense of how they can improve their own communities. His proposals included the need to make the case for development while also recognising the cost of good development. He added that better design can help that. Similarly, he highlighted the need to stop bad development from happening. This would help to restore local faith in the planning system. He summarised by addressing the crisis around building safety and gave a plea to the government: "We can help you build a better system. With our combined memberships, there are hundreds of thousands of dedicated people who want the built environment to be better. Let's work together and make sure we get it right".
The government is currently consulting on significant changes to the planning system in England. We will continue to keep you updated on any updates throughout this process. If you are interested, you can watch the full event.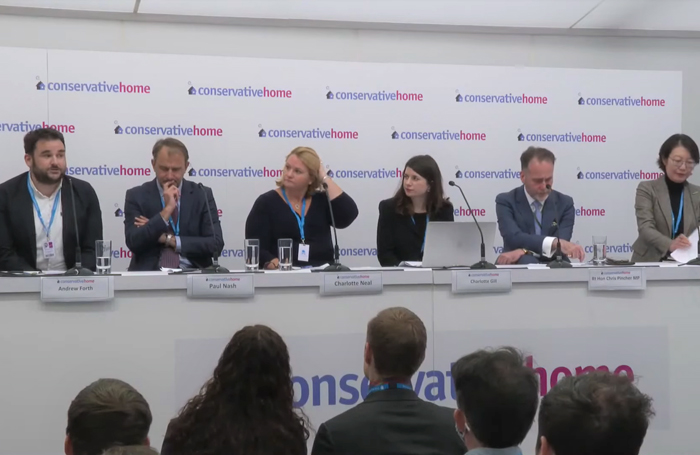 RIBA's roundtable event with MPs
We also participated in a roundtable hosted by Public Policy Projects. On Monday 4 October, RIBA Senior Policy Advisor Poppy Kettle attended the event. Other attendees included Chris Skidmore MP, Shaun Bailey MP, Kieran Mullan MP, David Davies MP, leader of the opposition at Enfield Council Joanne Laban and Vice Chair of the Local Government Association Izzi Seccombe.
The event looked to explore how we can build affordable green housing. Topics included good design, retrofit and community regeneration. The RIBA continues to urge the government to make homes more energy efficient by bringing forward a National Retrofit Strategy. You can read more about this in our Greener Homes report.
Keep up to date with all things Westminster and sign up to our weekly Political Update by emailing public.affairs@riba.org