16 November 2021
Under the theme of Connecting Minds, Creating the Future with three sub-themes of sustainability, mobility, and opportunity, Expo 2020 Dubai is gathering diverse global thought leaders and experts to collaborate to inspire positive change. Exploring how we live and grow in harmony with our planet, Expo 2020 Dubai kicked off Urban and Rural Development Week (31 October to 6 November 2021) as part of its wider Agenda 2030 conversations that are occurring across the six months of the expo.
In line with the World Cities Day (31 October) theme, Adapting Cities for Climate-Resilience, the RIBA hosted an event to showcase architecture students' visions of the future, with leading architects and professionals sharing their knowledge and best practice of how to climate-proof cities.
The session "Youth Reimagining the Climate-Resilient Spaces of Tomorrow" featured the RIBA CEO Alan Vallance, who took part virtually. Six student videos were shown, all addressing the building of more climate-resilient spaces, showing inspiring visions from young voices in architecture, urban design, and planning. Three of the students were from RIBA accredited universities: Abu Dhabi University (UAE), University Teknologi (MARA) (UiTM) (Perak Malaysia), and Universidad Catolica de Colombia (Colombia).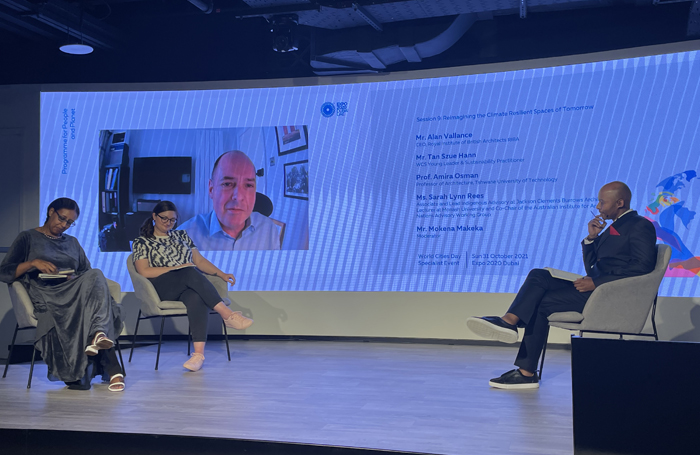 Speakers included:
Alan Vallance, Chief Executive Officer at RIBA
Prof. Amira Osman, Professor of Architecture, Tshwane University of Technology
Tan Szue Hann, Chairman of Sustainability, Singapore Institute of Architects
Mokena Makeka, Architect and Principal, Dalberg (Moderator)
Watch the World Cities Day live session back. The RIBA World Cities Day session and RIBA Students' views start at 07:02:00.