RIBA Client Advisers' role in education shifts emphasis
29 June 2017
Over 60% of the RIBA's Client Advisers (CAs) are active in the education sector, many with ongoing public sector school projects, but the government's policy of promoting standardised designs and package deal bids from framework contractors is prompting some to refocus the services they can offer local education authorities.
The Priority School Building Programme (PSBP) replaced Building Schools for the Future in 2011 with the aim of speeding up procurement and reducing costs. It is far less amenable to schools working with CAs to develop their own bespoke design briefs than the previous scheme.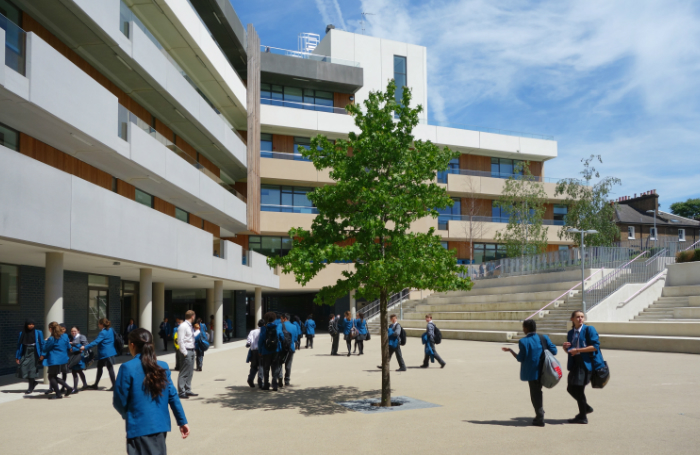 The PSBP, now in its £2 billion second phase covering 277 schools, is here to stay for the foreseeable future.
Dominic Cullinan, a CA working on schools mainly in London, has been looking outside of the mainstream Education Funding Agency-directed PSBP to help local education authorities secure schools projects as part of larger private sector housing and regeneration projects.
He is currently working with longstanding client Camden Council to help the London borough secure a school that matches its needs through a section 106 agreement. In Tower Hamlets, he has advised on how schools could be funded by some of the large-scale redevelopment projects in the pipeline.
For Cullinan, the emphasis is shifting from developing an initial client brief for the project architect and advising on the procurement and tender process, to developing a client brief that could form part of a larger private sector development deal.
Last week, Cullinan gave a presentation to the Client Adviser Forum at the RIBA that demonstrated how building a strong relationship with a client can give the CA a design development role that goes far beyond helping to draft the brief and advising on procurement.
Cullinan was CA on three 'sample schools' for Camden – schools that are worked-up designs by architect/contractor/operator consortia as part of a competitive dialogue process – before the axe finally came down on BSF projects.
'On the UCL Academy, a new 1,150-place secondary, sponsor UCL was passionate about running a school and wanted to see a fundamental improvement in the educational experience of pupils,' Cullinan recalls.
In partnership with UCL and Camden Council, Cullinan saw the project through all design stages, construction and in use. At the earliest stage, he worked with UCL to help it define its vision and then spent six months developing a brief with UCL and the Council.
Layouts continued to evolve during the dialogue, incorporating Cullinan's ideas for interlocking Superstudio spaces that allow pupils to move out of their fixed cohorts for project work. The step-by-step development was manipulated using a visual tool until an arrangement of five 'orbits' emerged, as illustrated by Cullinan's final 'Spin Painting' (see image).
The relationship – and commitment to this outline design – between the Council and sponsor UCL that emerged from this dialogue proved strong enough to 'hold the line' against counter suggestions from competing consortia and the DfE's own Academy Advisers. The architect for the school, which was completed in 2015, was Penoyre & Prasad.
Cullinan accepts that the UCL Academy design development process would be difficult if not impossible under the PSBP regime, with the Education Funding Agency promoting the use of standardised designs and ready-made contractor offerings that are often tendered as 'batched' school packages. He suggests this may also prompt other CAs who are active in education to explore diversification from the mainstream EFA programme into facilitating private sector partnership deals.
The competition here is the large multi-disciplinary consultancies offering project management services. But Cullinan says the specialised expertise offered by the CA, particularly their design expertise, together with their personal dialogue approach and the passion that the CA can offer, can be enough to see off the competition.
Thanks to Dominic Cullinan, Director, Studio Cullinan and Buck Architects Ltd (SCABAL).
Text by Neal Morris. This is a 'Practice News' post edited by the RIBA Practice team. The team would like to hear your feedback and ideas for Practice News: practice@riba.org