23 September 2021
The Royal Institute of British Architects (RIBA) is pleased to announce the shortlist for the 2021 RIBA Client of the Year award. The annual RIBA award recognises clients that commission and champion outstanding architecture.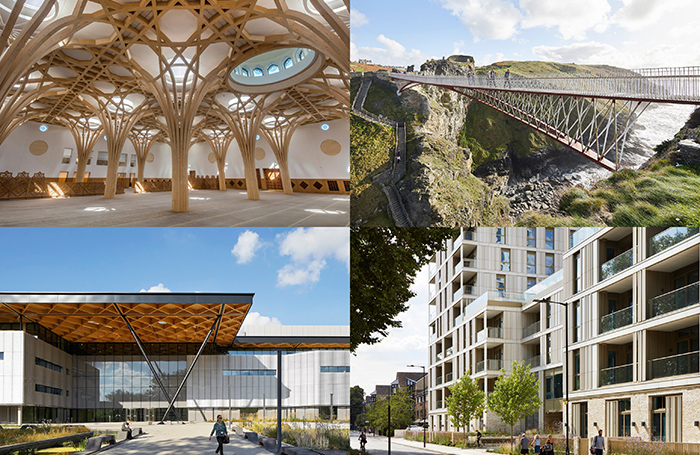 The RIBA Client of the Year 2021 shortlist is:
for Cambridge Central Mosque by Marks Barfield Architects
for Tintagel Castle Footbridge by Ney & Partners and William Matthews Associates & Walmer Castle and Gardens Learning Centre (with the Heritage Lottery Fund) by Adam Richards Architects
London Borough of Hackney
for Tiger Way by Hawkins\Brown
Warwick Manufacturing Group, University of Warwick
for Prof Lord Bhattacharyya Building by Cullinan Studio
Chair of the 2021 RIBA Client of the Year award jury Jo Bacon said:
"The Client of the Year shortlist has very strong contenders - some of which are also in the running for the 2021 RIBA Stirling Prize - which show their long-term commitment to the quality of the architecture commissions. Our shortlist demonstrates the courage and commitment of clients, determined to help create something with vision, ambition and innovation."
The winner of the RIBA Client of the Year 2021 will be announced at the RIBA Stirling Prize ceremony on Thursday 14 October at Coventry Cathedral.
The 2021 jury comprised: Jo Bacon (Chair) Partner at Allies and Morrison; Dav Bansal Partner at Glenn Howells Architects; and Anthony Dewar Head of Buildings and Architecture at Network Rail.
ENDS
Notes to editors:
Media contact: Emily.Stallard@riba.org

, 020 7307 3813

Download images and citations for the shortlist here.
Previous winners of RIBA Client of the Year include Network Rail (2019), Argent LLP (2018), Bedales School (2017), Westmorland Ltd (2016), National Theatre (2015), Manchester Metropolitan University (2014), National Trust (2013) and the Olympic Delivery Authority (2012).
The RIBA Client of the Year Award is sponsored by Ibstock plc. Ibstock plc is a leading manufacturer of clay bricks and concrete building products, with a proud history of nearly 200 years of manufacturing excellence. Its products and solutions are a vital and indispensible part of the built environment, the cornerstone of every building project. Operating from 38 sites across the UK, with over 150 million tonnes of clay reserves across 23 active quarries, Ibstock plc is a business at the heart of building, continuously developing solutions that take the construction industry forward. Not only delivering products that set the standard for aesthetic appeal and performance, the company also leads the way into a truly sustainable future. Its people provide the passion and inspiration that can make a real and tangible difference, constantly striving to innovate and working together with its customers, partners and suppliers. www.ibstockplc.co.uk
The Royal Institute of British Architects (RIBA) is a global professional membership body that serves its members and society in order to deliver better buildings and places, stronger communities and a sustainable environment. Follow @RIBA on Twitter for regular updates