Bedales School in Hampshire wins 2017 RIBA Client of the Year
31 October 2017
The 2017 RIBA Client of the Year has been awarded to Bedales School for their Art and Design Building.
The annual award, supported by The Bloxham Charitable Trust, recognises the key role that a good client plays in the creation of fine architecture.
Bedales School - a co-educational, independent school in the village of Steep in Hampshire – was nominated by Feilden Clegg Bradley Studios.
Since its foundation in 1893, Bedales has been committed to creating an architecturally rich educational environment. Their portfolio of commissions includes the boldly-engineered Grade I listed Memorial Library designed by Ernest Grimson in 1921, commemorating students who died in the First World War, and the Boy's Flat which was designed by RIBA Gold Medallist Sir Colin Stanfield Smith in 1994. The Art and Design Building is the second at Bedales to be designed by Feilden Clegg Bradley Studios, who were also commissioned in 1996 to build the school's RIBA Award-winning Olivier Theatre. By commissioning fine architecture, Bedales School demonstrates its ambition to educate, inspire and support future leaders in the creative industries.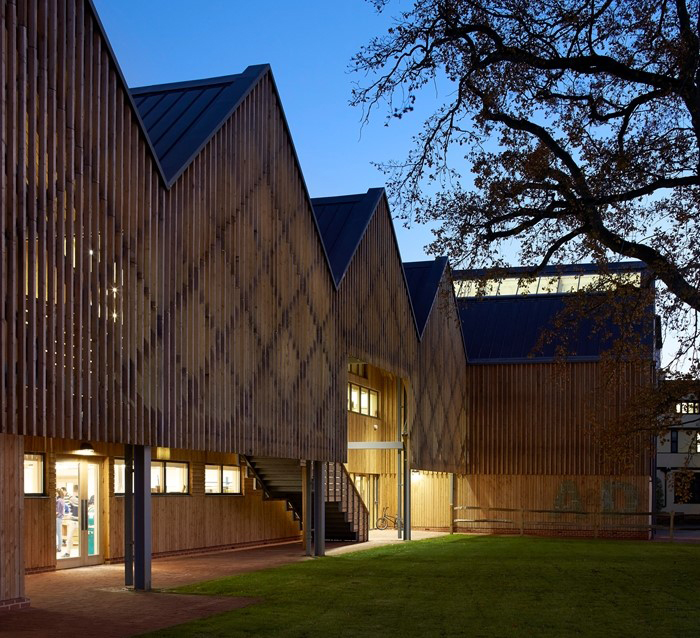 Chair of the RIBA Client of the Year jury, Tom Bloxham MBE said:
'This relatively small building demonstrates the ability to deliver something of value with a constrained budget. The students of Bedales were at the centre of the process from the outset; a Student Design Committee was established and had meaningful involvement from choosing the right practice to determining the use of the space, layout and details. Parents, students and Old Bedalians all delivered feedback on initial designs which were then adapted to maximise teaching space and ensure that the building was not only an impressive artefact from the outside, but a functional space for students to develop their creative talents. It's great to see an institution like a school putting so much energy and effort into its architecture, hopefully other schools and institutions can take inspiration.'
ENDS

Notes to editors:
For further press information please contact Abigail Chiswell-White in the RIBA press office Abigail.Chiswell-White@riba.org or 020 7307 3811


View and download images of Bedales School Art and Design Building: https://riba.app.box.com/s/otogthot155u5pp0dwogh1kuuqed59rk


RIBA Client of the Year judges citation for Bedales School Art and Design Building:

'Through the sensitive siting, form and material choice, the building engages in dialogue with adjacent existing buildings, on what is a complex site with rich history. The careful siting also develops new relationships with the landscape, having been set on a key location near the entrance point to the site. The honesty of the building's material expression allows users to see how it was put together, which really chimes with the client's idea of creating an educational instrument, especially given the school's interest in hands on building construction. For the spatial arrangement, a lead was taken from the previous well-lit single-storey interconnecting studio block and passing between each of the studios, hence seeing each of the design disciplines to reach the next.'

'The single-storey existing studios have been re-invented over two storeys, with generous overhangs to make external spaces for use by students, which was also a conscious move to manage area and the tight budget. This is a building that engages with the landscape, bringing the outside and inside spaces together, and with the use of simple materials which help to make the two be read together. Playful use of light through layering of lattice screens to facade and external covered areas offers a joyful and varied experience for users and visitors alike. It is a piece of intelligent client commissioning and a great design response.'


Nomination summary by Feilden Clegg Bradley Studios:

'If I could insist upon one thing for this project, it would be that there should be all manner of incidental places to be - places to sit, to draw, to fall in love, to do all the things that happen when you are at Bedales that make it such a wonderful place to be.

The manner and spirit of the conversations with Matthew Rice, chair of governors, and others at the school was so influential - it was a co-authorship in the truest sense. It is a building after a philosophy of being - the ethos of the school is manifest throughout.'


Tom Bloxham MBE of Urban Splash supports the RIBA Client of the Year award through his charity The Bloxham Charitable Trust.


The 2017 Prize was judged by Tom Bloxham MBE and RIBA Awards Group Chair, Julia Barfield, Marks Barfield.


Previous winners of RIBA Client of the Year award include Westmorland Ltd (2016), National Theatre (2015), Manchester Metropolitan University (2014), the National Trust (2013), Olympic Delivery Authority (2012) and The Royal Shakespeare Company (2011).


The Architects' Journal is media partner for the RIBA awards, including RIBA Client of the Year. For more information visit www.architectsjournal.co.uk


The Royal Institute of British Architects (@RIBA) is a global professional membership body that serves its members and society in order to deliver better buildings and places, stronger communities and a sustainable environment. www.architecture.com