22 November 2021
About RIBA Contracts and RIBA Contracts Digital
RIBA Professional Services and Building Contracts are the legal documents produced between an architect or contractor, and their client. Our contracts are designed to be clear and easy to use. They are suitable for architects, contractors, consultants, commercial businesses, and clients.
All RIBA contracts are available through RIBA Contracts Digital, an online platform where you can easily and effectively draft, issue, and manage your contracts.
RIBA members receive a 50% discount on all digital RIBA Contracts purchased.
Accessing the tool

Navigate directly to contracts.architecture.com. You may find it useful to bookmark the address if you're a frequent user.

You can also find your way to the tool from architecture.com, by finding the link to a webpage about RIBA Contracts under the Products and Services header in the navigation menu, at the top right of the homepage.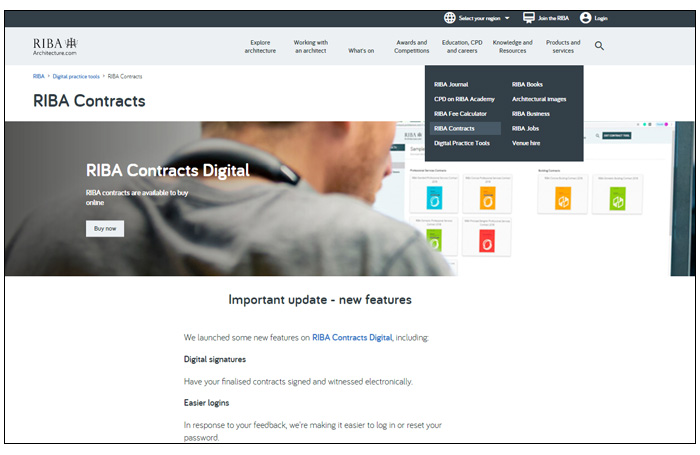 What's new?
We recently sent a survey to all RIBA Contracts Digital users and have now started prioritising some of the feedback that we know matters most to our community.
Logging in
We know some users have previously found it difficult to access the Contracts tool. We've redesigned the login page to help the different types of account holders find their way a little easier.
If you're a fully registered RIBA Member, with existing access to architecture.com and MyAccount, you should be able to use the member login function as usual.
As the tool also allows non-members to create Guest accounts, we've also made it clearer to find that login button too. If you're new to the tool, you can create an account by registering as a guest user and gain access to the tool without needing a RIBA member ID number or architecture.com account.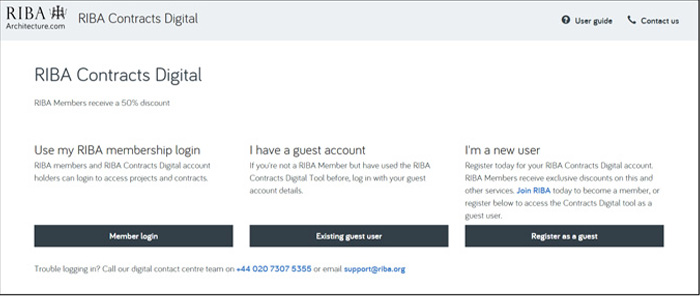 Digital signatures
We know many users have been waiting for digital signatures to be integrated into RIBA Contracts Digital, and we are delighted to have now launched this functionality. Powered by YotiSign, you can now opt to add digital, legally recognised signatures to your contracts, and have them witnessed electronically.
The process is straightforward and quick to complete. Throughout the usual contract production steps, you'll see explanations of what's required, and full instructions for signing once you've finalised your contract.
If you'd prefer to download and print a PDF of your contract to sign in pen, you can still do that.
Finding your way
We've also made some updates to our buttons, menus, and icons throughout the tool, to improve access to the most useful and important functions.
Contacting us for support
You can find the details for our Digital Contact Centre by clicking the Contact us icon on the top right of the tool at any point during the contract production process. Our helpful team are available Monday to Friday, 9am to 5pm. You can email outside of those hours, and someone will get back to you as soon as possible when the lines reopen.
What happens to previously finalised or unfinished contracts from before this update? Can I add digital signatures to a contract I produced before 9 November 2021?

You can add digital signatures to contracts that were drafted previously, as long as they weren't finalised before 9 November 2021.
Upcoming updates
Withdrawal of 2018 Professional Services Contracts
From January 2022 you will no longer be able to purchase the 2018 edition of the Professional Service Contracts from RIBA Contracts Digital. These have been replaced by the 2020editions.
Cost of contracts
We'll be reviewing the price of our contracts from January 2022.
You can find out more about RIBA Contracts, including contract types and hard copy purchases, or go directly to the digital tool. If you have any feedback or issues using RIBA Contracts Digital, please contact our helpful Digital Contact Centre team.