16 October 2019
The RIBA International Awards celebrate buildings that exemplify design innovation, embrace sustainable technologies, and deliver meaningful social impact.
The 2021 RIBA International Prize will be judged by a Grand Jury of renowned forward thinkers and leaders within their fields, from creating intriguing new spaces and experiences to paving the way for equality in architecture; exploring innovative ways of thinking about how civilians will interact with design and harnessing design for a more sustainable future.
We take a look at the remarkable panel of international experts who join us as the RIBA International Prize 2021 Grand Jury.
Odile Decq
Jury Chair Decq is a French architect and urban planner. Gaining international recognition in 1990 for her first major commission: La Banque Populaire de l'Ouest in Rennes, France, she has since been committed to diversifying and radicalizing her research.
In 1996, her early work was acknowledged with The Golden Lion of Architecture Award at the Venice Biennale. Other than just a style, an attitude, or a process, Decq's work creates a complete universe that embraces urban planning, architecture, design, and art.
Her multidisciplinary approach was recently recognized with the Jane Drew Prize in 2016, and she was honored with Architizer's Lifetime Achievement Award in 2017: for both her pioneering work and her engagement and contribution to the debate on architecture. In 2018, she received an Honorary Fellowship from the Royal Architectural Institute of Canada.
That same year, she also received the ECC Architecture Award 2018 for her contribution as an architect and educator, as well as an Honorary Fellowship from The Royal Institute of the Architects of Ireland.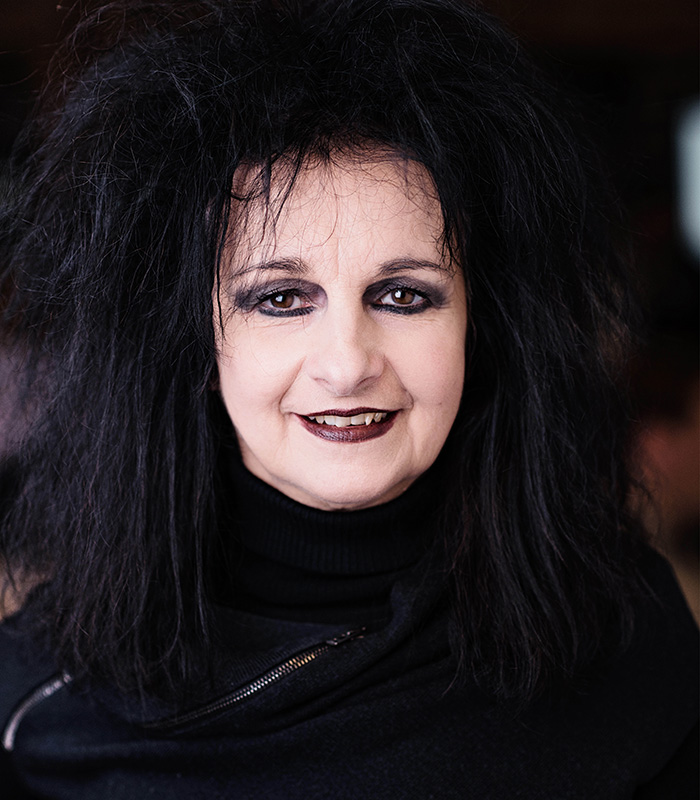 Jeanne Gang
Architect and MacArthur Fellow Gang, Int. FRIBA, is the founding principal and partner of Studio Gang, an internationally renowned architecture and urban design practice headquartered in Chicago with offices in New York, San Francisco, and Paris. Her celebrated, award-winning designs arise from a distinctive approach that expands beyond architecture's conventional boundaries to foreground relationships between individuals, communities, and their environment.
Gang's diverse portfolio ranges from smaller-scale community and cultural projects to major work throughout the Americas and Europe, such as: the expansion of the American Museum of Natural History in New York, the new United States Embassy in Brasilia, and Aqua Tower in Chicago. A Professor in Practice of Architecture at the Harvard Graduate School of Design, Gang has this year been named one of the most influential people in the world by TIME Magazine and won her largest commission to date, the new Global Terminal at O'Hare International Airport.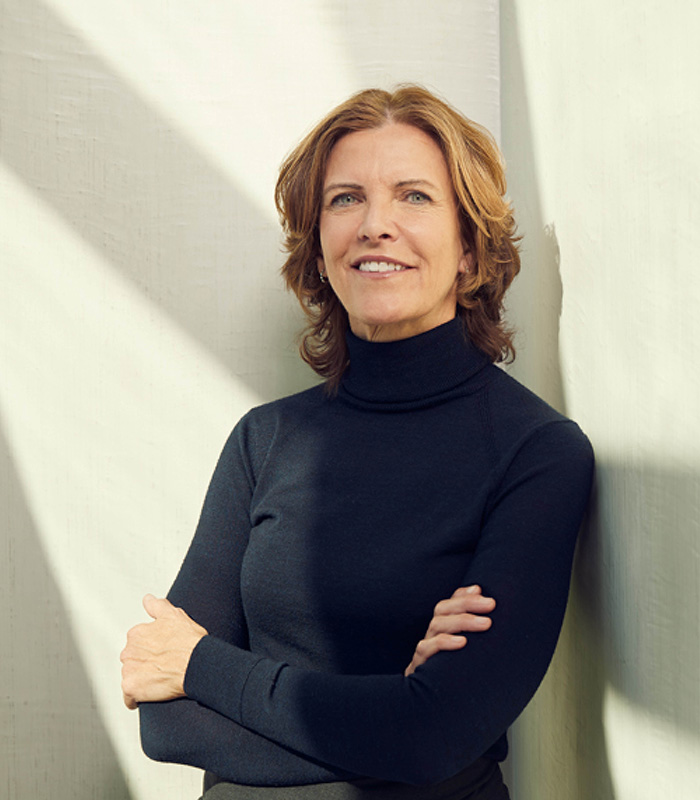 Es Devlin OBE
Devlin has pioneered an artistically and technically ambitious methodology to her practice which bridges the gap between audience and performance, often using surface, light, projection, and reflection to create dramatic and ambiguous spatial and psychological environments.
Her major public installations have included Please Feed the Lions, a fluorescent red fifth lion sculpture which roared poetry powered by artificial intelligence (Trafalgar Square, 2018); The Singing Tree, a collective choral installation which merged machine-learning with sound and light (V&A, 2017); and Mirror Maze (Copeland Park, Peckham, 2016) to name a few.
Devlin's large scale kinetic sculptures and environments include stage sets for Beyoncé, U2, Adele and The Weeknd as well as a collaboration with the theoretical physicist Carlo Rovelli and the actor Benedict Cumberbatch on a collective reading of Rovelli's 'The Order of Time' at the BOLD rooftop arts space in Peckham in 2018.
Most recently Devlin has developed a series of sculptural works which explore the cartography of the Anthropocene. MASK (Somerset House 2017) and Mask in Motion (Kunsthal Charlottenburg, Copenhagen 2018), both address the geography of the earth as shaped by human activity. In September 2019, she unveiled a new commission – Memory Palace at the Pitzhanger, an 18 metre wide sculptural work, filling the gallery space with a vast chronological landscape mapping pivotal shifts in human perspective over seventy five millennia.
Devlin has been named artistic director of the 2020 London Design Biennale and is designing the UK pavilion at The World Expo 2020. Her practice was also the subject of the Netflix documentary series Abstract: The Art of Design, and she recently spoke at TED2019 on sculpting music, transience, and technology.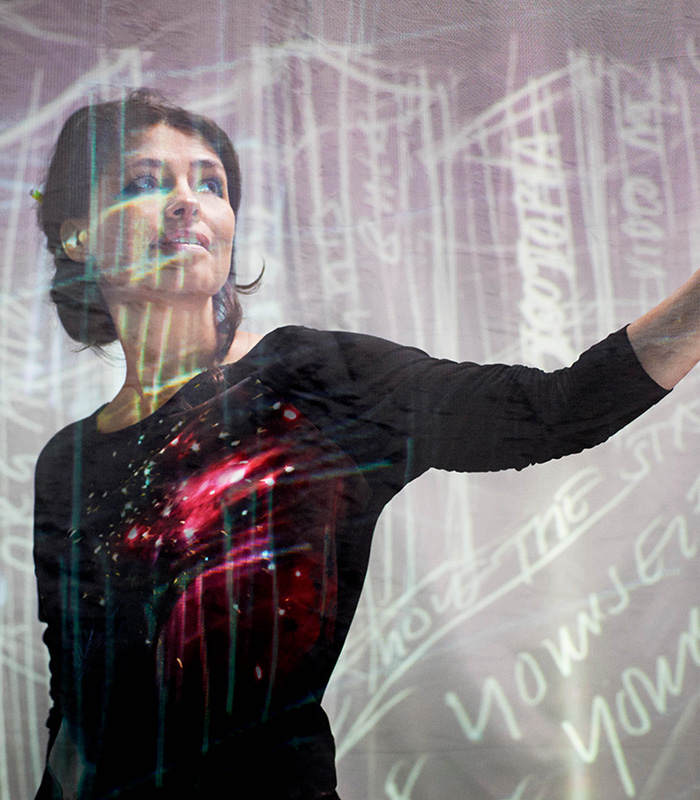 Rossana Hu
Hu is a Founding Partner of Neri&Hu Design and Research Office, an interdisciplinary international architectural design practice based in Shanghai, China.
Hu and partner Lyndon Neri are the Overall Winner of The PLAN Award 2018, they were named EDIDA Designers of the Year 2017, Interior Designers of the Year of ICONIC Awards 2017 by German Design Council, and Wallpaper* Designer of The Year 2014. They were the winner of 2014 World Architectural Festival. In 2013, Hu was inducted into U.S. Interior Design Hall of Fame with partner Lyndon Neri. The practice was selected as the 2011 INSIDE Festival Overall Winner, won AR Awards for Emerging Architecture 2010 by Architectural Review (UK) and was selected as one of the Design Vanguards in 2009 by Architectural Record (US).
Hu has served on prestigious professional committees such as the Princeton University President's Advisory Committee on Architecture, where she advised the President on architectural design and campus planning issues. Other than an architectural professional, Hu has been actively involved in teaching and research, together with his partner Neri, they started teaching at Harvard Graduate School of Design the fall semester of 2019 as John C. Portman Design Critic in Architecture and taught at Yale School of Architecture as the Fall 2018 Norman R. Foster Visiting Professor, and the University of Hong Kong Graduate School of Architecture.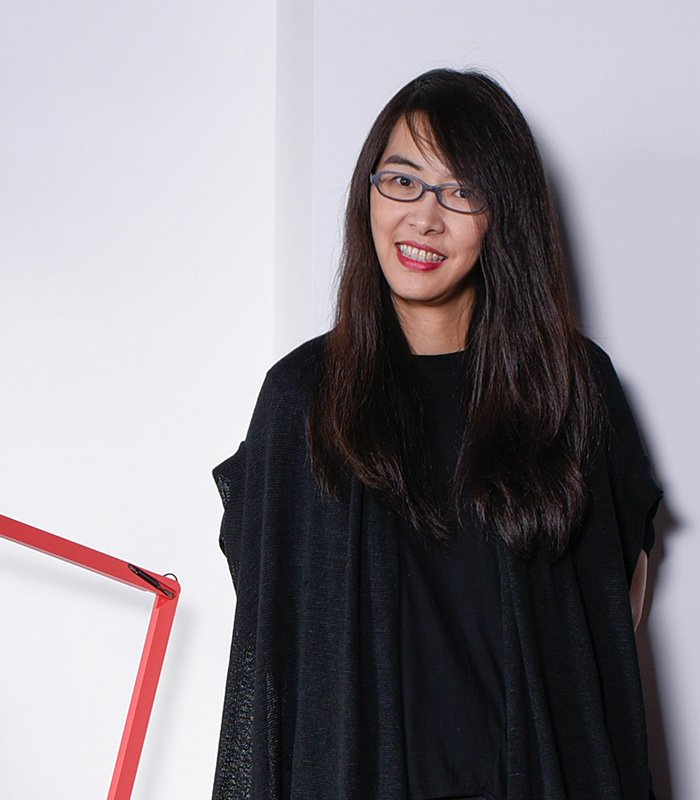 Gustavo Utrabo
Utrabo won both the RIBA International Prize and RIBA International Emerging Architect in 2018.
Utrabo earned his degree in Architecture and Urbanism from Universidade Federal do Paraná - Brazil - in 2010. He contributed to lectures and other actions in institutions like Harvard GSD, IIT Chicago, University of Hong Kong, Future Architecture Platform at MAO museum in Ljubljana, RIBA London and FAU-USP in São Paulo, among others.
Main Prizes include RIBA International Prize (2018), RIBA International Emerging Architect (2018), Archdaily Building of the year (2018), Tomie Ohtake AkzoNobel (2017), Finalist at Mies Crown Hall Americas Prize Emerge - IIT College of Architecture Chicago (2018), Third place at Oscar Niemeyer Prize for Latin American architecture (2018), Finalist in Harvard Wheelwright Prize (2018), American Architecture Prize - Social Housing (2018), APCA 2017 Award (Paulista Association of Art Critics) - Category: Architecture in Brazil with the Children Village (2017), Tomie Ohtake AkzoNobel Contemporary Architecture Prize with Children Village project (2017).
Estúdio Gustavo Utrabo intends to expand the field of architecture, connect people and imagine the future through sustainable and inclusive approaches. The practice carries out projects and research in a collaborative way, materialized through spaces, objects and concepts, with commitment and quality. These ideas come together in an extensive portfolio that has earned important awards such as RIBA International Prize (2018), Tomie Ohtake AkzoNobel (2017), American Architecture Prize - Social Housing (2018), and APCA 2017 Award and has been featured in exhibitions such as in the Brazilian Pavilion of the 16th International Architecture Exhibition at the Venice Biennale.