04 April 2019
The Royal Institute of British Architects (RIBA) has today (Thursday 4 April 2019) published guidance for architecture practices on closing the gender pay gap, as part of its commitment to support a diverse and inclusive profession.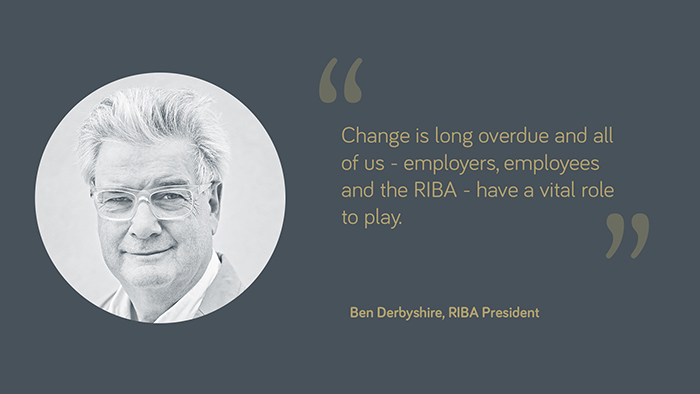 The RIBA's guidance – Close The Gap: Improving Gender Equality in Practice – outlines a range of effective best practice measures and initiatives.
The RIBA guidance is accompanied by a #CloseTheGap pledge which has been developed and signed by a core group of RIBA reporting practices, a group of large practices who are required by legislation (as they are above the threshold of 250 employees) to disclose their gender pay gap data. The pledge commits practices to several actions including operating fair, equal and unbiased recruitment and promotion procedures; supporting flexible working patterns and appointing a Diversity Champion or Taskforce.
The RIBA is encouraging all Chartered Practices to sign up to the pledge, as a demonstration of their commitment to improving gender equality, broadening opportunities and ensuring that individual career prospects are independent of gender, race, background or any aspect of an individual's identity.
The RIBA is also encouraging practices of all sizes voluntarily to evaluate and share their Gender Pay Gap data and, more importantly, to take the most effective recommended actions to improve their gender equality for the benefit the wider profession.
RIBA President, Ben Derbyshire, said:
"There is no place for discrimination in our profession. Yet, almost 50 years after equal pay legislation came into force in the UK, significant instances of inequality remain. Change is long overdue and all of us - employers, employees and the RIBA - have a vital role to play. Driving improvements in equality, diversity and inclusion – including closing the gender pay gap - is a top priority for the RIBA. This guidance is a welcome step on the path to a more inclusive profession and I commend all those involved in its development."
Allies and Morrison Partner and RIBA Gender Pay Working Group Chair, Jo Bacon, said:
"The RIBA exists to provide leadership to all practices, whatever their size. Now that gender pay gap is at the front of our minds, this work can help practices to be able to fully understand the consequences of their gaps and also invite them on a wider journey to improve access to architecture and equality for all. This initiative supports everyone seeking improvement of diversity in our profession."
ENDS
Notes to editors:
1. For further press information contact Abigail.Chiswell-White @riba.org +44 (0) 20 7580 3811
2. The RIBA's guidance can be downloaded here.
3. To sign up to the pledge, click here.
4. The RIBA Gender Pay Working Group is comprised of:
Bruce Tether, Professor of Innovation Management, University of Manchester
Daniel Elsea, Allies and Morrison
Deborah Phillips, AHMM
Ella Cessar, Grimshaw
Helen Ratcliffe, AHMM
Jo Bacon (Chair), Allies and Morrison
Kaite Atkinson, Grimshaw
Kirsten Lees, Grimshaw
Lorraine Dixon, Allies and Morrison
Patricia Riberio, AHMM
Peter Morris, AHMM
5. The Royal Institute of British Architects (RIBA) is a global professional membership body that serves its members and society in order to deliver better buildings and places, stronger communities and a sustainable environment. Follow @RIBA on Twitter for regular updates.