01 October 2020
Kristofer Adelaide Architecture (KAA) is formed of a diverse range of architects, artist, and a team that keeps the wheels running as part of their accounts and management team. They are a young BAME led practice based in South London. KAA employs a diverse team of ARB registered Architects, Designers, Architectural Assistants and a BIM Coordinator. They share resources with other architects when required as part of the London Group of Architects and Paradigm networks, promoting BAME representation in the built environment.
We asked them a few questions around Black History Month, architecture and communities and equality and diversity in architecture.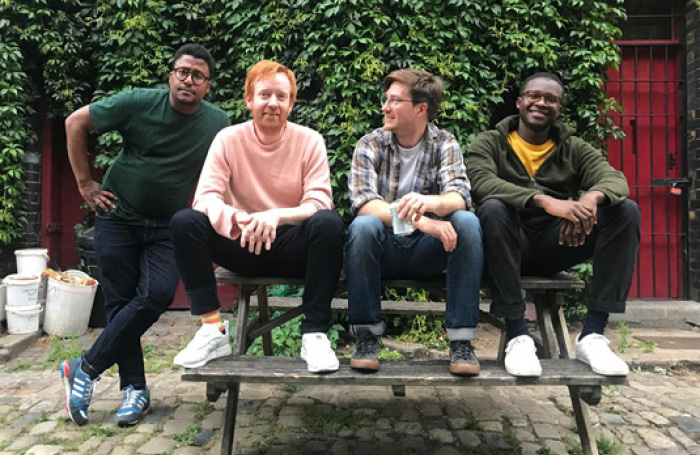 October is Black History Month. Can you recommend any resources, books, articles or people, art etc. we should check out to celebrate Black History?
There are currently so many inspiring young black architects all being excellently documented on social media and architectural press. From the amazing Paradigm Network that encourages BAME into the built environment space, to the Black Females of Architecture and the POoR collective and Public Practice's diverse cohorts. This, I believe, is a testament to the past artists and activists, who are our forefathers and mothers and fought for our liberation, but were always positive
One of these inspirations is Nina Simone and her song to be 'Young, Gifted, and Black'. The live version of Nina's successful single speaks volumes about the memory of her friend Lorraine Hansberry who had died at the time, and who was the first African American to grace Broadway. It highlighted the lives of Black Americans living under racial segregation in Chicago, and how she misses her dearly.
Without writing the entire lyrics of the successful song, what I hear in this heart-warming accolade is how our ancestors struggled so that in today's world, just a little, we can succeed because those struggles have been fought and won for us. So that as Young Gifted and Black we can achieve anything we want without prejudice or persecution. I think finding inspiration in music gone by can educate us of the past so we can improve our future. The rest of the album is well worth a listen too.
What's the most exciting project you've got coming up and why?
As Berthold Lubetkin said, "Nothing is too Good for Ordinary People."
We have been working and designing the Architecture for (the) Reasonably Ordinary (A.F.R.O) House, a concept house type using modular construction to satisfy high housing demand, with quality manufacturing, working toward a zero-carbon and passive design. Inspired by the Garden Cities movement, it seeks to provide affordable housing in a flexible, scalable way to meet local demand.
With multiple floorplans based on the same chassis, A.F.R.O House also offers more long term flexibility than a traditionally built house. Local authorities or housing associations can respond to changing tenant profiles with changes of layout, accommodated without moving major services. This will allow A.F.R.O to remain relevant to tenants' lifestyles over the long term, reducing the risk of obsolescence due to future changes that are difficult to anticipate.
A.F.R.O House concept has been shortlisted for Brick by Brick's 'Housing for a Better World' competition and Archiboo's, HUB Development's and WhiteHat's 'Architect pitch', and is opening doors to collaborations with other well-established architects and engineers.
Kristofer Adelaide Architecture is already discussing the concept with modular experts Matt Egan and Gaynor Tenant of Modularize and the offsite Alliance. The time is now for modular and offsite and architects must not take their eye off the ball as modular is here to stay and we need to be at the forefront of this new form of delivery.
How do you think the current pandemic will change architecture in the future?
During the pandemic, inequalities in people's living conditions have become clear, with some people working from home offices with adequate computing, while others have struggled. Access to IT, fast broadband and spaces equipped for home learning have been crucial to making the best out of lockdown and should be incorporated in the design of homes in the future.
Furthermore, the spread of coronavirus (COVID-19) has been linked to poor quality housing and overcrowded conditions. A hundred years after the founding of Welwyn Garden City, people are again looking to the suburbs as a way to get more space and fresh air. Architects will have to engage again with suburban design especially, as more people spend more time working from home.
How do you think the profession could break down barriers to entry for people of all backgrounds?
The cost of studying architecture, including tuition fees, living costs and rent, was over £40,000 for five years of study. My first pay-check as a Part 1 was only £18,000 after three years of study and £24,000 after five. This was the going rate at the time but did not tally with the amount I had to pay back. With tuition fees increasing since my time, many from poorer backgrounds will be put off doing architecture due to the fear of debt, when they could be earning the same working in a pub. New ways of learning need to be developed so that access to the profession isn't only for the well off.
There needs to be an alternative to the traditional university route, with practice-based apprenticeships such as the London School of Architecture system. This would help bridge the gap and allow people from poorer backgrounds a chance to enter the profession without the burden of debt.
Working with the industry will ensure more knowledge sharing and should apply to the most successful universities too. If people of all background can associate with each other then they will work better together in the future, removing the 'them' and 'us' that blights the industry today.
Young minds do need to have the space to express their art, but the reality of the construction industry and the skills to deliver buildings should be taught earlier. It is inspiring to see many architects working directly with developers, which is helping to increase the quality of architectural delivery. Also, to see major developments, such as the Meridian Water project, encourage local practices and BAME led practices to be at the forefront of their delivery program. Primary school inclusion programmes to educate younger people should get them excited about the idea of becoming architects and engineers.
How do you think we can make architecture more accessible to people of all backgrounds?
My passion for architecture stems from year 4 at my primary school. I was lucky to have teachers that inspired me to become whatever I wanted to be and that no wall was a barrier. They encouraged everyone to work together, so that knowledge was shared.
I think early year development in the business of architecture, or actually, the business of the world and to have no fear, follow your dreams and have a positive attitude towards learning is the way to ensure we can encourage students to take up the profession. Seeing people who look like you are doing jobs that you want to do is key.
What is your advice to future architecture generations?
"Dress for a party every day and the party will come to you!" - Steve Edge of Steve Edge Design.
I met Steve Edge at a Developers Dinner in 2019. After Steve's very engaging presentation at the dinner, we approached him, and he invited us to come and see him at his studio in Shoreditch. After this, Steve connected us with one of his very big developer clients and said we are on his radar. Steve works with some of UK's biggest players in the industry and said we should keep in touch.
He presented us with his latest book, 30 things you need to know about running a successful business. The first page stated the quote above. The point I am making here is, you need to put yourself out there and opportunities will follow. This includes learning, respect and politeness: even if you do not get noticed on the spot, if you keep showing the willingness and pushing yourself, you will succeed.
In the words of Denzel Washington, "Dreams without goals are just dreams and they ultimately fuel disappointment, so have dreams, but also have goals". Architecture is a marathon, not a sprint. Learn from others, read lots of books, go to galleries, open your mind to other arts, the theatre, travel, food and culture.
Also as Napoleon Hill, writer of the successful book think and grow rich, says: be curious, surround yourself with like-minded people, learn to fail, but don't be a failure.
To find out more about Kristofer Adelaide Architecture, visit their website or follow them on Instagram, Twitter and LinkedIn.