26 April 2021
Inglis Badrashi Loddo is a small design-led practice. Their work has won numerous awards and has been published in the RIBA Journal, the AJ, Architecture Today, Dezeen, BD, Architecture in Detail, and the Wall Street Journal. They have completed a broad range of projects, including a cultural centre and chambers for a law firm, but the bulk of their work is residential - a mix of private domestic projects and commercial work for small developers.
IBLA understand cities and the architecture that makes them up as inherited works in progress, and see their job as custodians, with a duty to look after, use, and improve the things around them, and pass them on to future generations. They eschew putting radically modern insertions into existing buildings and strive instead to create a 'sympathetic architecture', a careful and seamless synthesis of old and new elements into a cohesive whole.
RIBA London asked them a few questions about retrofitting, its benefits and challenges, how to add value to retrofits, their upcoming projects and more!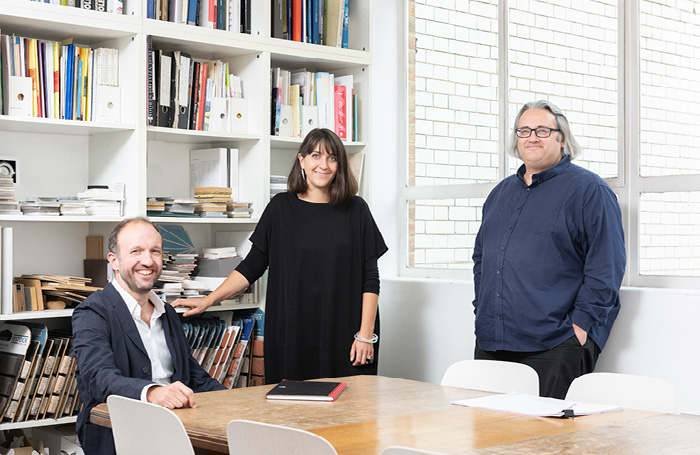 What do you think is the most important issue for architects to focus on right now, and what are you doing as a practice to tackle it?
As our climate emergency escalates, we believe that prioritising the retrofitting of existing buildings over energy-intensive, new-build construction is a vital issue for architects to consider, and there are many aspects to this conversation.
When we first set up, the refurbishing of existing buildings was low down the 'wish-list' of any serious design practice. Thankfully, things have changed, and the re-use of the built environment is being increasingly championed.
Existing buildings present their own issues when it comes to sustainability. The potential benefit of a new efficient building fabric needs to be measured against the actual cost in embedded energy inherent in reconstruction. Even then, there is an uncertainty in making such an assessment; and the wider existential issue of the value of retaining historical construction against the benefits of energy efficiency is even less easy to quantify.
As a practice, we consider each project on its own terms, and approach it with an open mind, as a dialogue between brief, site and context.
We try to assess each element of an existing building on several levels: can it be retained, repaired, or adapted, or does it need complete replacement or redesign. With an eye both on sustainability, and as an attitude to the character and philosophy of the final building, we typically aim to retain and repair as much of the original fabric as is feasible. Where fabric is to be repaired, it would be upgraded thermally if possible, and where it is to be replaced it would be constructed in accordance with contemporary best practice.
What are the benefits and challenges of retrofitting a building?
Good architecture is a collaborative effort, and we believe that the best retrofit projects come from architects, engineers, builders and clients working together, under the architect's lead. Vital to this is clear communication. As a practice, we create a live 3D model of every project, so that at every stage in the design process, the client can see and understand the kind of space they will be getting, and how it is contributing positively to the wider environment.
A key challenge is governmental policy, which currently makes retrofit harder than it should be, falls far short of promoting the reduction of consumption, and significantly levies 20% VAT on most refurbishments as against 0% on new builds, often making it more expensive to re-use than to build anew.
Retrofitting is also typically more complex and messy than erecting a new build, with more uncertainties and demands on the design team.
In our opinion, small projects are particularly challenging and demand careful judgement, firstly to find an architectural idea that coincides with the project's scope and limits, and then to realise this idea within the constraints of limited budgets, and the vagaries of small-scale contractors with their differing areas of expertise.
Getting to know your builders and what they are comfortable with is especially important when trying to make a success of projects of this scale.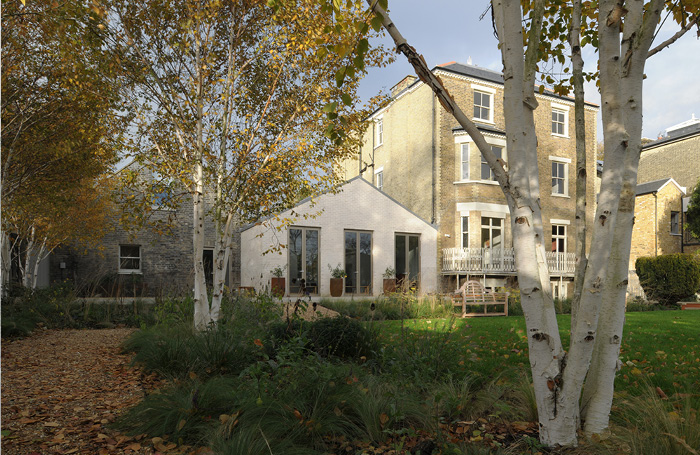 How do you add value to retrofitting in your projects?
We think that in both our domestic and commercial work, the value we add comes from our broad range of experience across built projects, of every scale. We are atypical, in that we are just at home designing a small kitchen out of Ikea units, as we are working on, for example, a 35-unit apartment block.
Our interest in housing is rooted in ideas of civility, conviviality and the act of providing a place for people to 'live well', and our focus has always been building projects out, from start to finish.
Having been in practice for over twenty years, and with about half our workload in extending and refurbishing houses, we have been able to use these as incubators, or testing beds, for ideas that we feed into our bigger projects.
One of the things that makes us different, is our interest in confronting the persistent assumptions that underpin many typical projects, such as the idea that you should extend as much as possible, that the more space you can create the better, that you can never have enough open plan, and that if a wall can be taken out then it should be. In fact, many of our projects start with a close and thoughtful examination of the client's brief, and a questioning of the premise that the best solution is the one that maximises the amount of accommodation one can get onto a site. A robust cost analysis is essential to our process, and we often end up with unusual design solutions, where we carve characterful new spaces out of the old ones.
As a practice, you are known for being champions in retrofitting. Has this helped you gain more work, or has it proven difficult to convince clients about retrofitting?
We are grateful to have been recognised for our work in this area; having expertise and a track record in delivering this type of project does make it a bit easier to gain work. But engaging fully with clients and their brief, and having a genuine dialogue with them about their priorities and problems from the outset, is critical.
In our opinion, to create a successful retrofit project you need your client to understand that they are getting as 'good' (or better) a solution as they would if it was a new building, and that demands care, attention to detail, and an ability to explain clearly the reasoning behind any decisions being taken throughout each step of the design process. At IBLA, we believe that the most interesting design solutions evolve from the resolution of the conflicts between differing positions and that the architecture that emerges is the better for it. We have always been suspicious of easy answers, and enjoy the creative tensions between the aesthetic, functional and technical aspects of our discipline.
What's the most exciting project you've got coming up and why?
For us, our most exciting project is always the one we have on site. At the moment, this is a project in Chiswick for a small developer which involves the refurbishment and extension of an existing building into seven flats, while retaining a ground floor shop unit.
The flats open out onto a communal roof terrace at first-floor level, from which a shared external stair gives access to the second floor. Bounded by the crisp white rendered walls of the flats, the raised existing brick parapet, and a bank of planters and bike stores, this space serves to create a nuanced transition from public to semi-public to private and is in total contrast to the typical entrance lobby and corridor arrangement found in most developer flats.
Where do you look for inspiration?
We are particularly fascinated by how what we do, as designers, changes our understanding of an existing building, and always find inspiration from looking at other buildings. We are interested in how they are made, how they are put together, how they have been designed, how they are used, and how they are understood, or 'read'. We think that this distinguishes us from other practices.
We also have a longstanding interest in architectural education, having taught and examined at numerous universities, including Cambridge, Sheffield, Manchester, Birmingham and Dundee. Conversing with students, mentoring them, questioning their assumptions, and sharing new ways to look at architectural problems is very inspirational to us.
To find out more about Inglis Badrashi Loddo, visit their website or follow them on Instagram, Facebook, Twitter and LinkedIn.