01 April 2021
PiM.studio is a London-based team of Architects with a global outlook, fresh ideas and big ambitions.
They try to re-articulate the relationship between architecture, humans, and other living beings. An architecture for all, creating a more biodiverse built environment and reintroducing a degree of wildlife in our buildings and cities is possible at all scales and for all kinds of projects.
If we will learn (again) to live in harmony with nature, we can be happier and healthier in our cities, workplaces and homes.
They propose wildlife-friendly designs that are home to human as well as natural life.
Bringing together finely crafted details, natural materials and the latest technology, they aim at creating a soft and porous architecture: an architecture that is adaptable to its users and to the way it is inhabited, that isn't rigid but malleable, permeable, warm and welcoming; allowing its users to belong to the place.
RIBA London asked them a few questions about biodiversity and architecture, how to incorporate nature and sustainable practices in your everyday living, rewilding architecture and their projects.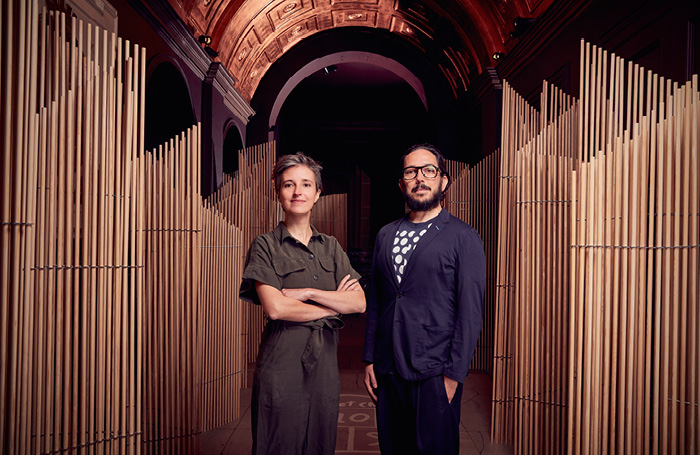 How do you incorporate nature and sustainable practices in your everyday living?
We are directly involved in several local community projects, Maria-Chiara is director of the "Garden of Earthly Delights", a community garden in Graham Rd, Hackney central.
Our family is part of Plastic Free Hackney, a campaign group committed to creating a cleaner and greener community for everyone.
And finally, with our office, we support "Save the Lea marshes" working cooperatively with other local and special interest groups to preserve the land for nature and open community use. Particularly we are involved in their East London Waterworks Park project aiming to transform the 5.8-hectare ex-Thames Water depot on Lea Bridge Road, in the London Borough of Waltham Forest, into a place for wild swimming and a place where people learn to live harmoniously with nature.
Where do you look for inspiration?
The place is always our starting point. We love the feeling of arriving at a new site – in a new city or even a new country – and seeing it with fresh eyes. We take nothing for granted about a place but immerse ourselves in it, researching it thoroughly and from every angle. Out of this process comes a design that responds to its context and belongs.
But we also look around us with curiosity and an open mind: inspiration for a new project can come from anywhere, and it is always different from project to project: we can draw an idea or a creative process from nature to science, music to food or poetry, there is no limit to what triggers the creative process of generating new ideas.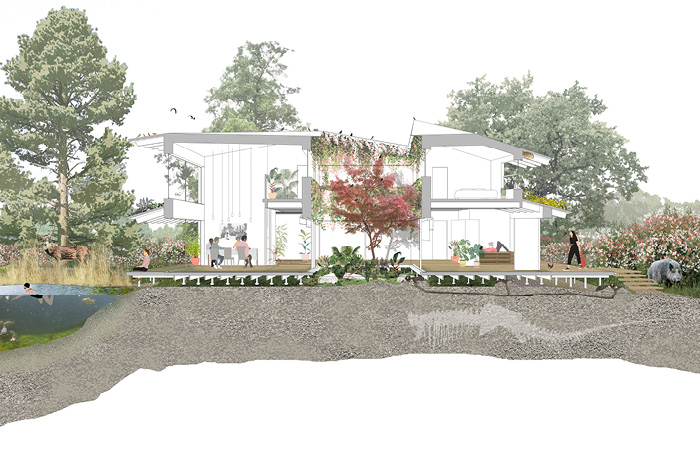 It seems like rewilding architecture is a big part of your work, tell us a bit more about this and how other practices can implement it in their projects
Thinking beyond the centrality of the human subject, we have to design with a more holistic approach to the world, aiming to create urban environments that make a positive on-site contribution to biodiversity. Designing with natural processes instead of controlling them and acknowledging that Nature processes are the most energy-efficient ones.
We should try to integrate natural elements and living things into architecture as much as possible. By introducing new elements in architecture like rainwater, light, wind, plants, soil, and other living things we can change the narrative of our cities.
What's the most exciting project you've got coming up and why?
We have just restarted working on two exhibition design projects that were put on hold a year ago at the start of lockdown and that will hopefully open during the summer. This gives us positive hopes that we can restart working on exciting cultural projects.
We are also working on a very small but exciting project in which we are applying our idea of rewilding to very a small scale project, it is confidential but we will be able to reveal more toward the end of the year.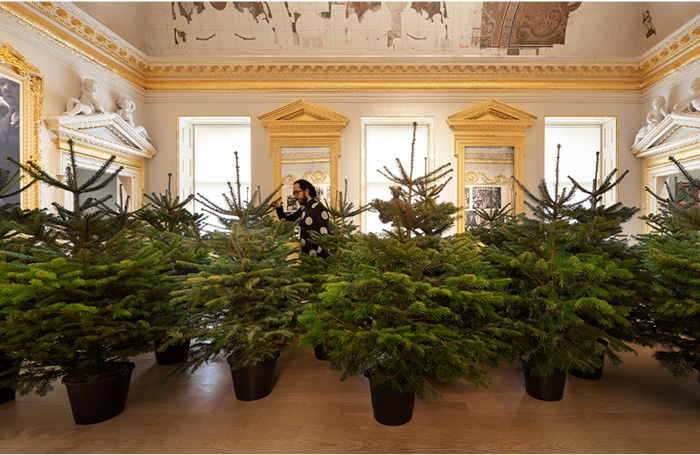 How can architects reconnect people with nature in urban environments through architecture?
Architects should translate the voice of the place into a space.
There is immense potential in the history of the place: soil, water, light, they all form the identity of this place and we can narrate a new chapter of its story through the architecture we design.
Not by imposing but listening and observing and translating the power of Place, architecture can become a stage for people to inhabit and interact nature.
What is your advice to future architecture generations?
The best advice we can think of is: Let go!
As architects, we often think we must design everything and control everything: our designs, our cities, how people use buildings, even nature; but this is not what we should do as architects.
We should create adaptable spaces which can be used in ways we should not expect, we should imagine spaces that users can adapt to their needs, spaces that adapt to the natural environment without and that enhance the environment.
We should not try to design buildings that have the least negative impact on the environment, we should instead design buildings that have a positive impact on people, nature and all living beings.
This might also mean, sometimes, we should design less and build less.
To find out more about PiM.studio Architects, visit their website or follow them on Instagram, Facebook, Twitter and LinkedIn.