26 October 2021
Adrian Manea and Elena Kella set up their practice in 2017, first basing themselves in the RIBA London Incubator before graduating to a larger office space in Camden to accommodate their growing business.
Their work is designed to benefit society and be a force for social good because regardless of scale they believe architecture has the potential to shape and transform society for the better. All their designs embed thoughtful design and sustainability which sits at the core of their practice. Whenever possible, they always think first and foremost about reusing, from reusing material to retrofitting structure. They value high quality materials and their love for conservation crafts informs their approach.
What do you think is the most important issue for architects to focus on right now, and what are you doing as a practice to tackle it?
We pride ourselves on our rooted approach and direct relationship to material application and construction. Whenever possible, we always think first and foremost about reusing, be it reusing material to reusing structure. We value high quality materials and our love for craft informs our approach. Considerations of local identity and sense of place go hand in hand with our belief in creating sustainable places. Conservation through retrofitting is perhaps the most environmentally sustainable approach within the wider construction industry. Retrofitting buildings usually results in significantly lower upfront emissions than demolition and rebuild because of the embodied carbon in existing structures. Moreover, we believe that our projects (Casa Popeea – completed; Colston Bassett, Mihail Kogălniceanu - both in process) can demonstrate sustainability in a cultural, social and economic sense also.
How do you approach the idea of retrofit with your clients? Have you ever had to present the argument that reuse is better than new build?
Good architecture tells great stories and the built environment has the ability to capture the history of a place and tell that story through space. Existing buildings form a visual and spatial link between past, present and future, becoming a point in the timeline of a place and culture. We often find ourselves discussing options to retain and repurpose wherever constructively possible, however, it is often more affordable to knock down and start again. We have found it effective to approach this issue by considering how the life of a structure could be prolonged and to convince our project partners that recycling is a celebration of the genuinely sustainable. Design by retrofitting together with doubling down on locally manufactured products and materials means that we are specifying products that are a shorter physical distance from our projects – it's a vital show of support for the community and it fosters strong relationships.
Furthermore, intelligently crafted reuse in architecture can also translate into a commercial advantage – sustainability need not come at the cost of financial viability. This is due to the architectural richness and visual storytelling of existing structures.
You put local identity and a sense of place at the heart of your projects. How do you go about researching this?
Architects have long called for the return of architectural craft and more locational context for buildings. At Manea Kella, we are preoccupied with creating architecture that is rich in character and distinct in identity. We investigate historic and vernacular precedents to best inform our response to projects. We strive to create buildings which last and ones that can be adapted. Within a rapid and sometimes thoughtless commercial industry, we pride ourselves on our rooted approach and direct relationship to material application and construction. Considerations of local identity and sense of place go hand in hand with our belief in creating sustainable places.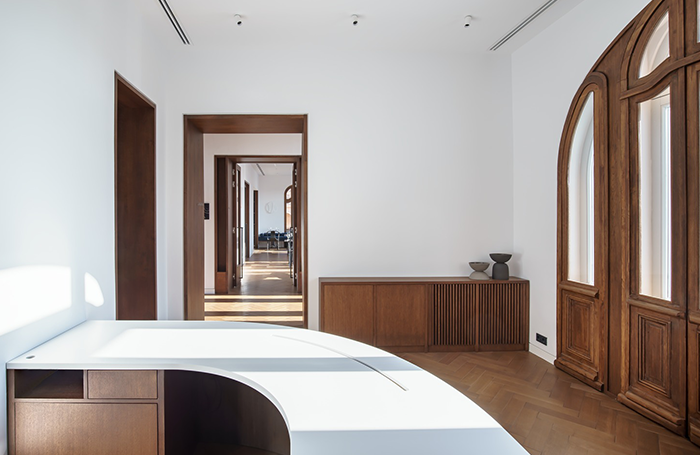 Your projects showcase good use of materials and craftmanship, Can you tell us about a particular project that exemplifies this? Can you tell us about a particular material that you love working with?
We transformed Casa Popeea into an 11 room boutique hotel, delivering high quality facilities that enhance the experience for guests and members of the public. In doing so, this prestigious project fulfils the client's desire to create a welcoming gesture by opening up the historic building to the surrounding streetscape. The restoration and repair of the existing was driven by the idea that the original structure should be emphasised in its spatial context and original materiality – the new reflects the lost without imitating it. The compressed, dark stained palette in the reception, lobby and coffee shop, with stained solid oak floors, joinery and bespoke furniture opens up to a light-filled stairwell. The building's original oak staircase has been meticulously restored, guiding you towards the tranquil sleeping quarters above. Carpenters from Transylvania were called upon for their expertise and life sized 1:1 models played part in rigorous design development workshops.
What are the benefits of adopting a sustainable approach?
At Manea Kella we care about the environment, where materials come from and how they will last over time. We would like to further our agenda for passive environmental design, in other words low tech, low carbon. We advocate drawing from local traditions in construction and vernacular architecture. In addition to the selection of low embodied carbon materials and the integration of renewable strategies, we harness the natural attributes of a project's surroundings.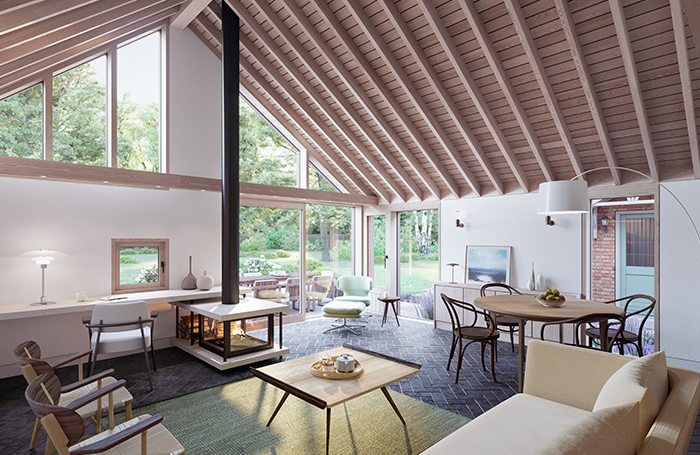 To find out more about Manea Kella, visit their website or follow them on Instagram, and LinkedIn.