08 October 2019
The Royal Institute of British Architects (RIBA) has today (Tuesday 8 October) announced the winner of the very first Neave Brown Award for Housing.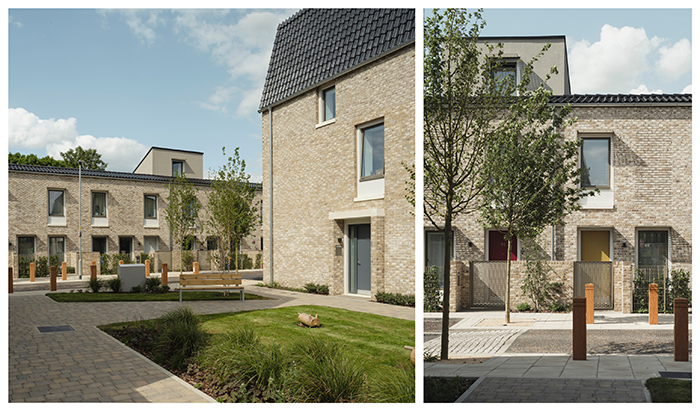 Goldsmith Street, a highly energy-efficient council housing development in Norwich designed by Mikhail Riches Architects with Cathy Hawley, is the recipient of the RIBA's new housing award, named in honour of the late architect, Neave Brown (1929 – 2018).
Goldsmith Street provides almost 100 homes for Norwich City Council. The finely-detailed houses and flats have been arranged in seven terrace blocks, creating a strong and sustainable new community. In order to meet rigorous 'Passivhaus' environmental standards, every home has been impeccably designed and detailed to seamlessly incorporate an array of sustainability measures. These range from heat recovery mechanical ventilation systems and triple glazing to innovations like garden-wall letterboxes to reduce energy loss.
Chair of the Jury Ben Derbyshire, said:
"Goldsmith Street is an exemplar for social housing. Over ten years in the making, the architects, working with the City Council have shown impressive sensitivity and prowess at every stage of the process. The result is not just a highly-desirable new neighbourhood for Norwich, but homes of the highest-quality and most exacting environmental standards. That the outcome appears so naturally at ease in its context requires skill and determination belied by the scheme's apparent simplicity.
The UK urgently needs more ambition and creativity to drive the housing revolution that is needed, and Goldsmith Street shows us how it can be done.
Neave Brown was a pioneer in social housing who sought to improve the lives of people and communities - we are very proud to have selected what we believe is a fitting tribute to his memory."
ENDS
Notes to editors:
1. For further press information contact Emily Stallard@riba.org, 020 7307 3813
2. Images for Goldsmith Street can be downloaded here
3. Neave Brown (1929 – 2018) was a modernist housing architect, best known for a series of housing estates in and around Camden in North London. Recognition for Neave Brown came late in life. His work in the 1960s and 70s was rejected for eschewing the high-rise norms of the time and instead – most notably in the case of Alexandra Road (1978) – focussing on a street-based alternative that placed an emphasis on communal spaces and shared facilities, whilst working within the constraints of local authority budgets and planning requirements and a dense and constrained urban context. His plans made clever use of space, creating capacious and generous rooms for occupants.
4. To be considered for the 2019 Neave Brown Award for Housing, projects needed to be a winner of a 2019 RIBA Regional Award, be a project of ten or more homes completed and occupied between 1 November 2016 and 1 February 2019 and one third of the housing needed to be affordable and should demonstrate evidence of meeting the challenge of housing affordability.
5. The jury for the 2019 Neave Brown Award for Housing was chaired by RIBA Immediate Past President Ben Derbyshire with Director at Levitt Bernstein Jo McCafferty and Professor Adrian Gale.
6. Description of Goldsmith Street
Approximately 1.5 miles west of the city centre, Goldsmith Street is both familiar – four rows of traditional Victorian terraces set around ginnels – and, at the same time, has an air of the best of contemporary European domestic architecture. The homes are designed to Passivhaus standard for Norwich City Council and the finely detailed and well specified houses and three storey apartment buildings create a consistency and wholeness that engenders a strong community feel. Individual front doors to every home at street level ensure routes are active and intimate, with daily opportunities for neighbours to meet. Parking is carefully woven onto the streets but has been reduced to the minimum, to allow a feeling of pedestrian ownership and the enclosed ginnels, which can be secured or left open as needs dictate, themselves form vital and serene shared spaces. Bin storage has become an art form in itself and is beautifully detailed, at times used as a device to form a buffer between the public and the private, whilst landscaped public spaces break up the rectilinear form nicely. Championed and supported by a brave and tenacious Local Authority, Goldsmith Street is a project of admirable depth, intelligence and skill.
7. The RIBA Awards have been running continuously since 1966 and are judged and presented locally. No matter the shape, size, budget or location, RIBA Award winning schemes set the standard for great architecture all across the country. RIBA Awards are for buildings in the UK by RIBA Chartered Architects and RIBA International Fellows. Entries are to be submitted to the region or nation in which the building is situated. Projects are judged first for RIBA Regional Awards, then RIBA National Awards; the RIBA Stirling Prize shortlist is selected from winners of the RIBA National Awards.
8. The Royal Institute of British Architects (RIBA) is a global professional membership body that serves its members and society in order to deliver better buildings and places, stronger communities and a sustainable environment. Architecture.com Follow @RIBA on Twitter for regular updates