22 June 2017
The Royal Institute of British Architects (RIBA) has today (22 June 2017) announced the winners of the prestigious 2017 RIBA National Awards for architecture.
The 49 winners include an ecological straw-clad office building in Norwich (The Enterprise Centre); an exemplary social housing development next to a railway viaduct in London (Silchester); the world's first 'vertical pier' (British Airways i360); the 'top-notch' transformation of Leicester Cathedral including the rediscovered tomb of Richard III (Leicester Cathedral's Richard III Project 'With Dignity and Honour'); and a striking new biomass power plant in Sheffield (Blackburn Meadows Biomass).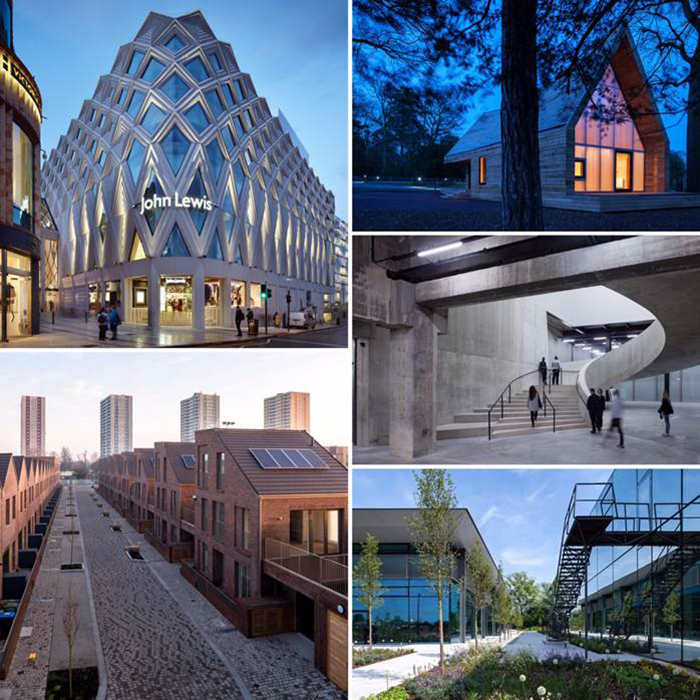 RIBA National Award-winning buildings set the standard for good architecture. The shortlist for the highly coveted RIBA Stirling Prize for the UK's best building of the year will be drawn from the list of 49 RIBA National Award-winning projects announced today. Other highlights from today's winners include:
Victoria Gate Arcades – an instant landmark for Leeds, this large, new shopping centre has a consistent crafted feel (right down to the car park),taking its design cues from the nearby 19th century arcades, with its woven geometric pattered façade acting as a nod to the city's bygone wool trade.
Wolfson Tree Management Centre – the carbon footprint has been kept to a minimum in these two new timber buildings at the National Arboretum in Gloucestershire. Constructed by local trainee carpenters it uses locally sourced timber to both form the structure and clad the buildings.
Dyson Campus Expansion – three new buildings have been added to this Wiltshire HQ including a café, multi-purpose sports centre and R&D facilities. The external reflective glass disappears into the landscape, a mirror to its lush landscaped surroundings.
Tate Modern Blavatnik Building (also known as Switch House) – this monumental extension to Tate Modern on London's Bankside has generous gallery spaces leading to a free rooftop gallery offering a near-panoramic view of the capital. The complexity of the building's perforated chain mail façade sets a new standard for the use of brick.
Dujardin Mews - The first phase of the wider regeneration of Ponders End in north London, is the first council-led, social housing delivered by the local borough of Enfield in 40 years. These much needed new homes, built in the vernacular of London brick, set a benchmark for the regeneration of Enfield.
Speaking today, RIBA President Jane Duncan said: "Congratulations to the clients and their design teams for the extraordinary talent, ambition and enthusiasm that has led to this year's roll-call of phenomenal buildings.

"RIBA National Awards provide insight into emerging design trends, as well as showing how well the profession responds to economic drivers. I am delighted to see such confident, innovative and ambitious architecture delivered in such challenging times.
"The lack of high quality new housing is a huge issue in the UK so I am particularly pleased to see great examples of well designed, sustainable new homes amongst our award winners. Derwenthorpe in York is a fantastic socially and environmentally sustainable housing development; in London, Silchester and Ponders End are both great examples of estate regeneration bringing thoughtful and community based affordable housing to the capital. Sadly though, these projects are exceptions. We all deserve a well-designed, affordable home, wherever we live in the country. I encourage other local authorities, developers and clients to look at these projects as exemplars.
"I am pleased to award a selection of high-quality new school buildings such as The Laboratory, Dulwich College and new music facilities at Wells Cathedral School, that will benefit generations of children and teachers. However, after a few boom years, which saw a clutch of award winning, cost effective state school buildings, it's disappointing that there are none on this year's list. Well-designed schools support improved student achievement, and staff and student wellbeing and should be part of educational aspirations for all our schools, not just those in the fee-paying sector.
"This year's list also reveals the power of well-designed buildings to provide excitement and pleasure; the new Hastings Pier, Brighton's radical vertical pier the i360 and the Leeds' Victoria Gate shopping centre are part of a new generation of destination buildings, set to delight visitors and locals alike. Biomass plant Blackburn Meadows shows that contemporary British industrial and infrastructure architecture can be as iconic and as beautiful as its Victorian predecessors."
"Brick remains the top choice for many projects in London; Tate Modern's Blavatnik Building and Barrett's Grove are two excellent examples. This traditional building material remains very much part of modern London's architectural vernacular. In the rest of the country, timber is growing in popularity; its versatility and relative affordability have seen it embraced across the country from intricate external lattice timber cladding at Bedales School to the beautifully crafted interiors of repurposed industrial unites in Manchester at Finlays Warehouse."
The full list of winners follows:
| | Name of project | Architect | Location | Typology |
| --- | --- | --- | --- | --- |
| 1 | Carrowbreck Meadow | Hamson Barron Smith | Norwich, Norfolk, England | Housing development - private |
| 2 | The Enterprise Centre, University of East Anglia | Architype | Norwich, Norfolk, England | University |
| 3 | Peacock House | BHSF Architekten with Studio-P | Aldeburgh, Suffolk, England | Individual house |
| 4 | St Albans Abbey | Richard Griffiths Architects | St Albans, Hertfordshire, England | Place of worship |
| 5 | Vajrasana Buddhist Retreat Centre | Walters & Cohen Architects | Walsham le Willows, Suffolk, England | Place of worship |
| 6 | The Welding Institute | Eric Parry Architects | Great Abington, Cambridge, England | Research institution |
| 7 | Leicester Cathedral's Richard III Project 'With Dignity and Honour' | van Heyningen and Haward Architects | Leicester, England | Place of worship |
| 8 | The Laboratory, Dulwich College | Grimshaw | Dulwich, south London, England | School - independent/public |
| 9 | No 49 | 31/44 Architects | Hither Green, southeast London, England | Individual House |
| 10 | The Loom | Duggan Morris Architects | Whitechapel, east London, England | Workspace/office |
| 11 | 8 Finsbury Circus | WilkinsonEyre | City of London | Workspace/office |
| 12 | 40 Chancery Lane | Bennetts Associates | Holborn, central London, England | Mixed use building - Workspace/office and retail |
| 13 | King's College School | Allies and Morrison | Wimbledon, southwest London, England | School - independent/public |
| 14 | New Scotland Yard | Allford Hall Monaghan Morris | Embankment, central London, England | Workspace/office |
| 15 | Paradise Gardens | Lifschutz Davidson Sandilands | Hammersmith, west London, England | Housing development – private |
| 16 | Photography Studio for Juergen Teller | 6a architects | Ladbroke Grove, west London, England | Mixed use building – workspace and residential |
| 17 | Silchester | Haworth Tompkins | Notting Hill, west London, England | Housing development - social |
| 18 | Barretts Grove | Amin Taha + Groupwork | Stoke Newington, north London, England | Housing development – private |
| 19 | Dujardin Mews | Karakusevic Carson Architects with Maccreanor Lavington | Ponders End, north London, England | Housing development – social |
| 20 | Tate Modern's Blavatnik Building | Herzog & de Meuron | Bankside, central London, England | Museum |
| 21 | The British Museum World Conservation and Exhibitions Centre | Rogers Stirk Harbour + Partners | Bloomsbury, central London, England | Museum |
| 22 | Walmer Yard | P Salter and Associates with Mole Architects John Comparelli Architects | Holland Park, west London, England | Housing development - private |
| 23 | Live Works | Flanagan Lawrence with Tench Maddison Ash Architects | Newcastle Upon Tyne, England | Theatre |
| 24 | Shawm House | MawsonKerr Architects | West Woodburn, Northumberland, England | Individual house |
| 25 | The Word | FaulknerBrowns Architects | South Shields, South Tyneside, England | Library and cultural venue |
| 26 | Chetham's School of Music - Stoller Hall | stephenson STUDIO | Manchester, England | School - independent/public |
| 27 | Finlays Warehouse | Stephenson Studio | Northern Quarter, Manchester, England | Housing development – private |
| 28 | Liverpool Philharmonic | Caruso St John Architects | Liverpool, England | Theatre |
| 29 | Maggie's at the Robert Parfett Building | Foster + Partners | Christie Hospital, south Manchester, England | Healthcare |
| 30 | Fallahogey Studio | McGarry-Moon Architects Ltd | Kilrea, Northern Ireland | Workspace/office |
| 31 | Bedales School Art and Design Building | Feilden Clegg Bradley Studios | Petersfield, Hampshire, England | School - independent/public |
| 32 | The Berrow Foundation Building and New Garden Building, Lincoln College | Stanton Williams | University of Oxford, Oxford, England | University |
| 33 | Magdalen College Library | Wright & Wright Architects | University of Oxford, Oxford, England | University |
| 34 | Warwick Hall Community Centre | Acanthus Clews Architects | Burford, Oxfordshire, England | Community space |
| 35 | Caring Wood | James Macdonald Wright and Niall Maxwell | near Maidstone, Kent, England | Individual house |
| 36 | Command of the Oceans | Baynes and Mitchell Architects | Chatham Historic Dockyard, Kent, England | Museum |
| 37 | Hastings Pier | dRMM Architects | Hastings, East Sussex, England | Leisure |
| 38 | British Airways i360 | Marks Barfield Architects | Brighton & Hove, England | Leisure |
| 39 | South Street | Sandy Rendel Architects Ltd. | Lewes, East Sussex, England | Individual house |
| 40 | Dyson Campus Expansion | WilkinsonEyre | Malmesbury, Wiltshire., England | Workspace/office |
| 41 | New Music Facilities for Wells Cathedral School | Eric Parry Architects | Wells, Somerset, England | School - independent/public |
| 42 | Wolfson Tree Management Centre | Invisible Studio | Westonbirt Arboretum, Gloucestershire, England | Leisure |
| 43 | Remembrance Centre, National Memorial Arboretum | Glenn Howells Architects | Lichfield, Staffordshire | Memorial |
| 44 | Blackburn Meadows Biomass | BDP | Sheffield, South Yorkshire, England | Energy infrastructure |
| 45 | Derwenthorpe Phase One | Studio Partington | York, north Yorkshire, England | Housing development – private |
| 46 | Victoria Gate Arcades | ACME | Leeds city centre, England | Retail |
| 47 | City of Glasgow College | Reiach and Hall Architects and Michael Laird Architects | Cathedral Street, Glasgow, Scotland | Further education college |
| 48 | Newhouse of Auchengee | Ann Nisbet Studio | Meikle Auchengree, North Ayrshire, Scotland | Individual house |
| 49 | Rockvilla | Hoskins Architects | Speirs Wharf, Glasgow, Scotland | Workspace/office |
ENDS
Notes to editors:
For further press information contact Howard Crosskey in the RIBA press office:
howard.crosskey@riba.org | +44 (0)20 7307 3761
The Architects' Journal is media partner for the RIBA National Awards and professional media partner for the RIBA Stirling Prize. www.architectsjournal.co.uk
The RIBA Awards have been running continuously since 1966 and are judged and presented locally. No matter the shape, size, budget or location, RIBA Award winning schemes set the standard for great architecture all across the country. RIBA Awards are for buildings in the UK by RIBA Chartered Architects and RIBA International Fellows. Entries are to be submitted to the region or nation in which the building is situated. Winners are considered for the RIBA Stirling Prize.
The 2017 RIBA Stirling Prize shortlist will be announced on Thursday 20 July; the winner will be announced on Tuesday 31 October 2017.
The Royal Institute of British Architects (RIBA) is a global professional membership body that serves its members and society in order to deliver better buildings and places, stronger communities and a sustainable environment. Architecture.com

Follow @RIBA on Twitter for regular updates. Twitter.com/RIBA