17 July 2023
RIBA North East are delighted to announce the regional 2023 Student Award winners.
The RIBA North East Student Awards aim to celebrate the talent of students from the Schools of Architecture at Newcastle University and Northumbria University. The awards reward students in the pursuit of excellence in the study of architecture.
Newcastle University and Northumbria University were asked to submit two end of year Part 1 and Part 2 design projects each. The nominated students were asked to present their project to our panel of judges at the Farrell Centre on 3 July 2023.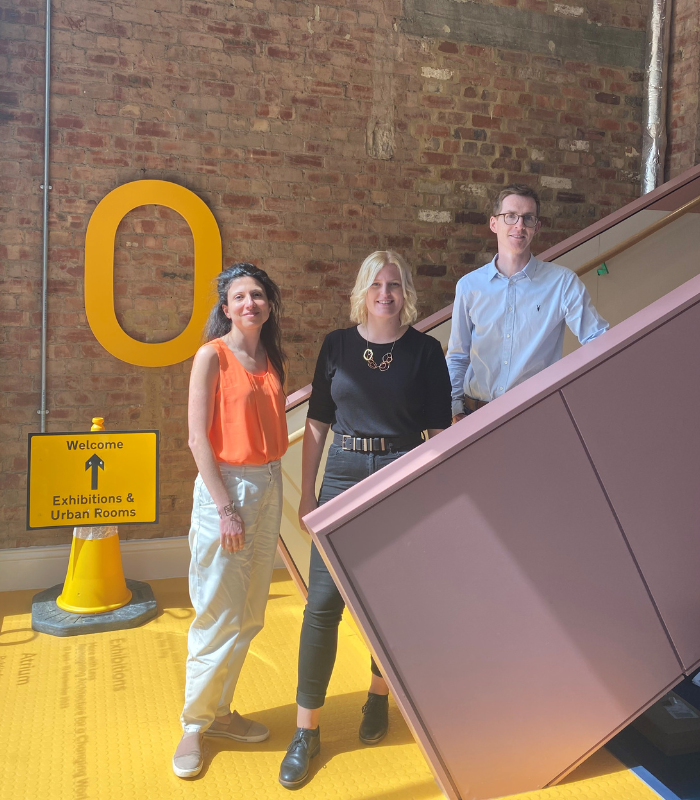 This year's judging panel featured Despoina Papadopoulou of MAZi Architects, Becky Smith of xsite architecture and David Wise of Space Architects.
The judges were immensely impressed by the quality of work from all students:
"The quality of work was outstanding. All projects tackled highly complex environmental and social challenges with great invention and passion. Their depth of thought and creativity was evident throughout, and it was a real pleasure to be a part of."
Part 1 nominees
Catlin Hawkins (Northumbria University)
Isobel Hill (Northumbria University)
Adam Schell (Newcastle University)
Ella Hui (Newcastle University)
Part 2 nominees
Anastasia Cockerill (Newcastle University)
Sarah Bushnell (Newcastle University)
Ben Slater (Northumbria University)
Sara Hurley (Northumbria University)
Thank you and congratulations to all of our RIBA North East Student Award nominees.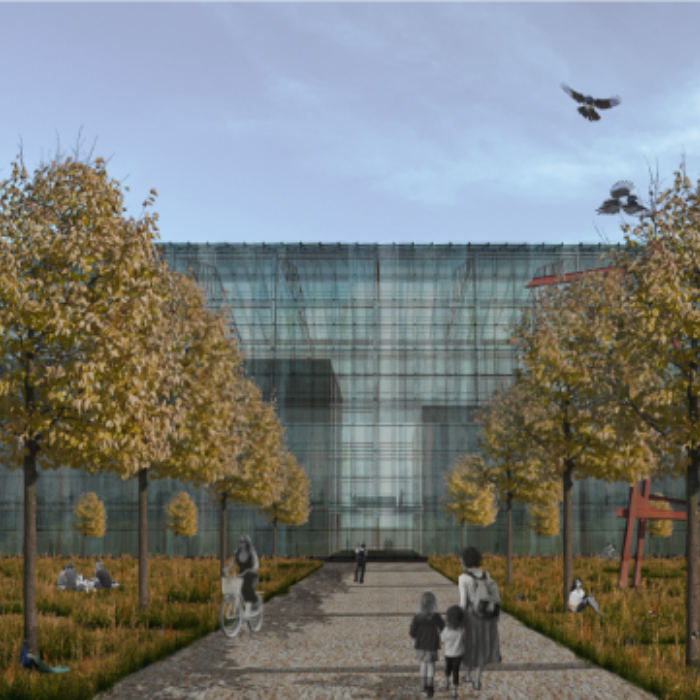 RIBA North East 2023 Student Awards winners
Part 1 winner: Caitlin Hawkins (Northumbria University)
Part 1 highly commended: Adam Schell (Newcastle University)
Part 2 winner: Anastasia Cockerill (Newcastle University)
Part 2 highly commended: Sara Hurley (Northumbria University)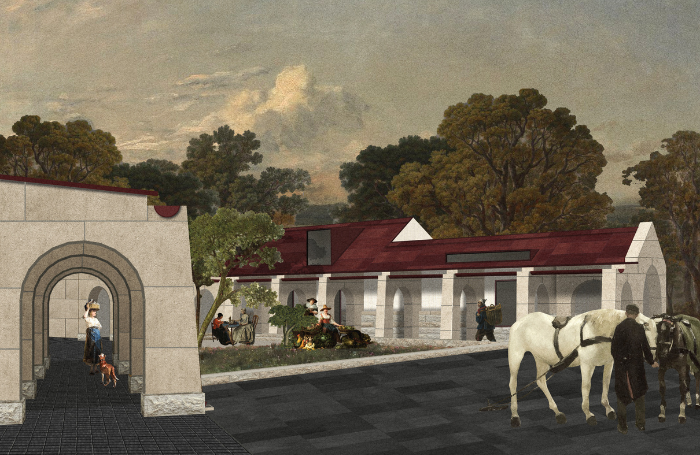 Part 1 - judges' comments
Part 1 winner: 'Vessels' by Caitlin Hawkins (Northumbria University)
Caitlin conveyed thoughtful and sensitive reflections on the rich industrial heritage of the former North East shipbuilding industry; delightfully revealing the site as a palimpsest of its heritage and collective memory, whilst offering renewed social purpose. Caitlin's proposal was ambitious in scale, with clear organisational principles, informed by a depth of historic research and contextual analysis.
The project had a significant quantity of background research which showed a clear understanding of the area's rich past and therefore resulted in a scheme which was an ambitious and bold recognition of the shipbuilding history and the communities they served within the North East.
Caitlin presented an in-depth analysis of the brief with a convincing interpretation of the research and translation to a building program. The project displayed a creative representation with inspiring imagery of the interior/sections etc.
Part 1 highly commended: 'Sustainable Agriculture and Rewilding' by Adam Schell (Newcastle University)
The judges were particularly impressed with Adam's breadth of explorative research, and meticulously observed contextual analysis. Adam had not only conveyed a compelling environmental model for sustainable agricultural practices, but had also considered the socioeconomic benefits of such an approach. Through extensive design exploration in mixed media, the highly contextual response was conveyed with engaging artistic expression.
This project showcased a vast array of media testing with a strong appreciation for materiality throughout the research conducted. It also was strongly underpinned by the Arts and Crafts movement which was referenced throughout both the research and development of the scheme.
Adam's work and presentation showed the great variety of tools that have been used in the site analysis. Adam had a strong and unique approach to building a narrative throughout the project.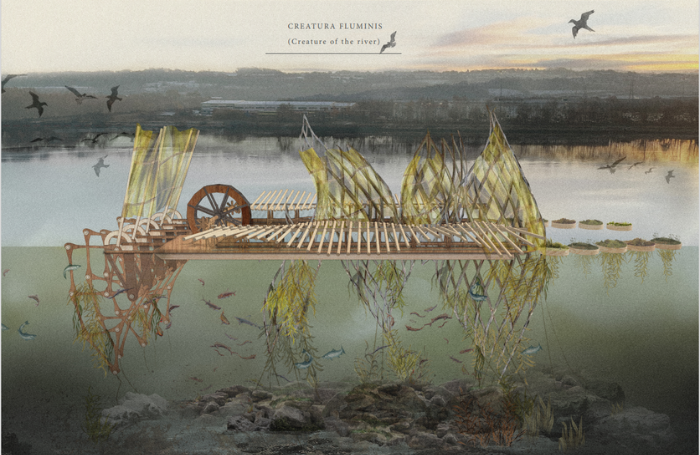 Part 2 winner: 'Creatura Fluminis' by Anastasia Cockerill (Newcastle University)
In personifying the River Tyne, Annie's poetic storytelling had such strength and clarity, to the deliberate absence of any human reference in the imagery. From Annie's vision, bravery and conviction, emerged a profoundly personal and moving homage to the restorative power of the natural world. The resultant 'creature' gave remarkable sculptural and tectonic expression in a beautifully detailed structure.
This project showed real passion for a very current topical issue with a bold and strongly considered response to it. The extensive testing of ideas and ambition to create an installation which also had a future use and with a strong legislative understanding of the issues which were trying to be tackled resulted in a very well-rounded thesis project.
Annie presented an aspirational project that pushes the boundaries of architectural design to other disciplines. Nature-led design in the most convincing and inspiring way. The use of a video to present the project was unique and a poetic way of storytelling. Exceptional 3D model.
Part 2 highly commended: – 'Reviving Chapeltown' by Sara Hurley (Northumbria University)
Sara's passion for the rich history, diversity and social fabric of Chapeltown shone through in her research and narrative. She handled the large urban site and ambitious brief with great care, intelligently anchoring a public square as the centrepiece of the community facilities. The highly resolved layout and architectural refinement resulted in a wholly convincing and mature urban response.
The ambitions of this scheme were extremely clear from the outset with a real emphasis placed on social improvement. This project was underpinned by a strong concept which tied holistically to the ambition to create social connections which resulted in a well-informed and well-resolved scheme.
Sara's presentation displayed an impressive amount of work; from site analysis to local engagement, master planning, architectural design to construction detailing. Great to see such an inventive use of a variety of tools to build a narrative.