18 July 2022
RIBA North East were delighted to host the regional Student Awards 2022 to celebrate the talented architecture students in the North East and to reward them in the pursuit of excellence in the study of of architecture.
Schemes submitted for the Student Awards were designed by students from Schools of Architecture at Newcastle University and Northumbria University. Each school was asked to submit two Part 1 design projects and two Part 2 design projects.
The entries comprised of the students' main end of year projects. Students were asked to put their final degree show into a PowerPoint presentation. Students then presented their work to the jury panel digitally via Microsoft Teams.
This year's judging panel featured Andra Antone of Ryder Architecture, Paul Milner and Scott Savin of ALT Studios.

RIBA North East Student Award winners

Part 1 Winner – Evelina Somoglou (Northumbria University)
Part 1 Highly Commended – George Bennett (Newcastle University)
Part 2 Winner – Laura McClorey (Northumbria University)
Part 2 Highly Commended - Xueqing Zhang (Newcastle University)
Judges' comments
Part 1
Evelina Somoglou - Northumbria University (winner)
The Battery Hub
The "Battery Hub" project is an ambitious redevelopment of the Newcastle DEX Garage and car park in Newcastle City Centre. Evelina's proposal looks at a community orientated brief that introduces a kinetic energy harvesting playground and battery recycling centre. The project confidently addresses its complex, urban site constraints, Art Deco style facades, and existing structures. This is an impressive understanding of context proposing a sensitive and fun implementation of future technologies. The architectural response presents a sequence of sculptural elements which injects life back in to the city centre with an ethos of sustainability and re-use.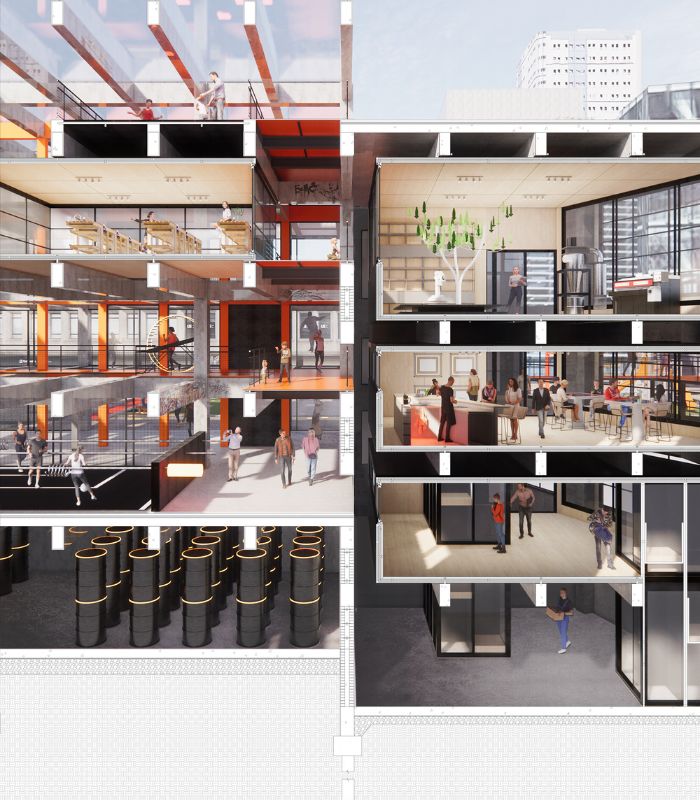 Judges' comments
Part 2
Laura McClorey - Northumbria University (winner)
Belfast Stories
The winner of the Master Degree RIBA NE awards, "Belfast Stories" challenges the recently published government brief for a city centre tourist and community facility. The proposal is a critical analysis of the brief, addressing the fractured nature of the city, with a focus on its communities and built form with walls still standing as boundaries dividing Belfast. The project acknowledges and celebrates Belfast's heritage; carrying itself with grace from masterplan strategies to building details. The architectural response is well considered, with new build elements complimenting the revitalised 1930's art deco building in a sensitive and well executed manner.