01 November 2021
The winners of the RIBA's Nottingham and Derby Women in Architecture Student Awards 2021 are University of Nottingham students, Ana Franchini and Lottie Ford.
The awards were organised by the RIBA's Nottingham and Derby Women in Architecture (WIA) group, in partnership with RIBA East Midlands.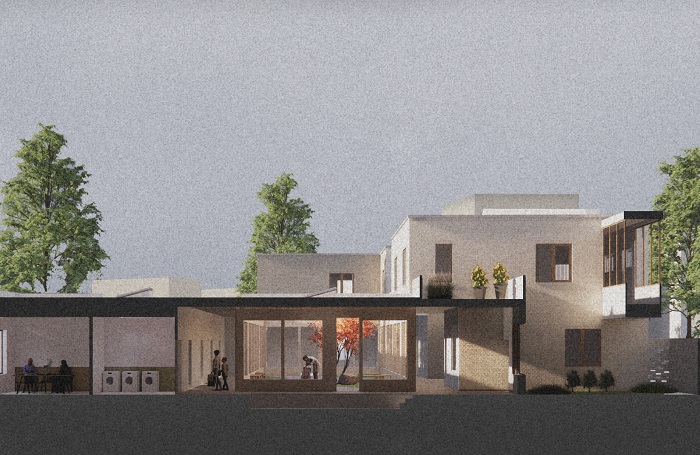 These inaugural awards were open to students from both the University of Nottingham and Nottingham Trent University at Parts 1 and 2 on the theme of inclusion. Nominated work was required to demonstrate a recognition of how building and urban design can significantly contribute to radical and inclusive placemaking.
The panel were full of praise for Ana Franchini's Part 1 project, Domestic Violence Refuge and Rehabilitation Centre for Women, noting the amount of research undertaken into user need and how this, in turn, translated into design, with the inclusivity theme really clearly evidenced - and very timely.
Project excerpt: "The refuge's configuration reinforces the idea of an inward-looking building, with courtyards functioning as therapeutic hearts of the buildings and promoting social interaction among its users and residents. I believe my work benefits from a design rooted in exploring spatial experiences, also achieved via interviews with victims of domestic abuse and staff members from Nottingham's refuges. Their input broadened my understanding of the individuals' spatial needs, and safety and privacy expectations"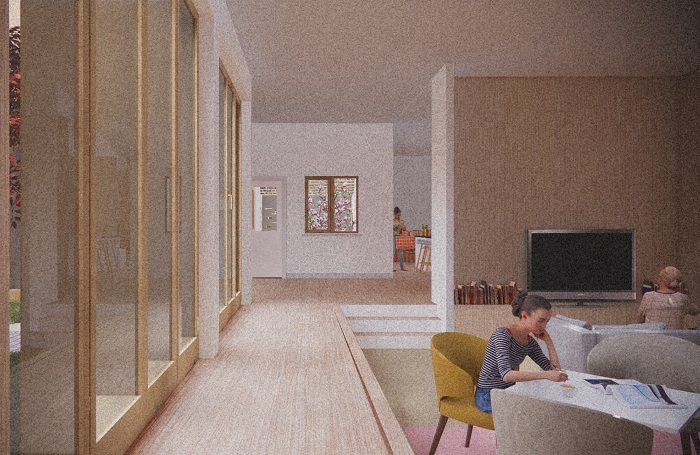 Lottie Ford's Part 2 project, Houseplace and the value of undefined space, which tackles age, loneliness and socio-economic background attracted similar recognition from the panel, who observed that there was a strong narrative and good exploration at all levels, including thinking about the relationship between the interiors and the community at different viewpoints in the scheme.
Project excerpt: "The transparency of spaces and play on transitional permeability allows for the scheme to fully integrate into the surrounding context, where the residents and public are encouraged to form endless movement, to generate atmosphere, social interaction, equality and promise."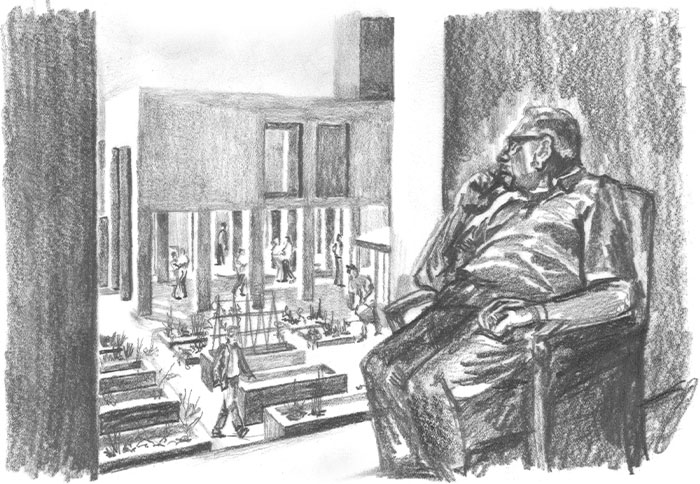 Francesca Dove (Part 1) and Kate Stephenson (Part 2), both from the University of Nottingham, were selected for additional awards of highly commended.
The judging panel comprised Maia Rollo, RIBA Nottingham and Derby WIA Group member and Part 2 Architectural Assistant at nimtim Architects; Sharon Slinger, Chartered Quantity Surveyor and Director of diversity and inclusion consultancy, Constructing Rainbows; and Dr Falli Palaiologou, Part 2 Course Director at Loughborough University's School of Architecture.