07 December 2021
The Royal Institute of British Architects (RIBA) is pleased to announce the winners of the 2021 President's Medals, the annual awards for the world's best architecture student projects, now in its 185th year.
The RIBA Silver Medal (for the best design project produced at RIBA Part 2 or equivalent) is awarded to Tiia Partanen (University of Strathclyde) for The Cloud Cooperative.
The Cloud Cooperative looks at the rise in data collection, internet surveillance and infrastructure, and storage on the cloud, which have caused people to lose control of their data. Envisioned through the actions of future activist movement The Cloud Cooperative, Tiia's project seeks to challenge the current data monopoly and explores the creation of a secure, ethical new internet.
Commendations in the RIBA Silver Medal category: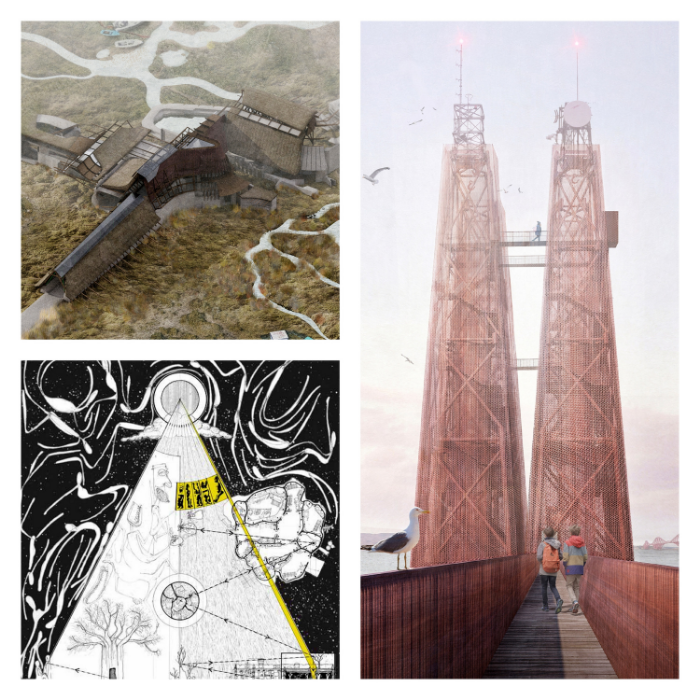 The RIBA Bronze Medal (for the best design project produced at RIBA Part 1 or equivalent) goes to Ben Foulkes (The Bartlett School of Architecture - UCL) for Seeding Swanscombe Marshes.
Ben proposes the construction of an ecological courthouse at the site of a planned theme park, acting as a preventative method for its further development. Seeding Swanscombe Marshes also looks at the regeneration of salt marshes in the area and the eventual degradation of the building through its natural materials, which will have ecological benefits to the landscape.
Commendations in the RIBA Bronze Medal category:
The RIBA Dissertation Medal is awarded to Richard Adetokunbo Aina (Architectural Association) for A Culture of Craft: West Africa UNObjectified.
Richard's dissertation explores how and why West African objects of particular tribes were crafted within their respective contexts and infrastructures, and how these sacred objects have been removed and dissociated. The Lobi peoples were selected by Richard as the thesis case study for their inherent craft and artistry, and disenfranchised artefacts.
Commendations in the RIBA Dissertation Medal category go to: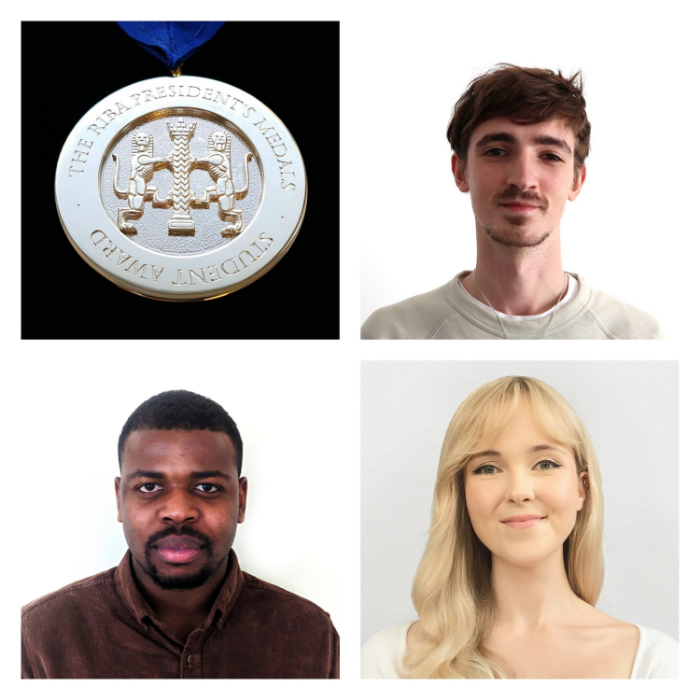 Recognising the importance of climate action in the development of architectural design proposals, the RIBA has awarded the RIBA Awards for Sustainable Design for the third year. At Part 1, the award went to Gergana Negovanska (Edinburgh School of Architecture and Landscape Architecture) for The Last Straw: A Case for Reuse, Ratho Community Centre. At Part 2 it went to Nicholas Honey and Robert Thackeray (Newcastle University) for Reclaiming Playtime.
The Serjeant Awards for Excellence in Drawing have been awarded to Desislava Cholakova (London Southbank University) for Cathedral of Trade at Part 1, and to Elliott Afoke (Oxford Brookes University) for The Dalston Hub: A Vertical Market at Part 2.
RIBA President Simon Allford said:
"The RIBA President's Medals celebrate the best work of students from 102 architectural schools around the world. 2021 marks the 185thanniversary of these awards which are both a contemporary celebration of excellence and a remarkable archive of architectural preoccupations.
I remember my partners and I eagerly anticipating the result of our Silver Medal nominated project thirty-five years ago. I was therefore delighted to be part of this year's judging process. The judges and I were impressed by the quality and commitment of all the entries, which explored many pertinent topics – from the climate emergency to cultural identity and the increasing impact of technology. Congratulations to all of our very talented winners and I look forward to seeing their progress in the years to come."
ENDS
Notes to editors:
Media contact: Beatrice.Cooke@riba.org

or

Abigail.Chiswell-White@riba.org

Images from this year's winners can be downloaded here.
The RIBA President's Medals were established in 1836 and are the RIBA's oldest awards. www.presidentsmedals.com features all nominations made since 1998. The site includes a comprehensive visual archive of tens of thousands of images and statements produced by students, as well as photographs and films of the judging of entries, the awards ceremonies, and interviews with the winners.
In 2021 the RIBA President's Medals had the highest ever number of entries in their 185-year-old history: 338 entries nominated by 102 schools of architecture located in 31 countries.
This year's judging panels included:
Silver Medal:
Chair: Tracy Meller (Partner at Rogers Stirk Harbour & Partners; Honorary Professor of Architecture at the University of Nottingham, UK)
Simon Allford (RIBA President; Co-Founder and Director at Allford Hall Monaghan Morris, UK)
Harry Charrington (Head of the School of Architecture and Cities at the University of Westminster, UK)
Ed Frith (Master of Architecture Course Leader at the Arts University Bournemouth, UK)
Lina Ghotmeh (Founder and Principal Architect at Lina Ghotmeh Architecture, France)
Mina Hasman (Associate Director & Sustainability Lead at Skidmore Owings & Merrill Europe)
Bronze Medal:
Chair: Tracy Meller (Partner at Rogers Stirk Harbour & Partners; Honorary Professor of Architecture at the University of Nottingham, UK)
Ben Cowd (Co-Founding Partner of Saraben Studio; Subject Head – Postgraduate Architecture at the Leicester School of Architecture, UK)
Angela Dapper (Principal Architect at Grimshaw, UK)
David Howarth (Co-founder of DRDH Architects, UK)
Rossana Hu (Founding Partner at Neri & Hu, China)
David Ogunmuyiwa (Mayor's Design Advocate at Greater London Authority; Founder and Partner at Architecture Doing Place, UK)
Dissertation Medal:
Chair (in absentia): Lesley Lokko (Founder & Director of the African Futures Institute in Accra, Ghana; Visiting Professor at the Bartlett School of Architecture, UCL)
Non-voting Chair (ex officio): John-Paul Nunes (Head of Education Projects, RIBA)
Emanuel Admassu (Assistant Professor at the Graduate School of Architecture, Planning and Preservation of Columbia University, USA)
Hugh Campbell (Head of the School of Architecture of University College Dublin, Ireland)
Emma Cheatle (Senior Lecturer of Architecture at the University of Sheffield, UK)
RIBA Future Architects

is our community for future and emerging architects, designed to support, inspire and provide a voice during the transition from study to practice. Follow us on

Instagram @RIBAEducation

for advice and information about studying architecture, exclusive events and opportunities.

The Royal Institute of British Architects (RIBA) is a global professional membership body that serves its members and society in order to deliver better buildings and places, stronger communities and a sustainable environment. Follow @RIBA on Twitter for regular updates.