15 August 2017
The RIBA Student Prizes at Brighton, Canterbury and Kent are funded by the Lovell Memorial Trust, a charity administered by the RIBA regional office. The Trust was set up in 1939, in memory of the architect Richard Goulburn Lovell who founded the South Eastern Society of Architects in 1928.
Local RIBA Branches award Student Prizes at Schools of Architecture in the region, at the End of Year Shows each year. Congratulations to this year's Student Prize winners.

Brighton School of Architecture Judges: Paul Zara, Conran & Partners (Chair, RIBA Sussex); Corin Morton, CDMS Architects; Paul Nicholson, Chalk Architecture
Canterbury School of Architecture UCA Judges: David Gullick, Clague LLP; Victoria Pope, Hazle McCormack Young LLP; Ben Prince, Lee Evans Partnership
Kent School of Architecture Judges: Bernard Hyde (Chair, RIBA West Kent Branch); Glenn Ball; Malcolm Hammond; Mark Physsas
Brighton School of Architecture
Mario Alcantara Monteiro - Degree Prize – for overall excellence for a graduating Part 1 student
Mario's imagined pavilion on Madeira Drive, Brighton would showcase the maintenance of Volk's Railway, the world's oldest functioning electric railway. Mario envisaged the pavilion as a public space and transport hub to bring life to the area. The RIBA judges unanimously selected Mario's drawing, praising its 'strong bold graphic style'.
Louise Fisher - Diploma Prize - for overall excellence for a graduating Part 2 student
Louise's project, 'The Commoners Hearth' in the Ashdown Forest, East Sussex proposed to bring together everyone who has a specific 'right of common' over the registered common land of the Forest. The rights of common are attached to land, rather than to people or to houses: those who live in the 730 or so properties on the common land are known as commoners.
'After researching how man has manipulated a landscape over thousands of years, it became clear that there is nothing natural about Ashdown Forest,' says Louise. 'The demographic of people who live in Ashdown Forest has changed, from those who lived off the land to people who live there as a luxury. Consequently, the land is suffering as commoners less frequently take up their rights to pasture animals and to remove timber and bracken.
'The aim was to educate the commoners on the impact they could have on the land. A parliament would give them a presence in the Forest, so their voices could be heard.'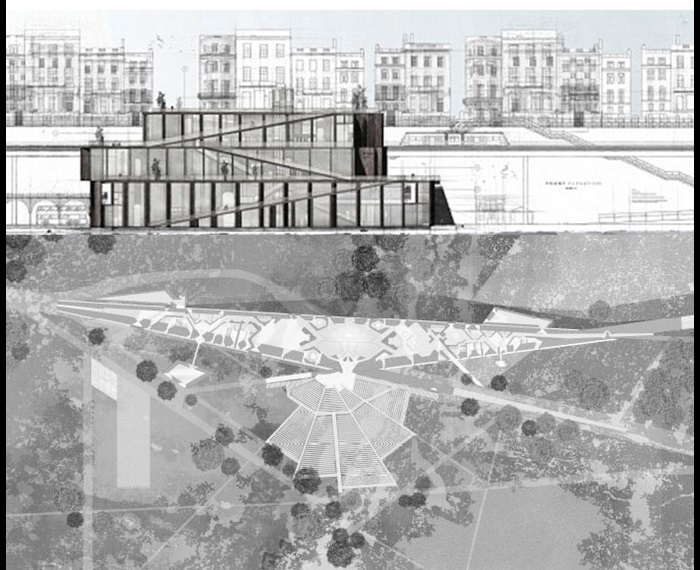 Canterbury School of Architecture UCA
Callum Plumb - Degree Prize – for overall excellence for a graduating Part 1 student
Callum's winning project focused on the design for a research centre and processing plant for uncontrollably fast-growing algae in the Baltic Sea. This phenomenon in the water that is too rich in nutrients is caused by surface runoff and waste from neighbouring countries. Callum's proposal would collect and clear the harmful algae and harvest them for potential use. The judges particularly praised his 'interesting main section drawing and a good set of combined drawings'.
Antonia Adjei-Mensah - Diploma Prize – for overall excellence for a graduating Part 2 student
Antonia created a memorial landscape on the island of Poveglia, Venice. Between the 14th and 20th centuries, thousands of plague victims and mental health patients were quarantined, burned and buried on the island. Antonia's landscape, entitled 'Melancholia' features nearly 18,000 memorial slabs and centres around 'The Doctor's House'. The design of the structure is based on the story of a doctor who wanted to make a name for himself by experimenting on those on the island to find a cure for insanity.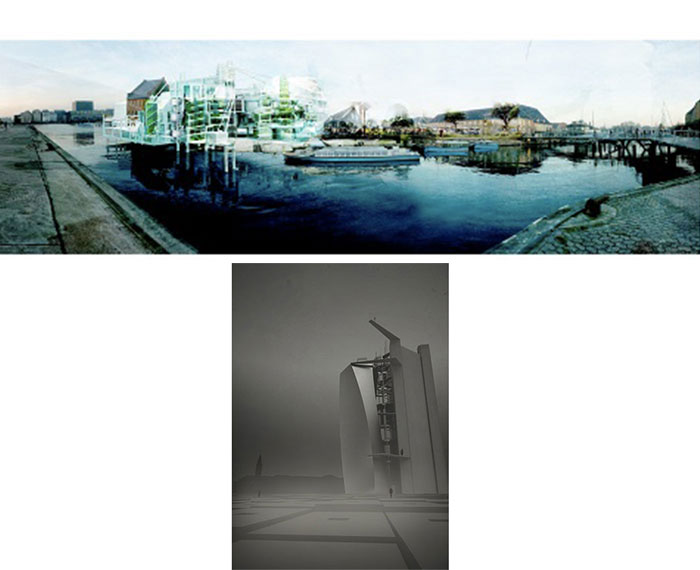 Kent School of Architecture
Jemma Laird - Degree Prize – for overall excellence for a graduating Part 1 student
'Rochester Urban Forest' proposed planting new green areas along the High Street in Rochester, Kent, including a 'forest-like' market with tree-inspired columns. Jemma felt that her scheme would promote horticulture as a career in Rochester as well as make the built-up urban environment healthier and more enjoyable.
Bernard Hyde described Jemma's project as 'a clever multi-level scheme which showed her great understanding of masterplanning and environment making. Jemma's scheme was the only one that tackled the busy interchange in a clever way, providing a new bridge link whilst maintaining a simple but effective urban development.
'Her perspectives were beautifully illustrated and showed a great understanding of space and social context, particularly that the spaces between buildings are just as important as the buildings themselves.'
Alex Marinescu - Diploma Prize – for overall excellence for a graduating Part 2 student
'Heterotopia (UN)Limited' is a design for a housing project in the Elephant & Castle area of South London. He masterplanned the scheme around encouraging younger people to interact and establish meaningful relationships. The result is a high-density, low-rise, low-energy, micro-living, built-to-rent scheme which would kick-start a close-knit community. Neighbours would share roof terraces and internal courtyards, and the architecture incorporates and celebrates water recycling.
Bernard Hyde described Alex's project as 'refreshingly simple yet versatile and well thought out. The scheme avoids being a monolithic block by grouping sets of smaller blocks so that a sort of rhythm is set up between them'.