RIBA South Student Prizes - School of Architecture, Oxford Brookes University and Portsmouth School of Architecture
22 August 2017
Every year, RIBA Oxfordshire and RIBA Hampshire fund Student Prizes at Oxford Brookes and at Portsmouth Schools of Architecture. The Prizes are funded by the Branches, using members' payments to attend activities such as building visits and the RIBA Hampshire Lectures.
Congratulations to this year's Student Prize winners.
School of Architecture, Oxford Brookes University
Judges: Mark Shipton, Oxford Architects (Chair, RIBA South; Chair, RIBA Oxfordshire Branch); Daniel Wadsworth, Jessop and Cook Architects
Gabriel Adams - RIBA Oxfordshire Prize - for the first-year Part 1 student with the best portfolio
Concrete Hamlet is a group of five concrete buildings: Grow, Forge, Carve, Feast and Ruminate. People who need to be separate from society work collectively to cultivate mushrooms and carve the tools to harvest and eat them.
At the end of the growing cycle, the participants dine together on their harvest and prepare to re-enter society.
Oliver East - Leslie Jones Memorial Prize - for the third-year Part 1 student demonstrating the most progress in built construction
A visit to Castle Mill Stream, an ancient backwater of the Thames on the outskirts of Oxford inspired Oliver to design a re-locatable pottery workshop for a master craftsman, which uses freshly-dredged clay.
The imaginary client, 'Janet' would create custom-made teapots and engage passers-by to share stories over a brew; and sell the teapots at cultural festivals along the UK's vast canal system.
The workspace is made of lightweight aluminium frame clad with ceramic tiles, and uses various forms to create the different climatic conditions which are ideal for the stages of throwing pottery.
Parth Jivrajani - RIBA South Prize - for Diploma students
The judges were impressed with Parth's project designed for Kumbharwada (potter's colony), a location in the Dharavi slum area of Mumbai where redevelopment plans threaten the existing settlements. Parth envisaged a folding, adaptable potter's colony, inspired by the pattern and the folding nature of the hornbeam leaf.
The structure is made from bamboo and other local materials while permanent spaces are made using compressed earth bricks.
He says: 'the deployable structure is versatile and allows various configurations, such as liveable structures, market stalls and tent shelters. The community will learn to use sustainable construction methods and develop other essential skills, allowing them to become a self-perpetuating community'.

Portsmouth School of Architecture
Judges: Dominic Gaunt, ACG Architects (Chair, RIBA Hampshire Branch); Jeremy Tyrrell, T2 Architects
Stephanie Wyant - RIBA Hampshire Degree Prize for best integrated design
Stephanie's project was part of an assignment to consider the future of social housing in Winchester. She investigated ways that the city could produce its own food and how that could link with social housing.
She says: 'In my futuristic masterplan of Winchester, all cars have been replaced by an artificially-intelligent tram system. So the disused car parks are reimagined as aquaponics food factories, education centres and social housing'.
Organic waste from the residents becomes compost for the growing crops, creating a closed-loop efficient system where nothing is wasted.
The judges felt that Stephanie's work was 'a highly convincing, professional technical submission which demonstrates an excellent understanding of passive environmental design and research into aquaponics and digestion'.
George Pop - RIBA Hampshire Degree Prize for overall achievement and excellence
'The Jungle Fabrication' uses the idea of social housing as the starting-point to look at ways that the human habitat could respond to climatic changes.
George's multi-disciplinary approach towards architecture – taking in biological and robotic systems – concluded that comfort is achieved through creating parallels with the pre-natal human condition and looking at how the 'geometrical language of the womb' influences the welfare of the foetus.
The judges said: 'George's body of work and creative output was at a level that you might expect at Diploma level. An otherworldly and perhaps unrealistic proposal was supported by a thorough level of conceptual thinking and interrogation of the ideas. An outstanding graphical presentation made for a highly professional and impressive portfolio and therefore a worthy winner.'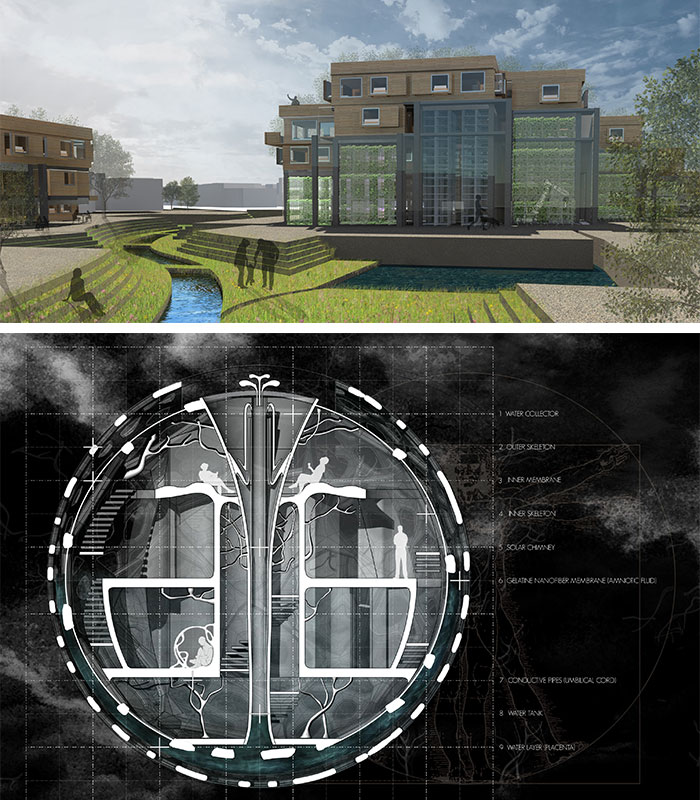 Ani Hadzhipetrova - RIBA South Diploma Prize for highest standard of detail in design
Ani designed a series of lightweight, inflatable pods which could accommodate a human colony on Mars. The settlement would protect the inhabitants from extreme conditions and expand and change as the colony grows.
The pods are made of ETFE, a special plastic which withstands extreme temperatures, and an airlock. The ETFE shell has two layers: the inner layer is inflated with CO2, to provide insulation and the outer layer is filled with an aerogel and water which freezes quickly.
All of the pods are manufactured on Earth and transported to Mars, where they are inflated and attached to each other using the airlocks.
The judges commented: 'The level of research into the complex challenges posted by different atmospheric conditions made it an easy choice for the Prize. Ani's idea has been carried out with strong conviction to give a rational, complete narrative. The scheme was beautifully presented, with a delightful series of diagrams clearly conveying the ideas to us earthlings.'
Mantas Gaigalas - RIBA South Diploma Prize for highest standard of all-round excellence
Mantas revisualised military relics on the coast in Latvia, which date from the Communist era. Mantas added an observatory to each site along the scattered ruins, along with opportunities for sea bathing rituals that are traditional in Latvia.
He says: 'Each intervention, comprising an underground visitor route, sea bath and wind tower, functions as a gathering place that seeks to revive the scarred post-Soviet community.'
The judges said: 'Mantas has developed an impressive body of work over the course of his two years at the University of Portsmouth. He demonstrates a good range of skills with a consistently high standard of output. There is a level of sophistication in his elevational treatments which demonstrates an understanding of depth and composition' .