RIBA South Student Prizes - School of Architecture, Oxford Brookes University and Portsmouth School of Architecture
30 July 2018
Every year, RIBA Oxfordshire and RIBA Hampshire fund Student Prizes at Oxford Brookes and at Portsmouth Schools of Architecture. The Prizes are funded by the Branches, using members' payments to attend activities such as building visits and the RIBA Hampshire Lectures.
Congratulations to this year's Student Prize winners.
School of Architecture, Oxford Brookes University
Judges
Mark Shipton, Oxford Architects (Chair, RIBA South; Chair, RIBA Oxfordshire Branch)
Daniel Wadsworth, Jessop and Cook Architects
Rhiannon Dallow
RIBA Oxfordshire Prize - for the first-year Part 1 student demonstrating overall excellence
'Wrapped in Music' envisages a new train station in Cowley, Oxford which would also be a hub for the Young Women's Music Project charity. There are three stages, with listening pods.
She explains: 'if you arrive by train, you are under a sound-reducing canopy – so you can choose to go on your way, or be tempted to go up to the rooftop listening garden'.
The judges felt that Rhiannon's project was well-thought-out and that her images gave the sense of the atmosphere of the music venue.
Chris Fulton
Leslie Jones Memorial Prize - for the third-year Part 1 student demonstrating the most progress in built construction
Siena is known to be the driest place in Tuscany, with chronic water shortages exacerbated by a seasonal influx of tourists.
Chris' 100-room Cloud Hotel, on a steep hill outside the city would harvest moisture from fog and analyse and model flows of water and of pedestrian traffic.
The judges admired the project as 'a well-crafted scheme which placed a large building onto a delicate site but which had a light footprint and airy feel. It was thoroughly thought-out and researched'.
Sam Hayes
RIBA South Prize - for Diploma students
The judges were impressed with Sam's idea to support a sustainable circular economy in Mali. Crops such as peanuts would be grown by local smallholders and bought by local factories to make ready-to-use therapeutic food (RUTF). The food is then delivered back to the communities, thus preventing malnutrition.
Waste products from the manufacturing process are used as animal feed and mixed with a bio-polymer to make a composite building material. Sam developed a building system using this material, along with river reed bundles and compressed earth bricks, for people to construct their own dwellings and community centres.
The judges said: 'Sam's project really stood out. He researched the crops, materials, construction methods and the end building design, so that we could see this project actually being built'.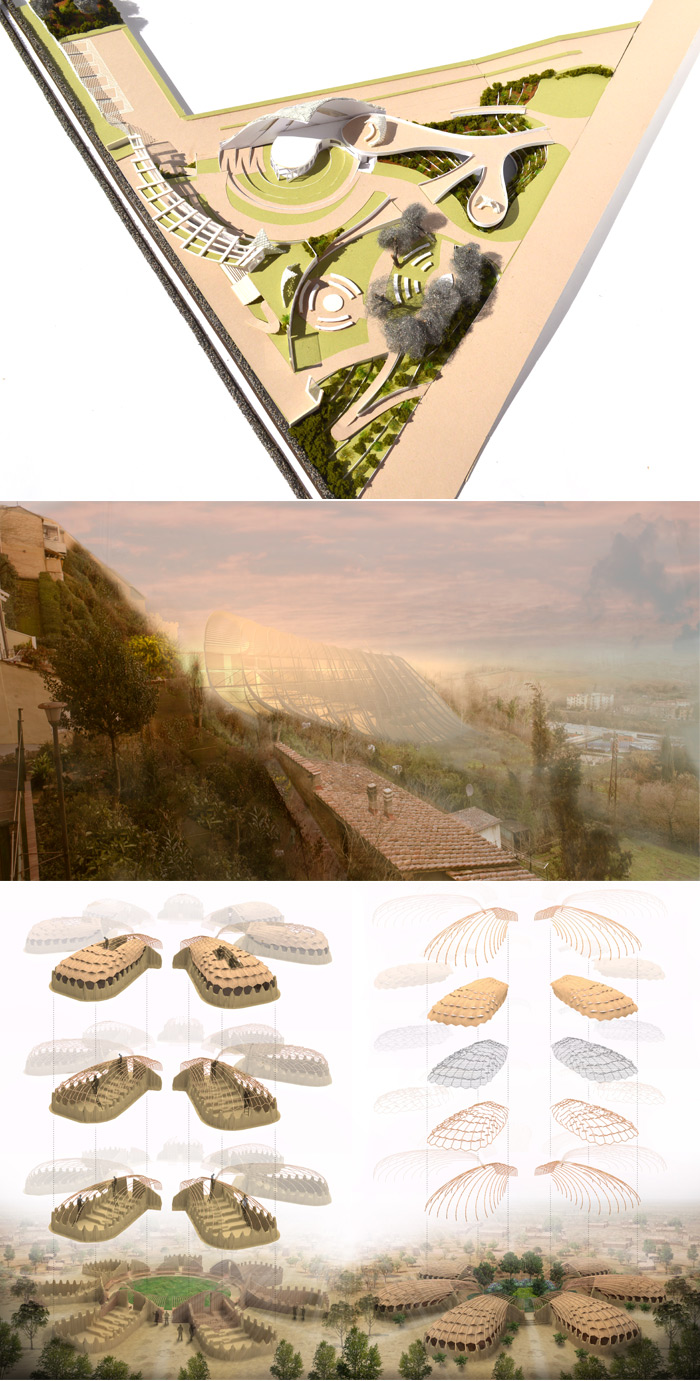 Portsmouth School of Architecture
Judges
Dominic Gaunt, Ayre Chamberlain Gaunt (Chair, RIBA Hampshire Branch)
Jeremy Tyrrell, T2 Architects (Vice Chair, RIBA Hampshire Branch)
Daniel Knox
RIBA Hampshire Degree Prize for best integrated design
Daniel's Adaptable Living proposal for Newport, Isle of Wight is for self-build houses designed to be put up by two or three people without using heavy plant or machinery. Being responsible for construction would mean that the owner-builder would be enabled to engage, learn and help the other residents to create their new community.
The judges felt that Daniel's scheme was 'simple, clear, well-resolved and buildable'.
Aina Barceló
RIBA Hampshire Degree Prize for overall achievement and excellence
Aina's 'Medusa Project' speculates on the future of Portsmouth if there are catastrophic levels of flooding and pollution. She designed a floating city inspired by the jellyfish – one of the most resilient creatures.
The judges said: 'Aina produced a beautifully-presented and considered project, investigating the interface between terrestrial and aquatic realms in the future, as sea levels rise.
'The organic floating structure, influenced by Caltrava, follows a rigorous structural aesthetic. An autonomous, self-sustaining structure with tidal power generation and fuel cell technology are just some aspects of an incredibly thorough body of work.'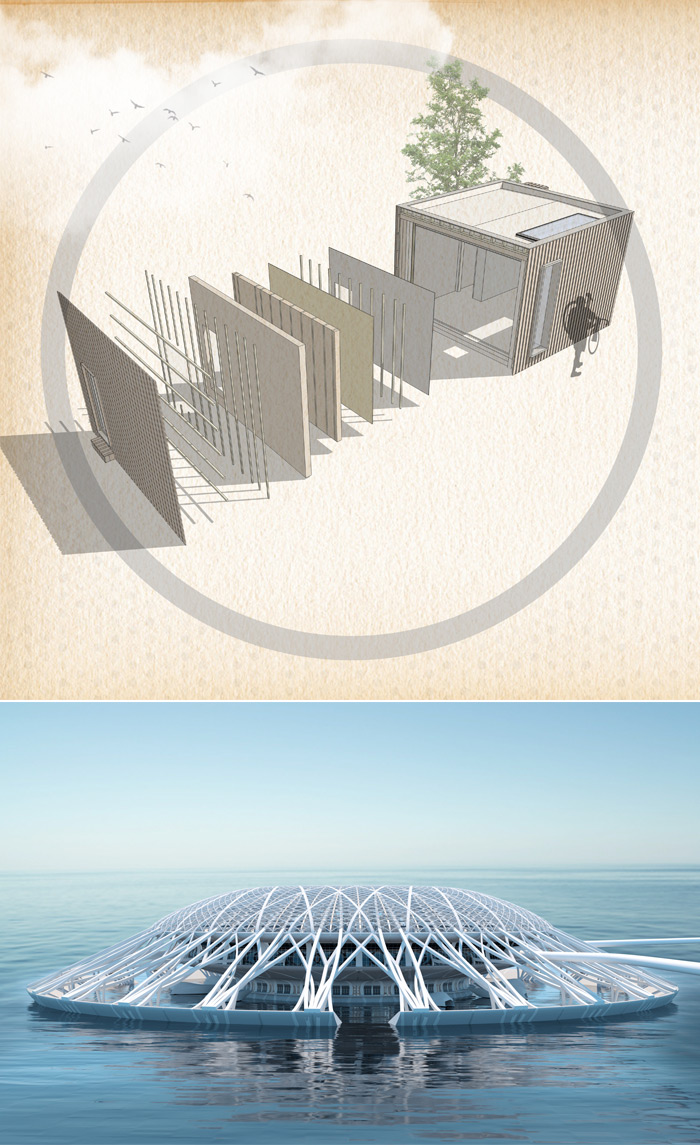 Ruxandra Maszni
RIBA South Diploma Prize for latent dynamism in her project
'The Birkenhead Festival City' was a two-year study of the role of coloured light in urban spaces, and how it could be used to connect Liverpool and Birkenhead.
Ruxandra explains: 'What would make people want to visit Birkenhead, when Liverpool has enough exciting venues to satisfy them? The aim is to emphasise the cultures of both places and, for Birkenhead, to create jobs and infrastructure.'
Festival City sits on the Mersey's waterfront next to the docks, directly opposite Liverpool city centre. Temporary lightweight structures and coloured lights mirror Liverpool's skyline and give the impression that the docks have come back to life.
The judges described Ruxandra's project as 'an exceptionally thorough piece of design work. The level of detail shown in every facet of the project was particularly impressive'.
Helen Keegan
RIBA South Diploma Prize for highest standard of all-round excellence
Helen's project, 'The Museum of Secrets', visualised a new museum in Winchester which would capture the hidden nature of the city.
Her museum is designed for a specific courtyard of St George's Street. The museum is a collection of boxes separated by small gardens, accessed through tunnels and hidden thresholds.
Helen says: 'Children inherently enjoy being in secret places, which provide separation from the external world. Adults rarely get this chance.
'This project looks at the museum as a protector and sharer of treasures.'
The judges said: 'Helen identified a key characteristic of the city in finding joyous moments and "pocket spaces". Superbly presented with clear thought processes, this project is the very worthy winner of the best overall project at Portsmouth'.