26 July 2021
Supported by the RIBA Local Initiative Fund (LIF) and RIBA branches, the RIBA South West and RIBA Wessex Student Prizes aim to recognise emerging talent, connect graduating students with the professions and RIBA, and inspire future generations.
This page will be updated as more awards are announced.
UWE Bristol
RIBA Wessex Prize for MArch Architecture (Part 2) to Joe Hyett for Monument Graveyard.
What happens when statues in public spaces no longer hold value in present day society? Following the fall of Colston, many have looked to other monuments and questioned their prominence in public space. Historically monuments have been erected and monuments have fallen, as society changes, as power shifts, and understanding of how our history is interpreted is put into question. What is culturally acceptable today may be controversial and rejected years from now.
Matthew Briscoe receives a Commendation for Technical Resolution for Perception on Water (Social Studio), and Jintao Ma a Commendation for Process for KAF - Korail Algaeculture Facility.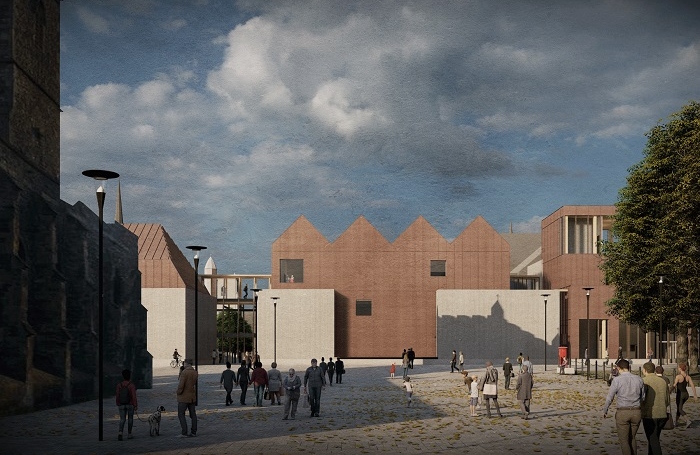 Arts University Bournemouth
RIBA Wessex Prize for MArch Architecture (Part 2) to Kira Bennett for Coalesence.
Re-establishing nature into our lives as part of the human architectural experience, supporting ecology networks and enriching biodiversity by integrating nature into the spaces we inhabit; evoking a deeper more harmonious relationship between humans and the natural world.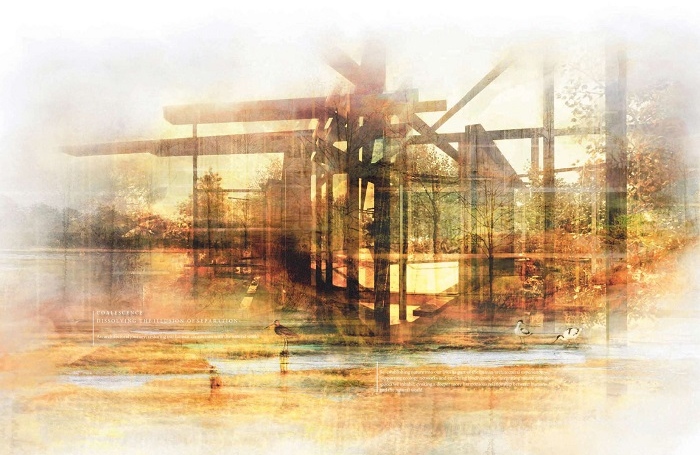 University of Bath
RIBA Wessex Prize for MArch Architecture (Part 2) to Jason Sim for Medicinal Plant Institute
Plants have inspired thousands of synthetic medicines over the last few decades, which are now used as frontline treatments for deadly illnesses including cancer and heart disease. However, due to overharvesting and the effects of climate change, researchers state that the planet is losing plant species more quickly than science can find, name and study them, having considerable consequences in the search for new medicines.
The master plan defines the Fourth Order as not a hierarchy, but a series of exchanges; Weston, Super and Mare co-exist in natural harmony, both offering and receiving from each other. Ecological habitats across North Somerset now flourish and the variety of medicinal plants that currently grow in the wild, within proximity to Weston-super-Mare, are available to be researched and sustainably foraged.

As an extension of the master plan, the Medicinal Plant Institute seeks to explore our relationship with the natural environment through the focused niche of medicinal plant science. Serving as the mediator between the foreshore and inland environments, it aims to address both the scientific and social value of local flora through the facility's different organisational facets.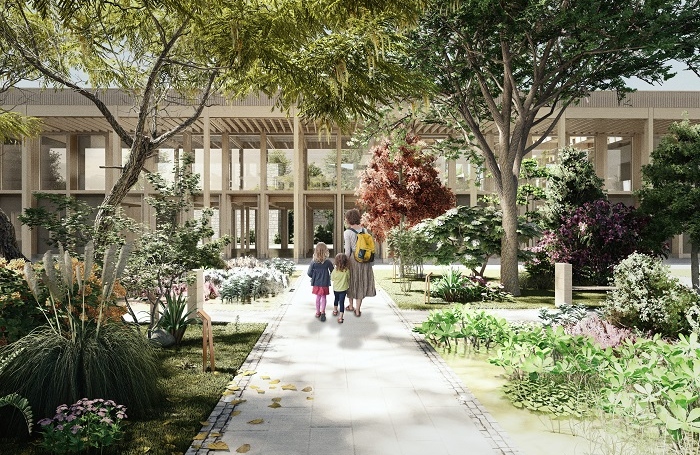 RIBA Bristol & Bath / Bristol Society of Architects Prize for BSc Architecture (Part 1) to Rebekah Ball for dévoiler.
The proposal aims to tackle systemic issues surrounding diversity in ballet through the creation of a dance school in Brooklyn for the American Ballet Theatre. Located in the BAM Cultural District, the site is close to existing transport hubs, connecting the school to diverse neighbourhoods in Brooklyn and Queens.