11 October 2022
The latest exhibition – Long Life, Low Energy: Designing for a Circular Economy – will explore the design, construction, maintenance and demolition of buildings, a process that currently consumes 50% of all raw materials around the world. The exhibit will be launched in partnership with lead sponsor, Autodesk, a global design and make technology company.
In the UK, 63% of waste comes from construction sites: a total of 126 million tonnes and 50,000 buildings are demolished each year across the country, many of which could be retrofitted and repurposed.
The circular economy concept offers a framework based on the principle of eliminating waste by reusing materials, opposed to scrapping them. This show will explore where and how elements of the framework are being adopted by the construction industry today, as a critical means to reducing embodied carbon and working towards net zero.
Divided into three sections, the exhibition will draw on our collections to reveal the nature and recent history of demolition. It will then showcase innovative and skillful approaches that practices such as Wilkinson Eyre, Ian Chalk Architects and Featherstone Young have adopted to move beyond a single use approach to construction – imagining new uses for redundant factories, offices and car parks – before concluding with six key approaches to circular design.
Case study projects will highlight both new and ancient methods of material reuse. From Phoenix House in Windsor by CSK Architects, which follows the tradition of salvage, using stone and bricks from places of ruin and abandonment, to two new London projects by Sheppard Robson and Hawkins\Brown where developer Fabrix has purchased 140 tonnes of steel from the demolition of One Broadgate.
The show will also explore new technologies that allow architects to create 'material passports' to gather information about a building before deciding if components can be reused, such as that applied by Orms Architects and the Crown Estate, alongside practical solutions such as Feilden Fowles' demountable studio in Waterloo.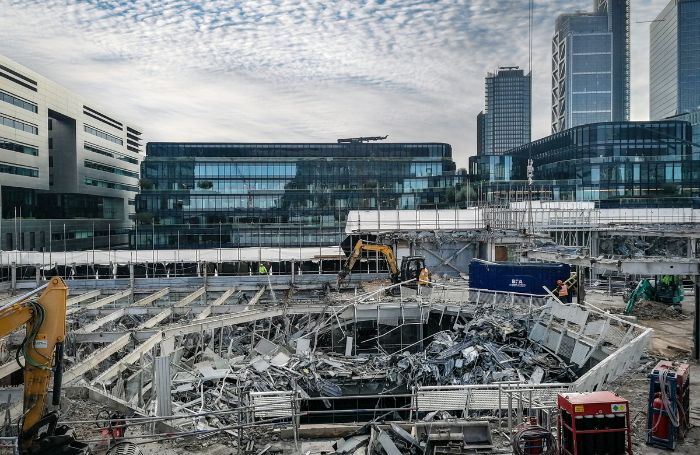 Consideration of the specific way that materials are selected and sourced forms a crucial aspect of the circular economy framework. The show will address this through two schemes by BakerBrown Studio where materials have been sourced from the immediate environs of the site to reduce the embodied carbon from transportation.
The exhibition structure itself also follows these same principles. Designed and built by U-Build – aided by members of the RIBA Youth Forum during the install process – the modular, demountable structure will be reused in several domestic and exhibition projects at the end of the show. All frames have also been sourced from previous RIBA exhibitions, ensuring that waste is kept to an absolute minimum.
RIBA Curator, Pete Collard, said:
"This exhibition is intended as a snapshot of 'where we are now and where we are going'; recognising the innovation currently undertaken in the fields of reuse and retrofit, while showcasing ongoing research into circular economy principles currently being undertaken by practices. These work-in-progress initiatives demonstrate alternative methods of practice that can yield significant environmental benefits, but remain relevant to all scales of architecture."
RIBA President, Simon Allford, said:
"As a construction industry, we will not reach net zero or the staggered targets of the RIBA 2030 Climate Challenge unless we adopt approaches to circular design. As a concept, the circular economy offers us a framework to accelerate our route to a low-carbon future, but it demands a radical shift. Moving forward, we need to view buildings as both forever structures suitable for future adaptation and as temporary repositories for materials that can be reused. That's both interesting and exciting. In addition to being inspired by the varying approaches to material re-use, I hope this show will prompt us to interrogate circular economy principles and open conversations about how they can be adopted across the construction industry to propel us towards net zero."
Autodesk Executive Vice President of Architecture, Engineering and Construction Design Solutions, Amy Bunszel, said:
"We are delighted to collaborate with RIBA to explore the importance of the circular economy. As the world population continues to rapidly urbanise, sustainability is playing a crucial role in the architecture, engineering and construction industry. For businesses, retrofitting solutions are crucial and compelling, with a reduction of operating costs of 17% and building asset value increases of more than 9%. This exhibition will showcase some of the latest innovations that move beyond a single-use approach to construction - paving the way for circularity in the sector."
ENDS
Notes to editors:
1. Media contact: Ryan.Johnston@riba.org
2. Long Life, Low Energy: Designing for a Circular Economy is sponsored by Autodesk. Autodesk is changing how the world is designed and made. Our technology spans architecture, engineering, construction, product design, manufacturing, media and entertainment, empowering innovators everywhere to solve challenges big and small. From greener buildings to smarter products to mesmerizing blockbusters, Autodesk software helps our customers to design and make a better world for all.
3. The Royal Institute of British Architects (RIBA) is a global professional membership body that serves its members and society in order to deliver better buildings and places, stronger communities and a sustainable environment. Follow @RIBA on Twitter for regular updates.