27 May 2021
Award winning architect Sir David Adjaye OBE has reiterated the need for architectural spaces to reflect all voices in society.
Speaking as part of his acceptance interview as the winner of the 2021 Royal Gold Medal and referencing the Cherry Groce Memorial Pavilion in London's Brixton area, Sir David said he built the memorial to help people feel a sense of inclusion with their surroundings and to reflect different backgrounds. "I wanted that structure to reflect Caribbean, African and British influences and to reflect the diverse communities within Brixton," he said. "I wanted the structure to go some way to creating a restorative justice." Cherry Groce was shot by Metropolitan Police in Brixton in 1985 and eventually died in 2011, having spent 26 years in a wheelchair as a result of the shooting.
During the 30-minute presentation, Sir David spoke at length about several of his past projects and explained his concept of architecture. "Architecture, when it's great, speaks about things which are difficult to put into language and difficult to quantify beyond the function," he said. "Great architecture silences you. It makes you think about other things."
Sir David also revealed his surprise and pride at being asked by the President of Ghana to build a national cathedral in the country's capital, Accra. "Ghana as a country is developing its own identity in the 21st century," said Sir David who is the son of a Ghanaian diplomat. "It has a series of challenges, for nation building, that are really profound. So the cathedral became more than just a religious edifice, which it absolutely is, but it's also a symbol of a growing nation and its aspiration in the world."
Sir David spoke of wanting to create 'atmospheres' with his buildings. "With the 130 William Tower in New York we tried to carve as much atmosphere out of it as we could. We didn't want people to feel claustrophobic, feeling trapped by the banality of modern construction. We want to create atmospheres and imagine a much more fulfilling life."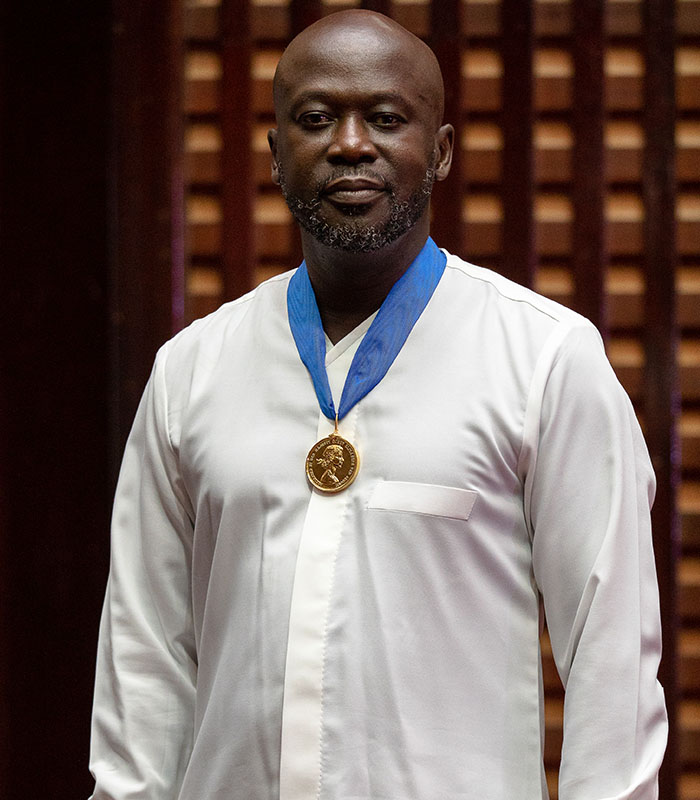 Sir David also discussed his passion for 'democratising' buildings as public spaces and creating spaces for communities to engage. He cited the Studio Museum in Harlem, New York, as one of his most important projects. In 2015 Sir David was commissioned to design a new home for the museum, which will allow the organisation to expand its exhibition schedule.
"The Studio Museum really is one of the heroic organisations that was sort of born, almost like a guerrilla activity, to deal with the social injustice of the art world," he explained.
"The generosity of going to the widest community is at the heart of the magic. It has become a living room for Harlem. It's an inspirational place, a place to hang out and it's free. It's a vertical public space that is really about creativity."
"Sometimes your home is just too small and you need a public space/building where you don't have to engage in a commercial transaction, a space that's not about selling but just about being."
Sir David accepted the award during a live-streamed event that took place between London and Accra on 26 May 2021.
He was congratulated by several statespeople including former US President Barack Obama, H.E. Thabo Mbeki, the former President of the Republic of South Africa, and H.E. Nana Addo Dankwa Akufo Addo, President of the Republic of Ghana.
U2 frontman Bono also congratulated Sir David citing his work on (RED): a project launched to help fight AIDS in Africa.
Eminent peers also joined the event to congratulate Sir David including Portuguese architect Eduardo Souto de Moura and Yvonne Farrell and Shelley McNamara from Grafton Architects, the 2020 recipients of the Royal Gold Medal.