Set of brass drawing instruments c1600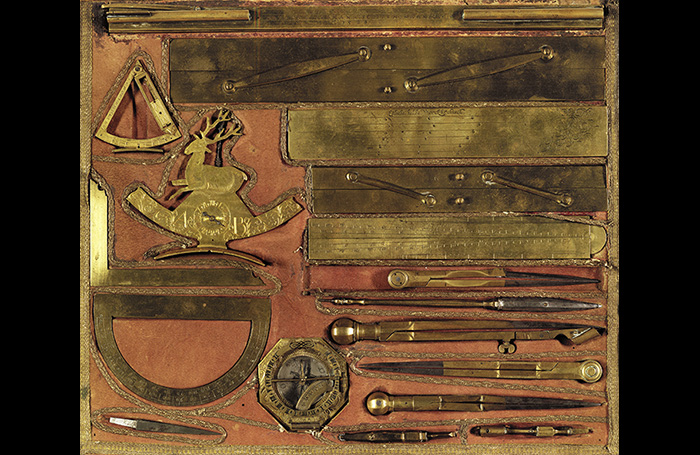 This is a German composite set of brass drawing instruments dating from c.1600 presented in a green leather case.

The set comprises many instruments including a protractor, set angle, large pencil compasses, parallel rule, sector, steel points, large and small dividers with inserts for either ink, graphite or steel. These delicately crafted instruments were utilised by architects as the essential tools of draughtsmanship and to calculate accurate geometry. The use of instruments like these and in particular the use of compasses to create precise mathematical proportion is illustrated beautifully in the drawing, Design for a Rose Window by Robert Smythson where the paper clearly shows the marks of the compasses and divider reference points.
Image: Set of brass drawing instruments from c.1600; image from RIBApix (number RIBA36333)
Designers: Daniel Chorez and Marcus Purman
Credit: RIBA Collections

Article by Lisa Nash, RIBA
24 February 2015
Discover more
This is just one of over four million items in our world-class architectural collections at the RIBA Library – it's open to everyone and access is free. Visit the library to explore our collections of books, periodicals, drawings, photographs and models:
Set of brass instruments
Call/ref. no. DRI/9(1-17)
Drawing
Design for a rose window by Robert Smythson
Call/ref. no. SD38/II/33