09 November 2018
North London video game developer, Shedworks, have developed a specially commissioned film for our exhibition Disappear Here: On perspective and other kinds of space, in collaboration with Sam Jacob Studio. We spoke to Greg Kythreotis, co-founder of Shedworks, to find out more about how the video came about and the processes behind it.

How did your collaboration with Sam Jacob and the RIBA come about?
Sam was looking for someone with knowledge of procedural generation in video games on Twitter and someone I studied with pointed me his way. I got in contact and after a chat about what the Disappear Here exhibition might be and Sam's ideas for a generative video piece, I started to think about how we might go about it technically, what solutions would work best and what problems we might encounter along the way.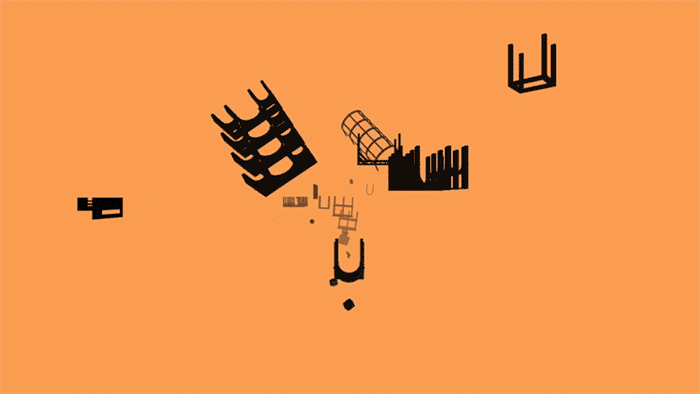 What different skill sets did the various contributors bring to the project?
Sam's studio provided the architectural models, research into perspective and the reference points we wanted to explore with the video. We had fantastic support from the RIBA team, specifically Gabriel in the AV Department, in terms of setting up the space and making sure everything was actually working! I worked on the colour, how we generated objects and what values could be tweaked in the algorithm per object, as well as how models appeared in the scene in a natural way and how colours blended and transitioned.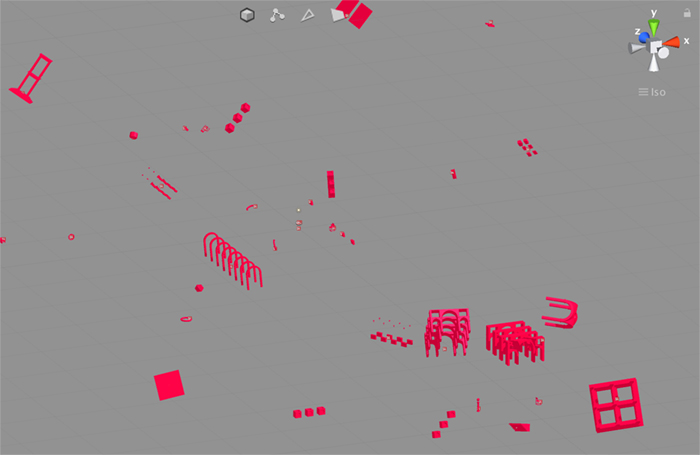 What are the processes involved in creating the video?
I'm not a programmer but using a game engine like Unity makes some tasks like creating vanishing points trivial. But you do have to get a bit more creative to hide some of the rough edges and make sure you create something that people can't see the seams of. Some things you might imagine wouldn't be a problem are huge pains to deal with, and vice-versa.
To create the 'algorithm' that picks which objects to generate, what scale, rotation, colour and materials they will have I used a plug-in called Playmaker that allows you to script visually, without having to write code. Architects might be familiar with some of these processes from using software like Grasshopper.
There is a lot of trickery in video games, and so they are a bit like magic. If you show how the trick is done in too obvious a way it can completely break the illusion so avoiding this was paramount. In this case these issues mainly appeared when we have to spawn an object in or delete something off screen - we used very generous amounts of fog to hide some of these processes.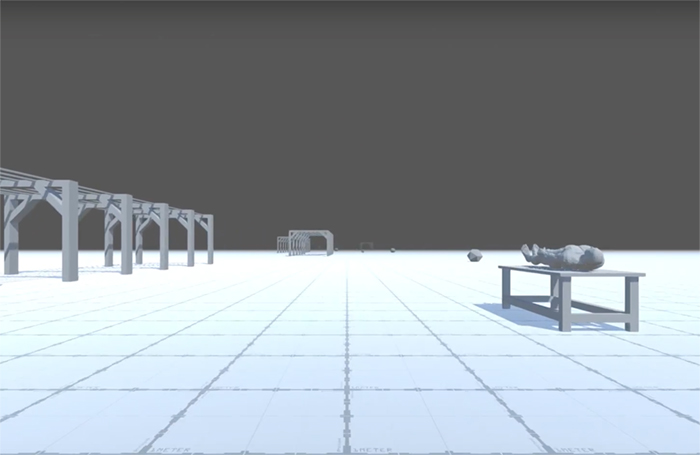 How do you feel the video complements within the exhibition?
I think it is a nice contrast to have something that obviously exists as a technical progression to the initial explorations of perspective made by some of the old masters. We made something super bright and colourful to emphasise this in some ways, but I never had to know how to draw in perspective in the process of making a generative video about perspective.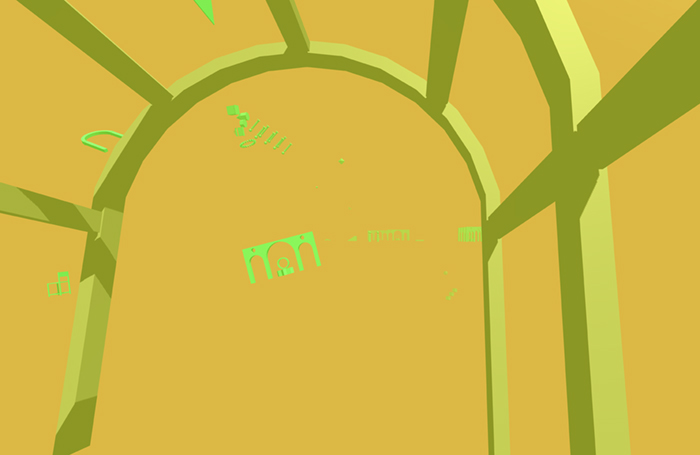 Is architecture and video game development a natural fit?
This was just one small exploration of perspective using a video game engine to generate what we made. Whilst the history of perspective and architecture are incredibly intertwined I also think that, by virtue of historically being rendered on a screen, video games also have an incredibly rich history of exploring perspective. Whether orthographic, more realistic renderings or complete distortions and warpings of perspective, I would love to see the overlaps between mediums be explored in even more depth.
Want to see the video? Visit the Disappear Here exhibition at 66 Portland Place now, open until 24 November, Monday to Saturday.