11 August 2020
Simon Allford has been elected the next President of the Royal Institute of British Architects (RIBA). Simon will take over the two-year presidential term from Alan Jones next year (1 September 2021); from 1 September 2020 he will officially become RIBA President Elect.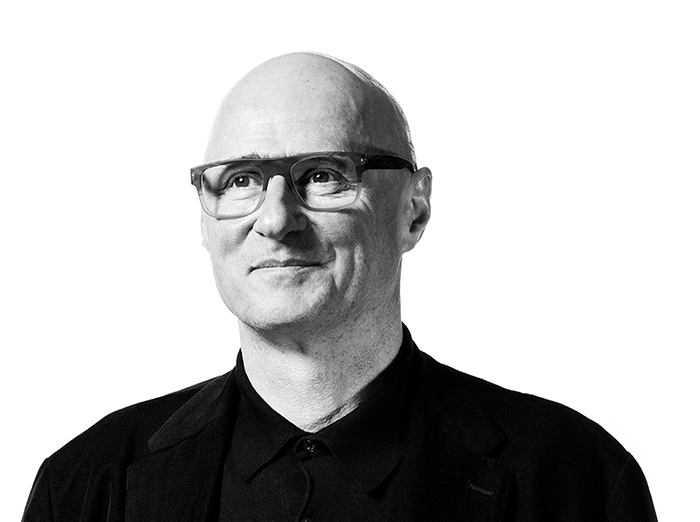 The role of RIBA President was established in 1835 and is the highest elected position in UK architecture. The President Chairs RIBA Council, which acts as the representative body for the membership.
Simon is a founding director of AHMM (where he leads a design studio of 200 architects), a frequent writer, critic and advisor; a visiting professor at Harvard; a previous chairman of the Architecture Foundation; and currently a trustee of the London School of Architecture and the Chickenshed Theatres Trust.
Speaking today, Simon Allford, said:
"It is a privilege to have been elected and I look forward to working with members, Council, Board and staff to create a leaner, more open, productive, engaged and reinvigorated RIBA.
We need an institute of ideas with architecture front and centre, hosting debates, lectures and exhibitions reflecting changing cultural and practice contexts. We need an institute that celebrates and promotes members' work at home and worldwide. We need an institute that is a practice friend, enabling members to share ideas about best ways of working, using today's technology to help advance architecture for the benefit of society – our Charter obligation.
I am committed to the 'House of Architecture @ RIBA', an online and physical entity capable of forming alliances with clients, consultants and contractors to influence government over procurement and education, while also helping us to address global climate change and architecture's pivotal role in a post-pandemic world."
RIBA President, Alan Jones, said:
"Congratulations to Simon. The next few years will be crucial for our planet and profession as we navigate through health, environmental and economic crises – so Simon has a significant role to play in ensuring all architects receive the strong support and inspiring leadership they need to survive and thrive. I look forward to counting on Simon's support over the next year before I hand over to them in 2021."
The RIBA has also today announced the results of the RIBA Council Elections 2020. All RIBA Council appointments announced today will commence on 1 September 2020.
Council Members were elected using the Single Transferable Vote. The candidates who reached the required quota and were therefore elected are:
National Seats
Simone de Gale
Jennifer Dixon
International Seats
Ken Wai (Asia and Australasia)
Catherine Davis (The Americas)
Regional Seats – London
David Adjei
Sarah Akigbogun
Angela Dapper
Femi Oresanya
Jack Pringle
Anna Webster
Regional Seats – South East
Duncan Baker-Brown
Danka Stefan
There was one candidate for the role of RSAW Presidency, therefore Gavin Traylor is elected unopposed. Gavin will take up his term as President Elect on 1 September 2020 and become President from September 2021 for a two-year term.
The following members will take uncontested seats as Council Members:
Alice Asafu-Adjaye (The Middle East and Africa)
Tim Clark (Europe excluding UK)
Graham Devine (South West)
Roger Shrimplin (East)
Yuli Cadney-Toh (Wessex)
Philip Twiss (West Midlands)
ENDS
Notes:
1. Press contact: Abigail.Chiswell-White@riba.org or 020 7307 3811
2. Images of Simon Alford can be downloaded here.
3. The overall Presidential election turnout was 13.2%; Simon Alford was elected at 4th stage with 58.9% of the votes. 17.2% of Chartered Members voted, 6.66% of newly enfranchised Student, Associate and Affiliate members voted.
4. Biography:
Simon Allford is a leading architect and co-founder of Allford Hall Monaghan Morris.
Working from AHMM's Clerkenwell base, Simon leads a studio with offices in London, Bristol and the US, working internationally on a wide range of award-winning projects. In each case, the quest is to find a way of unlocking the potential for the extraordinary in everyday buildings. Key recent examples include the University of Amsterdam; Google and DeepMind's HQ offices in London, Berlin and Canada; and The White Collar Factory, Hawley Wharf and Post Building in London.
Currently Simon is leading a series of large-scale urban research and design projects in London, the UK, Europe, India and the US. Each explores potential new ways to live, work and play in a variety of combinations. The studio also engages clients in the exploration of ways to achieve low-carbon architecture and outcomes that avoid rigid assumptions about the way a building needs to look or operate.
Simon recently retired as Chair of the Architecture Foundation. He is a former trustee of the Architectural Association Foundation; Honorary Secretary and Treasurer of The Architectural Association; RIBA Vice-president for Education; member of the RIBA Awards Group and a chair of design deview at CABE. Simon is a frequent judge of major awards and competitions, a writer, critic and advisor. He studied at Sheffield University, then the Bartlett school at University College London. He has taught and examined at schools around the world and is a visiting professor at the Bartlett and at Harvard's Graduate School of Design.
Simon's long-term commitment to an open and accessible profession has informed his engagement in numerous initiatives at AHMM, including his founding membership of the practice's Employee Ownership Trust Board, and his current role as a trustee of the London School of Architecture and Chickenshed Theatres Trust.
5. The RIBA President and RIBA Council members are elected representatives from the RIBA's membership. RIBA Council, chaired by the President, acts as the representative body for the membership. It meets four times each year and is responsible for collecting insight from the membership and the profession, to guide and inform the strategic direction of the organisation. RIBA Council oversees the RIBA's new Board of Trustees, the majority of whom are Council members, including the RIBA President.
6. The Royal Institute of British Architects (RIBA) is a global professional membership body that serves its members and society in order to deliver better buildings and places, stronger communities and a sustainable environment. Follow @RIBA on Twitter for regular updates.