27 February 2020
Soo Darcy, Ryder Architecture's Interim Communications Director, talks about the Ryder360 initiative and their approach to personal development, wellbeing and giving back.
"Like many practices, we have more men than women in senior and leadership roles – despite having a good balance of men and women across all roles at Ryder. It's currently 57% and 43% men:women practice wide. As a meritocracy, at Ryder we hire people based on their values, attitude and skills. We want to retain good people so, as more women are coming into the profession and the practice, our challenge is to support them as they develop their careers.
Training for a career in architecture takes many years of commitment. According to the 2017 AJ Women in Architecture survey, women architects are having children later (at 32, when the UK average is 28), but for many this is still relatively early in their career. While there is a complex mix of factors at play here, data tells us that many women are leaving the profession before reaching senior roles – and parenting is a major contributing factor.
We knew there wasn't a quick fix to this. Although we weren't required to due to our size, in our spirit of transparent leadership we shared our gender pay gap figures internally in 2018 – it didn't reveal any gaps between graduate and architectural director grades, but going through the process led to increased focus on inclusivity. This kickstarted the thinking around what we could do to make a real difference, and in 2019 we implemented our enhanced parental leave package.
Ryder360 is an advisory board that represents a cross section of the practice – each team has its own board member, so everyone has a voice. Ryder360's remit is to integrate our approach to personal development, wellbeing and giving back, so it was only natural that it would play a part in the development of our approach to parental leave. Following an initial proposal from the leadership team, Ryder360 was consulted and fed back on the initiative. We now offer maternity leave of 26 weeks at full pay and paternity leave of two weeks at full pay. We are delighted to see (perhaps by coincidence) a number of young women are benefiting from the new arrangements."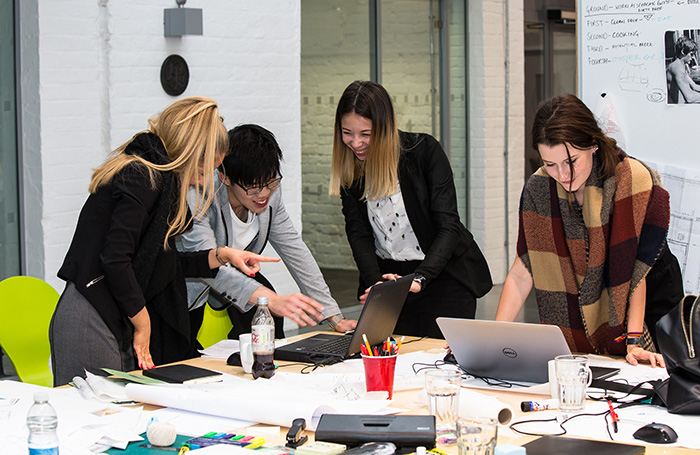 "We announced the enhanced package at our annual practice wide event, Blueprint, which meant it was communicated to everyone at once. We also explain parental leave – and other supportive practices such as being able to flex around core working hours – to new starters as part of a week-long orientation. It is really important that people don't feel singled out when they need time away from work. I have attended several talks with the RIBA about women in practice and, anecdotally, a lot of people talk about feeling self-conscious and guilty if they're taking time to look after children, especially if they have recently had time away on maternity leave. A transparent policy around working hours means it's available to everyone, not just parents – for example, it can be for people who care for relatives, who want time for hobbies, or who want to do voluntary work.
One challenge is making sure we continue to provide an excellent service to clients while allowing for the fact that people are going to be away from work for a while. We are lucky that we are a large enough practice to absorb some of the impact of people being on leave. There are financial implications, that's true with any business, and we're no different. There is some time required to manage people's transition back to work too, but investing in making sure that people feel comfortable coming back is very important.
We share learnings between the teams, such as how they have overcome challenges in terms of resourcing and helping people settle in again at the end of maternity leave. Through Ryder360, if anyone has concerns or perhaps has struggled with the transition back to work, they have a forum to suggest improvements to the reboarding process or simply to seek additional support.
While feedback from individuals is very positive, it's too early to know what the long-term gains for the practice will be. We will probably see the impact over the next five years or so, as more women hopefully stay within the practice and progress into leadership positions. For us it's about the long-term benefits of retaining and developing an excellent group of talented people – and what we'll see is the benefit of a diverse and inclusive practice for decades to come."
Find out what other RIBA Chartered Practices are doing to address the gender pay gap.