15 December 2021
To tackle the issues of rapid growth and expansion within the village of Kazirgaon an international collaboration was formed between Birmingham City University (BCU), Shahjalal University of Science and Technology (SUST), and Abubokkar Siddiki, a British Bangladeshi Architect, Director of Gaon Workshop, and a committee member of the RIBA Southeast London Architects Group (RIBA SELAG).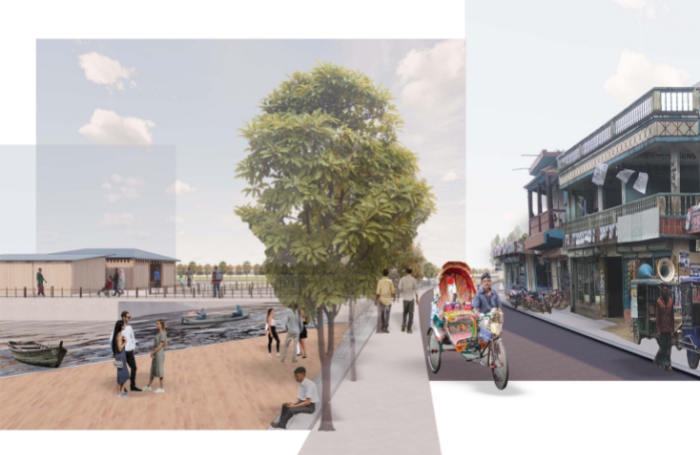 Back in 2018, Abubokkar Siddiki was inspired by a visit to his parents' village of Kazirgaon, located in an area of wetlands in north-east Bangladesh. He realised that the village and its commercial area (bazaar) had grown exponentially over the past 10 years. With no architects, landscape architects, or urban planners to help the villagers to understand future issues and plan their built environment, the village bazaar is imploding and is facing issues such as lack of drainage, lack of access to clean drinking water, hygiene, fire safety and lack of proper planning. The village also needs increased access to education and basic health care facilities, and population growth is leading to a rapid unplanned expansion of the village and the boundaries of the bazaar.
There is a great need to tackle the issue of rapid growth on a village level. A well-planned village infrastructure with all the basic amenities and technological advances will create opportunities within the village and as a result, will attract locals to stay within the area and reduce migration and rapid urbanisation in larger cities.
The Graemer Haor project
To tackle the issues of rapid growth and expansion within the village of Kazirgaon an international collaboration of students was formed. The Co_Lab module (an existing system developed by Birmingham City University) was created specifically for the students to learn and apply the Prince's Foundation's Rapid Planning Toolkit on a pilot project, to address the issues of the local community and develop a sustainable masterplan of the village of Kazirgaon.
The project was led by professor Saha Kawshik of Shahjalal University of Science and Technology in Bangladesh, Eccles Ng, who is a deputy course director BA (Hons) Landscape Architecture at Birmingham City University and Abubokkar Siddiki.
The Co_Lab project explored population growth and accommodating the growth expansion sustainably over the next 10 – 20 years. The initial intent of the project started with a conversation with the local communities, local authorities, and the village panchayat (village council). The students started by looking at current issues faced by the villagers, how their problems can be managed, how to plan the village growth and expansion sustainably, and how to create a catalyst for economic growth, reducing poverty and providing housing solutions.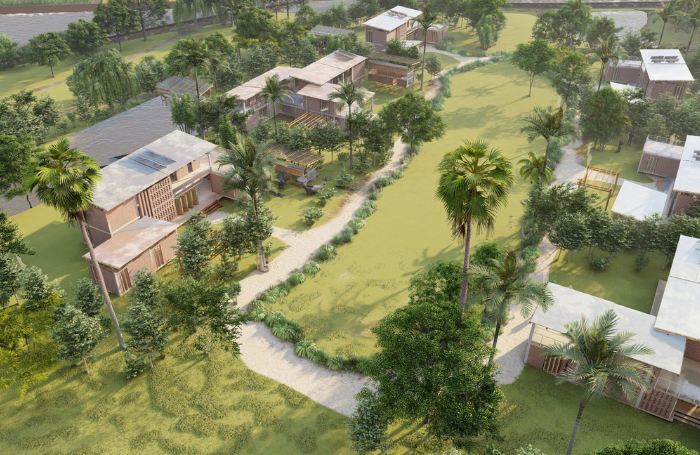 The Prince's Foundation Rapid Planning Toolkit is a four-step process designed to guide a multi-disciplinary approach in the inclusive planning and design of rapidly growing cities and towns.
The Toolkit is currently being used in secondary cities in Sierra Leone, Ghana and The Gambia to collaboratively plan for the expansion of urban areas, thereby reducing the chance of needlessly depleting natural resources, ensuring adequate sanitation, reducing vehicle use, and allowing walkable access through planned roads and routes. A new free online course, worth 8-hours of CPD, has been launched as an introduction to the Toolkit and can be undertaken by anyone interested in sustainable urbanisation.
Though the Toolkit is designed to be used in towns and cities, the Gramer Haor project explores and applies it to a growing village in Bangladesh. This process has encouraged the students to understand the United Nations 2030 Sustainable Development Goals (SDGs) with a holistic approach to reach everyone and in every segment of life; the goals including education, employment, inequality, accessibility of settlements and the environment.
Student opportunities
This was an opportunity for the students to be involved in a real-life project that involved international collaboration, workshops with the local community, knowledge sharing between students and professionals from within the field and collectively making decisions to improve the lives of the community in a village in Bangladesh.
Through conversations with the villagers and a meeting with the village leaders and stakeholders, students were able to establish the approximate population in 2011 and the population increase by 2020.
Due to Covid-19 restrictions, Birmingham City University students were unable to travel to the village of Kazirgaon, therefore students from the Shahjalal University of Science and Technology were their eyes and ears, carrying out site visits and reporting back to their designated groups.
The international collaboration where East meets West was a learning curve for both sets of students, with challenges such as time differences and new technology to face. Students had to learn to adapt, assimilate and progress. Students started by looking at what the village meant to each of them, and then brought together elements from this process to create a new narrative that created a dialogue between architecture, landscape, planning and sustainability.
In future, the project is set to continue with further groups from both universities with support from the Commonwealth Association of Planners. Alice Preston Jones of The Prince's Foundation said:
"We are pleased to be supporting this collaborative effort to test the Toolkit but this time in a village setting. This is very interesting because hopefully it will reduce pressure on nearby secondary cities and towns, where the Toolkit was originally designed to be used."
You can support and learn more about the Gramer Haor project here.
RIBA Future Architects is our network and community for future and emerging architects, designed to support, inspire and provide a voice as you transition from study to practice. Join us as a RIBA Student Member or view our resources.