Teaming up with like-minded practices
30 May 2019
Small practices can find it hard to manage all the competing demands on their time. Pitching for projects, getting through paperwork, and sorting out the business practicalities are just some of the factors that eat into design time. Many small practices have found a solution of sorts in productive collaborations with their peers.
Alex Bilton and Steve White, Directors of ABHR_A and McGregor White respectively, share workspace at the RIBA's Incubator office, which is home to a number of small practices. Rubbing shoulders together has inevitably led to a sharing of expertise. At the simplest level, practices can benefit from the unflinching design critique from their peers.
"Many of the practices here collaborate," states Bilton. "We help each other out, critique each other's work. It's a sounding board. If you've got an idea you're not sure about you can bounce it off others."
Several of the practices are working on competition entries together. Teaming up can address the common logistical hazard of applying for contests or tenders: considerable time and effort spent, with no guaranteed work at the end of it.
"We have previously worked for some quite big practices; we know we're capable of delivering the work that we'd like to pitch for," Bilton reveals. "But the time commitment is out of kilter with the size of practice we are. So teaming up means we can attack the kind of projects that we're used to doing without having to invest that crucial amount of time."
"You're sharing the risk, effectively" agrees White. "Additionally, we all have diverse skill sets to draw on. You are still able to count on the expertise you would have in a large practice, with all those skill sets represented."
While White has substantial experience in project delivery and can share insights from this with his next-desk neighbours; he has equally benefited from his peers' marketing and accountancy knowledge.
However, businesses need not be sharing the same office - or even the same country - to profit from collaborative working. Five strong practice Constructive Thinking, based in Liverpool, shares its workflow with a similar sized practice in Austria, in an arrangement based on trust (and BIM).
Constructive Thinking started collaborating with Vienna based Artuum amidst the fall out of the financial crisis of 2008. What began with swapping tips on modelling techniques and writing software scripts evolved into a collaborative workflow, as the two small practices became aware of how rarely the construction markets of the UK and Austria were in sync with one another.
"There were times we were working 18 hours a day, while they were slack, and we realised there were shared opportunities for helping each other out to cope with peaks and troughs," recalls Constructive Thinking's founder Jon Moorhouse.
"It can only work if the practices trust each other, and their software and hardware work together - we can log onto each other's projects and work seamlessly."
Projects they have worked on so far have included facilities management modelling, one-off houses, and collaborations with other practices to model schools in Luxembourg and parts of the US Embassy in Vienna.
Networking was how their collaboration initially began. Directors of both companies were regular attendees of international ArchiCAD summer schools, which has led to a global address book of peers with common interests.
They would like to eventually formalise these friendly small practice contacts from Europe, Singapore, New Zealand, and California into a linked company that could work globally 24 hours a day. What underpins this global networking ambition is a shared commitment to technology based innovation.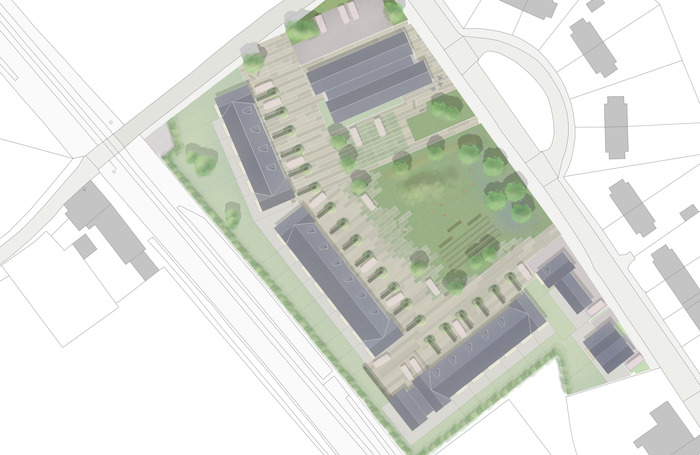 Despite being only five strong (plus two student assistants), Constructive Thinking has always tried to punch above its weight via 3D modelling, BIM, and its own BIM add-on tools developed in-house.
Moorhouse says the practice has designed entirely in 3D since 2007, and generates every single 2D drawing from a 3D model - something that many large practices would still struggle to do. For him, research and development into new ways of working is a means of adding value.
One example of this is Constructive's ArchiCAD based template to extract bills of quantities from its models. Pre-programmed options, such as a type of wall construction, can automatically generate the number of bricks or blocks, the volume of render required, and even energy values, all of which has encouraged Constructive's contractors to get on board and save money.
Such services can be, as he puts it, ways of "defending the profession from competitive forces nibbling away at the role of the architect from all directions".
Collaboration between practices ensures that all concerned make the most of their resources, skills, time, and ingenuity.
Thanks to Alex Bilton, Director, ABHR_A; Steve White, Director, McGregor White; and Jon Moorhouse, Director of Research and Development, Constructive Thinking.
Text by Neal Morris. This is a Professional Feature edited by the RIBA Practice team. Send us your feedback and ideas
RIBA Core Curriculum Topic: Business, clients and services.
As part of the flexible RIBA CPD programme, Professional Features count as microlearning. See further information on the updated RIBA CPD Core Curriculum and on fulfilling your CPD requirements as an RIBA Chartered Member.
Posted on 30 May 2019.