01 March 2019
This article was first published for National Apprenticeships Week 2019.
4-8 March marks National Apprenticeship Week – a week designed to celebrate apprenticeships and the positive impact they have on individuals, businesses and the wider economy.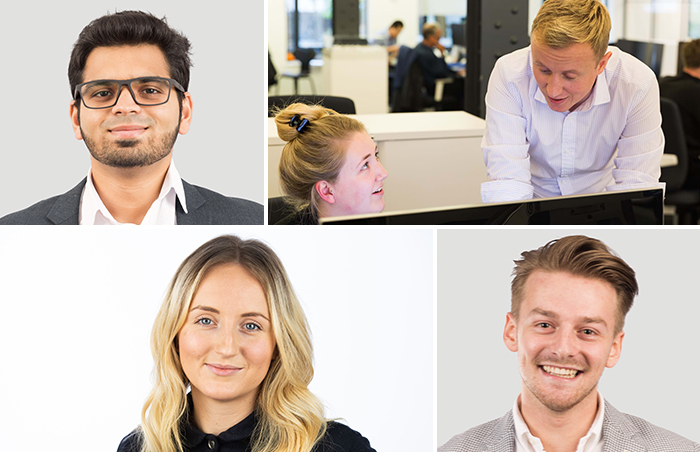 In July last year the Institute for Apprenticeships approved two brand new architecture apprenticeship standards, which were developed by a Trailblazer Group of 20 practices, chaired by Foster and Partners. The Architectural Assistant apprenticeship (Level 6) covers Part 1 and the Architect apprenticeship (Level 7) includes completion of Part 2 and Part 3.
Architecture apprenticeships represent a significant step on the path towards a more socially inclusive architectural profession and Kira Ariskina, the Architecture Apprenticeships Course Director at London South Bank University, is certain they will strengthen ties between the architectural industry and academia.
So far there are over 60 architectural apprentices enrolled in four universities across the UK (London South Bank, Oxford Brookes, Northumbria and De Montfort), and to celebrate National Apprenticeship Week we've been speaking to a few new candidates to find out about their experiences.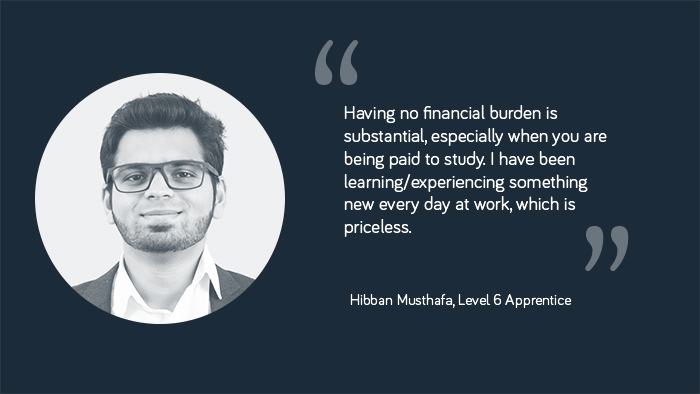 Hibban Musthafa is a Level 6 Apprentice at Scott Brownrigg studying at London's South Bank University. He talks about the benefits of learning on the job and being surrounded by a busy and experienced team on hand to support you through studying.
"Having no financial burden is substantial, especially when you are being paid to study. I have been learning/experiencing something new every day at work, which is priceless and wouldn't have learnt at university otherwise. When I need any help with job- or university-related work, I have an amazing apprenticeship mentor, as well as plenty other architects from Scott Brownrigg that I can seek help from."
Megan Walden-Jones, a Level 7 apprentice at HTA and Oxford Brookes, used the new route as a way of continuing her studies while maintaining financial independence. Having been in practice for four years since her Part 1, she's now able to continue to Part 2 and 3 while earning.
"The architectural apprenticeship has enabled me to continue my path to becoming fully qualified, alongside maintaining a financial independence and keeping a professional foot in the door. It's given me an alternative route back into academia without postponing my professional development."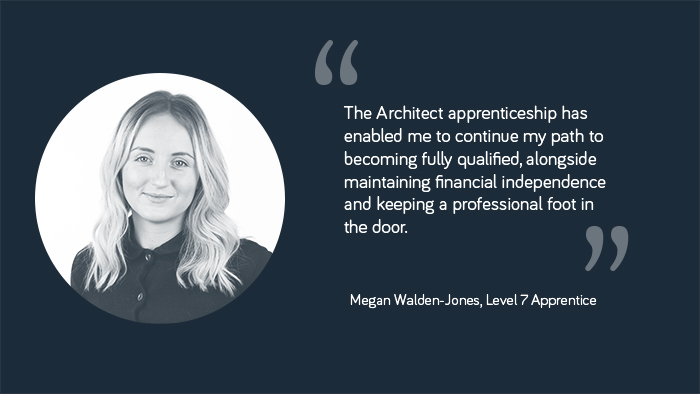 Max Collins, a Level 7 Apprentice at Scott Brownrigg and Oxford Brookes, chose to pursue the apprenticeship route over the traditional Part 2 and Part 3 because he wanted to maintain a strong link between education, research and practice.
"I have already been exposed to so many great opportunities thanks to this unique partnership between practice and university. Having a proportion of my hours set aside for research, whether I choose to make it practice-led or personal, is an exciting component of my career as it allows me to continually push my own interests and start shaping my own path from day one; rather than becoming a background cog within the practice."
So, what about employing an apprentice? Albena Atanassova is an apprenticeship mentor at Scott Brownrigg and a huge advocate of the energy and creativity that young aspiring architects can bring to a practice.
"I believe that great things happen when we work together: when we engage with ideas and each other. As a mentor I find it incredibly refreshing having weekly meet-ups with my apprentice who is able bring the academic debate and research into practice.
Apprenticeships, in my opinion, are the way forward to ensure that the next generation of architects are best prepared for entering the profession and wider industry."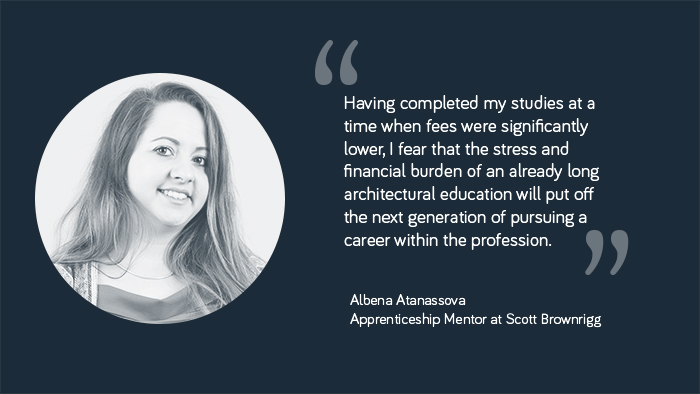 This is a major development in our profession - however, the hard work can't stop here. We must now broker relationships between practices and schools to meet the potential of this new route to qualification.
As Scott Brownrigg's Director of Practice and RIBA Board Member, Helen Taylor, said:
"Expressions of interest from students are arriving daily but we can't meet the demand on our own. Practices of any size can take on an apprentice and more schools of architecture are planning to offer apprenticeships from this September expanding the reach across the country."
You can find out more about steps to take to become an architecture apprentice or employ one here.